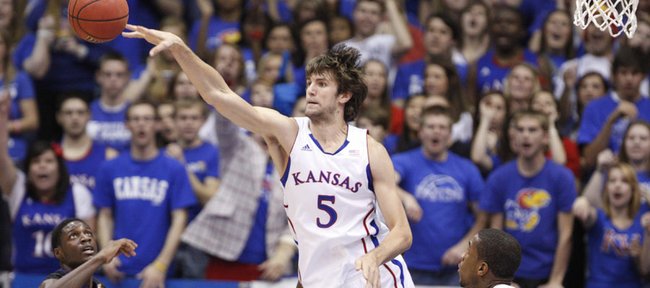 Kansas University junior basketball center Jeff Withey, who tries to "dunk everything," does possess a second weapon in his offensive repertoire.
That'd be the hook shot — sure to be on display at some point of today's KU-Iowa State game, set for a 3 p.m. tip in Allen Fieldhouse.
"That has developed in the last year. Coach (Danny) Manning and I have been working on it a lot. It's kind of my go-to move," said Withey, a 7-foot, 235-pounder from San Diego.
"It's hard because you are moving away from the basket. It's like an old sky-hook, so it's hard to master. After you get it down, it's all muscle memory."
Withey, who averages 7.3 points and 5.6 rebounds while logging 21.3 minutes a game, has hit 43 of 75 shots for a sizzling 57.3 percent.
Fifteen of his 43 baskets (in 75 total attempts) have been slam dunks. Most of the others have been off moves inside the paint.
"Coach Manning is great with footwork, so I just practice a lot. I need to keep working on it so it's automatic," Withey said of the hook. "If I have it and feel the guy is playing me the right way, I'll take that shot."
Withey, who is known more for his defense than offense, leads the Big 12 in blocked shots (46). That's eight more than runner-up Quincy Acy of Baylor and 10 more than Kansas State's Jordan Henriquez.
"Whatever I can get to, I'm going to go for. If the ball is there, I'm going to try to hit it away," Withey said. "I try not to throw it out of bounds because that's a waste. I want to say it's an art (form) because not everybody can do it. I played volleyball so I was able to get the timing down to a 'T' over the years, kind of master it."
Volleyball happens to be the San Diego native's second-favorite sport.
"It's very similar to basketball," he said. "During the offseason I like to go back home and play all the time."
Withey — he transferred from Arizona midway through his freshman season — said he's "gotten a lot stronger throughout the years. Defensively I feel I'm helping out the team a lot, blocking shots. I'm trying to guard the best post player sometimes so Thomas (Robinson) can have some rest on defense and be able to play offense great."
Today, KU's big men face a tough test in Royce White, a versatile 6-8, 270-pound sophomore big man, who leads the Cyclones in scoring (13.1 ppg), rebounding (9.1 rpg) and assists (4.1 apg).
"White likes to bring the ball up the floor and plays point guard almost," Withey said. "It's going to be a tough match-up because they can all shoot."
The Cyclones (12-4, 2-1) lead the league in three-point field goals made at 9.1 a game. Chris Babb is fourth in the league (2.69 made per game), Chris Allen seventh (2.13) and Scott Christopherson 12th (1.75). White has not yet attempted a three.
"It brings a big out of his comfort zone," Withey said of having to guard White out on the perimeter. "Usually a big is playing on the block, playing post defense. When he takes you out like that, you have to work on your perimeter defense. It can cause help problems. Thomas and I have to work on our footwork and get right for the game."
Noted the 6-10 Robinson: "I have not watched him much this year. I've heard his name a lot. I definitely respect him as a player (with) him being able to be an all-around player as much as he is at that size."
KU coach Bill Self said several Jayhawks (13-3, 3-0) will be assigned to White throughout the game.
"They play different than anybody we play all year because Royce White is a point guard that plays the 5-spot for them," Self said. "He's really skilled, and he's powerful. That will be a big challenge for our big guys. There aren't too many guys that lead their team in points, rebounds and assists. Wilt did that one year," Self added of Wilt Chamberlain. "Oscar (Robertson) did it several times. I'm not sure Magic (Johnson) did that. We're going to have to lock in and do a great job on them because they can really shoot."
About ISU: The Cyclones are 2-1 in the league, winning at home against Texas (77-71) and at Texas A&M; (74-50) while losing at home to Missouri (76-69). ... Second-year coach Fred Hoiberg's Cyclones average 75.8 ppg while allowing 66.8. ... It's a balanced attack with White at 13.1 ppg, senior guard Allen 12.7, senior guard Christopherson 11.1 and junior guard Babb 10.4.
This that: Self today will coach his 300th game at KU. He's 250-49 in nine seasons. ... KU, which has won 12 consecutive games against ISU, leads the all-time series, 170-58. KU is 87-15 versus ISU in Lawrence; 46-9 in Allen, where KU has won six straight. ... Self is 14-2 versus ISU at KU, 15-2 overall. Hoiberg is 0-2 versus KU. ... Hoiberg was 4-5 against KU as a player from 1992-95. He went 0-4 in Allen, 3-1 in Ames and 1-0 in KC. ... KU's 2002 Final Four team will be recognized today during a timeout. Players expected to attend: Wayne Simien, Jeff Hawkins, Chris Zerbe, Todd Kappelmann, Lewis Harrison.
More like this story on KUsports.com