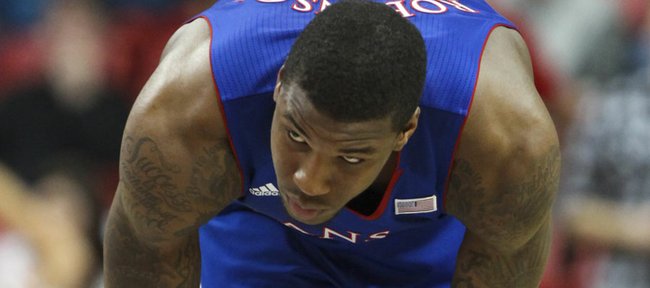 Podcast episode
Kansas coach Bill Self talks to reporters following the Jayhawks' 81-46 victory over Texas Tech on Jan. 11, 2012, in Lubbock, Texas.
KU vs. Texas Tech
Lubbock, Texas — Thomas Robinson's national Player of the Year tour hit a pair of speed bumps that limited his time on the United Spirit Arena floor to 19 minutes Wednesday night.
Foul trouble kept Robinson to nine first-half minutes, and a lopsided scoreboard prevented him from logging more than 10 minutes in the second half of Kansas University's 81-46 domination of young Texas Tech, the favorite to reside in last place all year in the Big 12.
Robinson plowed through the bumps and stayed right on course as the leading candidate for national honors.
Playing not quite half the time, Robinson still created his usual barrage of highlights and typical line in the box score (19 points, 12 rebounds). And yet again, he left us asking ourselves, "Did I just see that?" and "How much better is this guy going to get?"
Yes, we did just see him running the point in transition, tossing a spontaneous lob pass to guard Elijah Johnson, who soared to heights seldom reached by guards and flushed it with his right hand.
Yes, we did just see Robinson swish a three from well behind the top of the key. He catches everything thrown to him and is right at the rim for nearly every opponent's missed shot, giving nobody else a prayer at the rebound. And on this night, he ran the floor hard, at times beating the entire team down the floor.
An immovable force in the post, Robinson blends strength and quickness and a variety of moves to get where he wants to go and has grown so much in sensing when it's time to bust a scoring move and when it's time to keep the ball moving.
This season, he has added guard skills, handling the ball, feeding the ball inside and stroking jumpers, but he's not overdoing it. He still knows where he's needed most, where he's most unstoppable. Besides, he enjoys dunking. Who wouldn't?
"I thought the second half he showed a lot of people how talented he is," Kansas coach Bill Self said of the junior forward from Washington, D.C. "I thought he was terrific the second half."
Robinson had 14 points and seven rebounds in 10 second-half minutes. He certainly has an abundance of talent, but more than that is required to bring on such rapid improvement.
"He works hard in the weight room," Self said. "He's trying to become a student of the game, trying to understand. You know I struggled with him early in the season. Not from a bad standpoint, just from a standpoint I didn't think he was understanding how he should play to give us the best chance."
In the season's opening weeks, Self offered words of caution on making too much of Robinson's numbers.
"It seems to me since Christmas the light's just come on," Self said. "It seems like he's more poised. He's more patient. He's looking for others better. He's not trying to score out of doubles, and he's just making the game so much easier for himself right now. I think that's the thing I'm most proud of."
With improved understanding came a line of teammates following him.
"His energy level is so much better than it was early in the season," Self said. "I mean, it was awful at times. Now it's like everybody feeds off him. We can talk about Tyshawn (Taylor), Travis (Releford), all that stuff. Hey, when Thomas is turned up, that automatically turns everybody up."
When Robinson's poise, patience, power and passion percolate, pity the poor power forward playing against him. Guarding him is tougher than saying, "Peter Piper picked a peck of pickles," 10 times really, really fast.
"He's scary, almost, when he gets turned up," Self said. "He can fire everybody up."
That passion used to lead to foul trouble. It seldom does anymore, although it did against the Red Raiders, when Robinson committed his second foul with 11:25 left in the half. He checked back in later in the half and played a few more minutes without getting whistled for a third.
"It was just me trying to learn a lesson because I'm pretty sure it's not the last time that I get two fouls in the first half," Robinson said of being sent back into the game. "I don't want it to happen, but it probably will. It's just me learning how to play smart with my hands and feet when I'm in foul trouble. I put my team in a bad position. Coach put me back out there, so that's just him gaining trust in me, I guess."
It's amazing what great athletes can accomplish when they know teammates are depending so heavily on them.
"Just knowing how important I am to my team," has helped Robinson stay out of foul trouble, he said. "In the previous years I can go in and hack somebody and nobody cares, still got the twins (Marcus and Markieff Morris) sitting over there or Cole (Aldrich). Now if I sit out with two fouls in the first half, we're playing a team that's coming at us pretty tough, it might be a problem."
Robinson didn't have any trouble conquering any problem that came his way. In other words, he had a typical night.