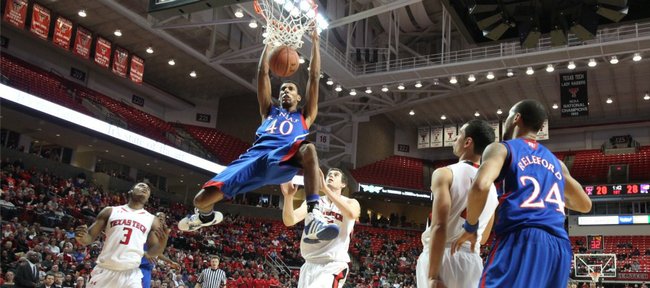 Podcast episode
Kansas coach Bill Self talks to reporters following the Jayhawks' 81-46 victory over Texas Tech on Jan. 11, 2012, in Lubbock, Texas.
KU vs. Texas Tech
Lubbock, Texas — Nobody dumped a bucket of Gatorade on Kansas University basketball coach Bill Self late Wednesday night at Texas Tech's United Spirit Arena.
His 250th career coaching victory in eight-plus seasons at KU went largely unnoticed. In fact, the Jayhawk players and their boss were unaware of the milestone until well after the game — a decisive 81-46 victory over Tech.
"Pipe just told me that," Self said of radio color announcer Chris Piper, who informed Self he had improved his KU record to 250 victories against 49 defeats. Overall, he's 457-154 in 19 seasons at KU, Illinois, Tulsa and Oral Roberts.
"I'm sure most of our fans think we should have about 265, which I do too, to be honest with you," Self added, laughing. "Two hundred fifty in 8 1/2 years ... that's not a bad number. Hopefully we can continue to improve on that.
"Not at all, that means absolutely nothing not only to me, my family, anybody who supports Kansas basketball. That is a totally irrelevant number," he added, asked if he pays attention to milestone victories.
Self's 250th victory turned out to be the most lopsided road win overall in the Self era and also in Big 12 road games.
The 35-point victory surpassed a 32-point win at Temple on Jan. 2, 2010. It bettered a 29-point victory at Colorado on Feb, 14, 2007.
"When Naadir Tharpe (nine points, seven minutes) is throwing in threes over outstretched hands — he looked good, though; he can shoot, he just hasn't had the chance — it got out of control," Self said of the final margin. "They missed open shots. We made guarded looks."
KU used an 18-2 run to close the first half to build a 35-20 lead at the break.
Does Self like his chances to double the 250 total at KU?
"I don't know," he said. "That means people around here would have to put up with me for a long time. I don't know if people want to do that. That's be pretty awesome to get 500 at one school. Hey, I'd like to get to 300. That'd be my next goal, or to 251."
KU senior guard Conner Teahan (eight points, 17 minutes) said he wasn't aware of the 49-year-old Self going for KU win No. 250 entering the game, but wasn't shocked, either.
"He's a great coach. Obviously, he's been very successful," Teahan said. "I'm surprised he hasn't won more, to be honest. He's that good a coach."
Kevin Young, who scored seven points and grabbed seven boards in 21 minutes, added of the 250-victory total: "That's a crazy amount of wins. He's a great coach. He played the game. He's coached a long time. He knows what he's doing."
On Wednesday, KU's back-breaking 18-2 run (that stretched all the way to 39-8 into the second half to give KU a 56-26 lead with 11:40 left) was sparked by a flagrant foul on Terran Petteway. He apparently punched — or at least whacked — Teahan in the face down low by the goal.
Teahan hit two free throws immediately following a Travis Releford three (12 points in 32 minutes) that opened the run.
"I know my mouth is bleeding," Teahan said with a smile, asked if he was punched on purpose. "It didn't hurt too bad. They (refs) said he punched me. It didn't hurt too bad or anything like that.
"You know what? We were both getting a little physical under the basket. I think he turned and pushed and was a little higher than he expected and hit me in the mouth. I didn't pay too much attention to it. I didn't like to see a guy get tossed so early in the game. I didn't take offense to that."
KU's Thomas Robinson, who picked up two early fouls, finished with 19 points and 12 boards in 19 minutes. Tyshawn Taylor had 15 points, five assists and four turnovers in 28 minutes.
"We had eight points with 10 minutes left (in first half). How did we get to 81?" Self asked. "Billy (Gillispie, Tech coach) was smart. They were physical early and had the game going the way they want. It was ugly, muddied. In stretches we played well, but we can't take all the credit defensively. They shot miserably (31.4 percent, 1-of-11 from three)."
KU, which will meet Iowa State at 3 p.m. Saturday in Allen Fieldhouse, will tangle with Baylor on Big Monday in Allen. Baylor won by 13 at Tech last Saturday.
"It's hard to compare scores," Self said. "I do think we're playing a little bit better (of late). Our schedule nonconference from an RPI standpoint ... it's not getting any credit at all. Few people have played five teams in the top 18. Iowa State is good. We get a chance to play another top-five team (Monday). Missouri will be in the Top 10 when we play them. We'll get chances to play some more good teams."
More like this story on KUsports.com