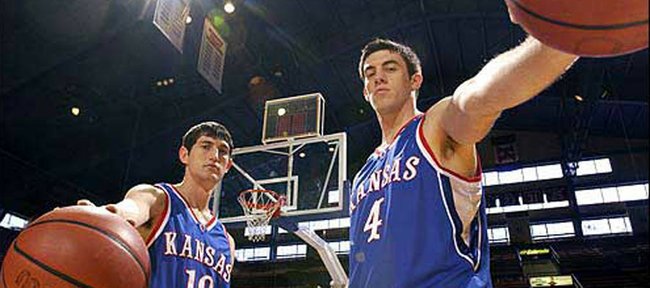 Podcast episode
Kansas coach Bill Self talks to reporters following the Jayhawks' 81-46 victory over Texas Tech on Jan. 11, 2012, in Lubbock, Texas.
KU vs. Texas Tech
Lubbock, Texas — Kansas University's 2002 Final Four team will be recognized during Saturday's KU-Iowa State game, set for a 3 p.m. tipoff in Allen Fieldhouse.
That team, which featured the likes of Drew Gooden, Nick Collison, Kirk Hinrich and Wayne Simien, went 33-4 overall and 16-0 in the Big 12. Those who have indicated they will attend: players Simien, Jeff Hawkins, Lewis Harrison, Todd Kappelmann and Chris Zerbe, trainer Mark Cairns and managers Jessica Zuniga and Jeff Hackel.
Schedule update
KU will play in the CBE Classic next November in Kansas City, Mo., KU schedule-maker/special assistant to the athletic director Larry Keating indicated Wednesday. The Jayhawks originally were going to compete in the 76 Classic in Anaheim, Calif.
It is not yet known what other teams will play in the CBE. KU will play two games against yet-to-be determined teams at Allen Fieldhouse, then two in Sprint Center.
In 2013-14, KU will compete in the Battle 4 Atlantis Tournament in the Bahamas. There's talk that USC, Villanova, Maryland and Michigan also will be in the eight-team field. KU will have one home game in that tournament, then three in the Bahamas.
KU has not yet chosen a tourney for 2014-15. In 2015-16, KU will play in the Maui Invitational. KU also will play Michigan State next preseason in Atlanta as part of the Champions Classic. KU will play Duke in Chicago the following season, also in the Classic.
Ellis sets school mark
Future KU forward Perry Ellis, who scored 30 points off 11-of-14 shooting in Wichita Heights' 63-49 victory over Wichita South on Tuesday night, passed Aubrey Sherrod as leading scorer in Heights history.
The 6-foot-8 Ellis now has 1,754 career points, 15 more than Sherrod (1978-81). Ellis is No. 2 scorer in Wichita City League history. He trails former KU center Greg Dreiling, who totaled 1,963 at Wichita Kapaun Mount Carmel from 1977-81.
Ellis passed Sherrod on a three-point play with 2:30 left in the second quarter.
"That's a real honor," Ellis told the Wichita Eagle. "With all the people that came before me — Aubrey Sherrod, Antoine Carr and all of them, that's a real blessing."
Heights, which is shooting for its fourth-straight state title this season, has now won 51 games in a row.
Ellis, who is ranked No. 24 in the Class of 2012 by Rivals.com, will be recognized at his school before Friday's home game.
"He scores all those points without an 'I'm going to get mine' mentality," coach Joe Auer told the Eagle. "It's, 'We're going to win.' It's quite an amazing feat when the team succeeds at the same time a player succeeds statistically."
Frankamp hits for 31
Future KU guard Conner Frankamp scored 31 points to lead Wichita North to a 73-65 victory over Wichita Kapaun on Tuesday. Frankamp, a 6-foot junior, had scored 42 and 47 in North's previous two games. Frankamp is North's all-time leading scorer with 1,121 points. He's ranked No. 51 in the Class of '13 by Rivals.com.
More like this story on KUsports.com