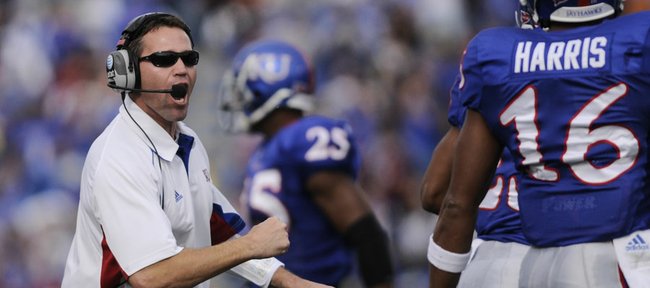 Two years after leaving, Clint Bowen is coming home.
Bowen, the former Kansas University player and assistant coach who left Lawrence after Mark Mangino's forced resignation following the 2009 season, has been named KU's new special-teams coach, the university announced Wednesday.
After leaving KU, where he served as co-defensive coordinator during the Jayhawks' Orange Bowl season and was promoted to defensive coordinator for 2008 and 2009, Bowen spent one season as the DC at Western Kentucky and held the same position this season at North Texas.
Prior to becoming a defensive coordinator, Bowen coached just about everything imaginable at KU, including special teams. From 1998-2006, he coached running backs, tight ends and safeties and was KU's special-teams coordinator from 2001-05.
A native of Lawrence, Bowen has talked often about his fondness for KU, where he starred as a defensive back from 1992-93.
During his 12 seasons as a KU assistant, the Jayhawks won 66 games and were 3-1 in four bowl appearances.
Bowen, who has strong recruiting ties in Dallas, also will coach a defensive position that has not yet been determined. KU is still searching for a defensive coordinator, and his qualifications likely will determine what position Bowen will coach.
Also on Wednesday, KU announced the addition of Jeff Blasko, a native of Pittsburgh who comes to KU after spending a season working under Weis at the University of Florida.
Blasko, who was named UF's interim quarterbacks coach after Weis' departure, will coach tight ends and serve as assistant special-teams coordinator at Kansas.
Prior to his season at UF, Blasko spent three seasons at Akron as a graduate assistant working with the offense and helping with recruiting. He was the Zips' graduate assistant from 2008-09 and also worked the 2010 season under current KU recruiting coordinator/wide receivers coach Rob Ianello.
Grimes to Arkansas State
Former Auburn assistant Gus Malzahn did not wind up in Lawrence, but he is now connected to the Kansas football program in another way.
Malzahn, now the head coach at Arkansas State, recently announced the hiring of J.B. Grimes as his offensive-line coach. Grimes, a native of Clarendon, Ark., coached the O-line at KU for two seasons under Turner Gill. He is a 29-year coaching veteran, and his previous stops include Arkansas, Virginia Tech, Texas A&M;, East Carolina and Mississippi State.
Crawley concerned
KU fans aren't the only ones eager to find out the identity of the Jayhawks' new defensive coordinator.
Kenneth Crawley, a four-star cornerback from Washington D.C.'s Woodson High, said on Twitter earlier this week that he was considering moving his visit back a week because the Jayhawks still didn't have a defensive coordinator and were missing some key members of their defensive staff.
Crawley, 6-foot-1, 170 pounds, was expected to visit KU sometime this week, but now may be looking to schedule his visit for the weekend of Jan. 28.
According to Rivals.com, Crawley is the No. 2-ranked cornerback in Maryland and the 21st-ranked player at his position overall. He recently backed out of an oral commitment to Tennessee and opened up his recruitment.
Crawley also plans to visit Michigan State and Maryland and has offers from 22 other BCS schools, including Oklahoma State and Texas Tech, of the Big 12.
Juco RB to visit KU
Taylor Cox, a 5-11, 205-pound tailback from College of the Siskiyous in Weed, Calif., is expected to visit KU this weekend.
Cox, an All-American selection following the 2011 season, ran for 1,507 yards and 14 touchdowns in 10 games this season.
Originally from Mill Creek, Wash., Cox owns the school record for rushing yards in a game (326), rushing yards in a career (2,744) and touchdowns in a career (31).
Newly named wide-receivers coach and recruiting coordinator Ianello has been the lead man for Cox, and it appears he already has made quite an impression.
"He said they are really excited to have me in for a visit," Cox said of Ianello in an interview with JayhawkSlant.com. "I am ready to get in there and meet them. I want to find a place I feel comfortable. I want to find a place I can get playing time and have an impact on winning games. I want to be around positive people."