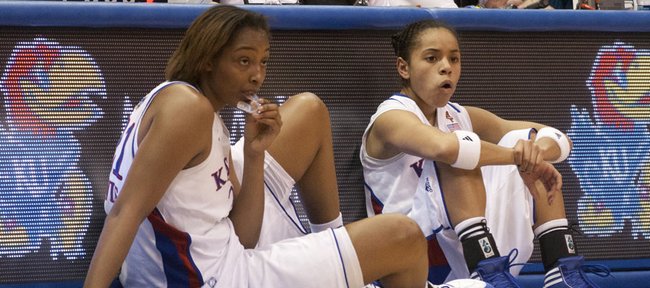 During the first and second halves of Wednesday's battle with Iowa State at Allen Fieldhouse, Kansas University junior Carolyn Davis played just 22 minutes because of foul trouble.
Looks like she was just saving herself for crunch time.
Behind 12 overtime points from their leading scorer, who finished with 21, the Jayhawks held off the Cyclones, 74-67 in double OT, to improve to 13-2 overall and 2-1 in the Big 12.
"We ran everything inside to her," KU coach Bonnie Henrickson said of Davis' dominance in the final 10 minutes.
Good idea.
Davis, who played just 32 of 50 minutes on the night, including all but a few seconds of the two OTs, was 3-for-5 from the floor and 6-for-7 from the free-throw line during the two extra periods.
"Once it came down to it, I knew I had to take over the game," a relieved Davis said. "I've never had to play that long with four fouls, but I felt good, I felt confident, and I knew I wasn't going to foul."
Davis picked up her fourth foul with 11:15 to play in regulation. About a minute earlier, senior forward Aishah Sutherland picked up her fourth on an offensive foul, and the Jayhawks were forced to face one of the Big 12's most dominant post teams without their top two post players for long spurts. Luckily, sophomore forward Tania Jackson was up to the task of filling in for both of them.
"She was huge," Henrickson said.
In 30 minutes, Jackson scored 11 points and continually played tough post defense on Iowa State's Anna Prins (19 points in 33 minutes) and Chelsea Poppens (24 points in 43 minutes).
Her effort, along with a scrappy defense that forced ISU (9-5, 0-3) into 23 turnovers, kept the Jayhawks alive long enough for junior guard Angel Goodrich to deliver a little magic.
After ripping off a 17-5 during the final nine minutes of regulation to send the game into overtime, the Jayhawks found themselves trailing by three with 9.4 seconds to play in the first OT. Goodrich, who shot 5-of-16 for the night, rushed the ball up the floor and calmly buried a three-pointer in front of the KU bench that tied the game with just under five seconds to play.
The three-point bomb was Goodrich's third of the night and came as a result of some extra attention to that part of her game.
"These last couple of days, I've been trying to work on (those shots) more," Goodrich said. "At the end of games like that, everyone's thinking Mony, Mony, Mony (Monica Engelman), and we need to have other people ready to step up."
Goodrich's three-pointer tied the game at 63 and set the stage for Davis to dominate the second OT, which KU won, 11-4.
Davis gave all the credit to Goodrich.
"She played an awesome game," Davis of Goodrich, who finished with 14 points, eight assists and eight rebounds. "Look at the stat sheet. She filled it up. And she's done a great job of leading this team all year."
To call the victory big would be an understatement. After knocking off No. 23 Texas on the road in their conference opener last week, the Jayhawks dropped a home game to in-state rival Kansas State on Saturday. Henrickson said some of KU's sluggish start on Wednesday was the result of lingering disappointment from that loss.
"It's hard to believe you feel desperate the third (conference) game in," Henrickson said. "But we had some of that. You can't (lose) back-to-back games at home."
In addition to being "really, really proud" of her team's never-say-die mentality against the Cyclones, Henrickson said she hoped her players learned a lesson.
"You have to embrace the struggle in this league," she said. "That's what it is. Don't wish it were easier, just wish you were better every night."
Kansas will hit the road for its next game, an 11:30 a.m. Sunday tipoff at Missouri.