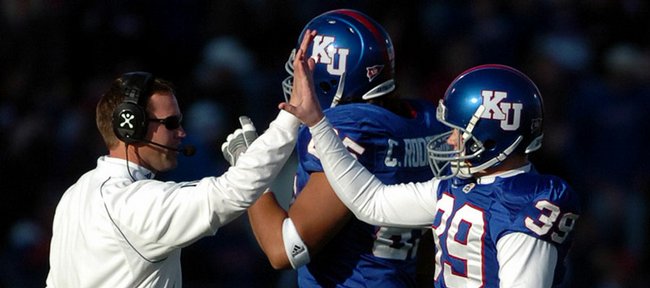 Clint Bowen's return to Kansas University is now official.
KU announced today that Bowen, a former KU assistant coach and player, has been hired as the program's special teams coordinator. The release also said that Bowen, who just completed his first season as North Texas' defensive coordinator, would coach a yet-to-be-named defensive position.
During his days at Kansas, Bowen worked as an assistant for 12 years and played defensive back for the Jayhawks from 1992-93.
He served as a defensive grad assistant from 1998-99, director of football operations in 2000 and coached running backs, tight ends, safeties and special teams before rising to become co-defensive coordinator in 2007 and defensive coordinator in 2008 and 2009.
Behind the scenes, Bowen, who was born and raised in Lawrence, has expressed interest in returning to his hometown since being fired along with the rest of the coaching staff following Mark Mangino's forced resignation at the end of the 2009 season.
In addition to his strong connection to KU, Bowen brings to the staff the ability to recruit both Kansas and Texas.
KU also announced the addition of Jeff Blasko, a native of Pittsburgh, Pa., who comes to KU after spending a season working under Weis at the University of Florida.
Blasko, who was named UF's interim quarterbacks coach after Weis' departure, will coach tight ends and serve as assistant special teams coordinator at Kansas.
Prior to his season at UF, Blasko spent three seasons at Akron as a graduate assistant working in both recruiting and with the offense. He was the Zips' graduate assistant during the 2008 and 2009 seasons under J.D. Brookhart. During the 2010 season Blasko worked under current KU recruiting coordinator/wide receivers coach Rob Ianello.