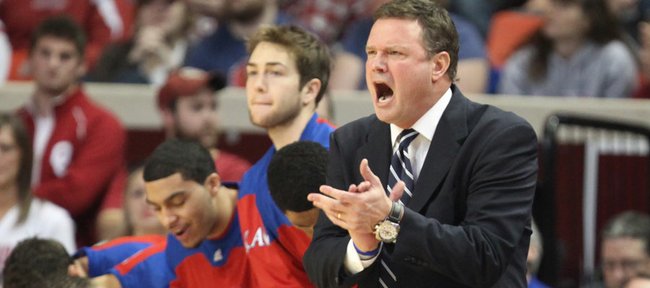 Lubbock, Texas — Kansas University's basketball team has left Lubbock red-faced — whether from anger or embarrassment — three times in the nine-year Bill Self era.
"We've had the court stormed on us a couple times. It's not a great feeling," said Self, whose Jayhawks enter today's 8 p.m., Big 12 battle against Texas Tech with a 1-3 record against the Red Raiders at United Spirit Arena.
KU crushed coach Pat Knight's last Tech team, 88-66, last Feb. 1, gaining some revenge for an 84-65 annihilation on March 4, 2009; a 69-64 setback on Jan. 20, 2007 and 80-79 double-overtime defeat on Feb. 14, 2005.
"I don't look at that at all," Self said of past trips to Lubbock as having any possible influence on tonight's game. Tenth-ranked KU enters 12-3 overall and 2-0 in Big 12 play; Tech is 7-7, 0-2.
"We've only played there four times, and two of them were last-possession losses. Last year we played well the first half. Really that has nothing to do with this year's game. It does us no good to watch tape of last year's game. Robert plays. Not many others play. They've got nine (actually 10) new players. There's a different system and style."
Robert Lewandowski, a 6-10 senior out of Blue Valley West High (7.6 ppg average), is one notable returnee for first-year coach Billy Gillispie.
"It's great to have Billy back coaching and in the league," Self said of former Kentucky, UTEP and Texas A&M; coach Gillispie, who worked for Self at both Tulsa and Illinois. "I don't like playing friends, but it's great he's back, and he'll definitely bring attention and quality to our league without a doubt.
"I want him to do great. I just don't want him to do it at our expense. At A&M;, he brought his team to Lawrence (in 2007), and it was our only (home) loss going into the Texas game last season. He's been great wherever he's been and will be a great addition to our league. He's hungry, and he's going to get guys down there," Self added.
The Red Raiders lost to fourth-ranked Baylor, 73-60, Saturday in Lubbock after falling at Oklahoma State, 67-59, on Jan. 4. Both games were decided late.
"I don't get into them (moral victories)," Gillispie said. "We've got to keep getting better and to the point you can win those type of games. We were in two situations playing two good opponents, whether at home or on the road and with three or four minutes left, if you make a few plays offensively and defensively, you have a great chance to win. So far we've not done that.
"We are improving very dramatically, very quickly, but the most important thing you need to improve on is winning games."
Jordan Tolbert, a 6-7 freshman from Fort Worth, Texas, averages a team-leading 14.8 points and 6.4 rebounds per game.
"He's been the most dominant production freshman in our league so far without question," Self said. "He draws fouls, is good in the high post area because he can put it down and drive it."
Ty Nurse, a 6-1 junior from Vancouver, averages 10.7 ppg. Javarez Willis, a 5-11 soph from Homer, La., averages 9.1 points.
"I love 'em," Gillispie said of his players. "You want to pull your hair out some days, but you have to expect it going in with 10 new guys (including seven freshmen). I am not an excuse-maker. I only bring it (youth) up when other people ask. I'm very proud of them, not happy where we are, never will be satisfied. We have to get better in every single aspect. But I am proud of the effort these guys give on a daily basis. Hopefully it will continue throughout the entire season. If it does we'll have a chance to continue to improve."
Gillispie knows a lot about the current KU team, including leading scorer and rebounder Thomas Robinson.
"When I wasn't coaching, I spent a little time up there," Gillispie said of Lawrence. "I really admire the amount of improvement he continues to make. Obviously they do a good job of developing players. He was really good when he came there. He's a lot better now. Our guys have to deal with his athleticism. He's got unbelievably strong hands, knows how to finish, plays good defense and is a good team player. He's very deserving of the attention he's getting right now."
Of Big 12 player of the week Travis Releford, Gillispie said: "He's always been a good player for them. He's coming on at the right time when they need him the most, playing with a high level of confidence. That just makes him more dangerous.
"Having to guard five guys makes them a really difficult team to play," Gillispie added.
Milestone victory ahead?
Bill Self's next win will be his 250th at KU. He is 249-49 as Jayhawk coach. Overall, he's 456-154 in 19 seasons at KU, Illinois, Tulsa and Oral Roberts.
Quality time
Tech coach Gillispie, who had been out of coaching the past two years after being fired by Kentucky, actually cherished time away from the game. He was able to be with his mother, Winifred, who died in January after a battle with cancer.
"Being able to spend time around her the last couple years of her life, I wouldn't have traded that for any job in America," Gillispie told the Lubbock Avalanche-Journal. "But she would have rather me been working, too," he added with a smile.
Gillispie on the task ahead at Tech
"The first year in any job — and this is my fourth job — it feels like you have sand in your eyes," Gillispie told the Avalanche-Journal. "And sand in your eyes is not a good feeling. You just have so many things you try to do. You're trying to learn every single situation at a new school. You're trying to learn every new thing about every new player you have."
This, that
KU leads the all-time series with Texas Tech, 20-4. KU has won three straight and four of the last five meetings. KU leads the overall series played in Lubbock 7-4 but is 3-3 in United Spirit Arena. ... Since the inception of the Big 12 in 1997, Kansas is 13-4 against Texas Tech — 11-4 in regular-season and 2-0 in the Big 12 tourney . ... Tech freshman guard Toddrick Gotcher has been out since Dec. 6 because of an ankle injury. His return date is not known. Gotcher started the first eight games and averaged 8.3 points, 4.4 rebounds and 2.8 assists per game. He had just 13 turnovers in nine games.
Travis Releford on Tech: "We know they are a good team. They have a bunch of guys that came in this year. It's not going to be an easy game going down there, so we have to get prepared this week for them."