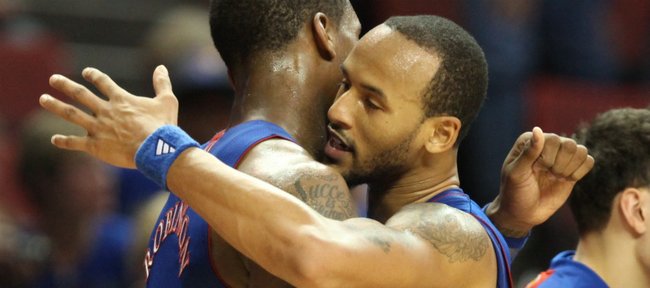 Videos
Bill Self weekly press conference: Jan. 9, 2012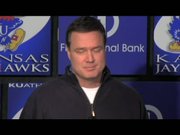 Kansas head men's basketball coach Bill Self addressed the media at his weekly press conference Monday, Jan. 9, 2012 at Allen Fieldhouse.
Travis Releford, who is known as Kansas University's defensive stopper, put up some wildly impressive numbers on offense last week.
Those numbers — 28 points at Oklahoma and 16 (with a career-high 11 boards) against Kansas State — caught the attention of a media panel that Monday named the 6-foot-6 KU junior Big 12 Men's Basketball Player of the Week.
"When I first heard about it, I was a little surprised. I've never been Big 12 Player of the Week or come close to it. I'm just happy about it, I guess," Releford said Monday afternoon.
Releford hit 15 of 24 shots for 62.5 percent during the two games, including five of nine from three. He also made nine of 10 free throws with three assists and two steals.
"Coming into the game, I don't say I have to score for us to win. We have Tyshawn (Taylor), Elijah (Johnson) and T-Rob (Thomas Robinson) to do that, and they have been doing that," Releford said.
Robinson, in fact, has won Player of the Week honors three times this season.
"My goal is to come in and stop the other team's best player on the wing or if I have to guard down low. That's what I come into the game to do. The scoring just happens. My teammates find me in the right spots. With their scoring ability, it just opens up a lot for me. I don't have to do much. I'm just playing off how they play," Releford added.
KU coach Bill Self believes the Roeland Park Bishop Miege graduate is concentrating on all the right things.
"He's been pretty aggressive in practice," Self said. "I think he's worrying about things you can control every night. You can control your energy, loose balls and defense. When you worry about the right things, it seems to me you naturally score more. He's scoring more (by) not worrying about scoring."
As far as scoring ... "Travis is never going to be a 20-point-per-game guy," Self said. "But he can get 28 in any game. He's proven that. He is a defender, a loose-ball guy, an energy guy that scores basically out of making simple plays. A lot of players don't know who they are. He knows who he is, and he knows how to play to his strengths. He's playing with more confidence the more success he's having. Him getting Big 12 Player of the Week is so deserved in my opinion. That should give him a lot of confidence because you've got to be one of the premier players around to win an award like that. He certainly proved it this first week of conference play."
Releford talks a lot about confidence, something he says he gained by taking a red-shirt season at KU two seasons ago.
"Confidence-wise, skill-wise, just learning the way coach wanted me to play," Releford said of benefits of practicing, but not playing in games, for a full season.
Self noted: "Because of depth, we've been able to red-shirt (Conner) Teahan. Because of depth we've been able to red-shirt Releford. Because of transfer (rules), we've been able to red-shirt (Jeff) Withey. Three of our top six are spending an extra year here. That's because of depth.
"If we needed those guys immediately, we wouldn't have done that. I think that bodes well for our guys from a recruiting standpoint that our system has done a good job getting players of pretty high quality so we can afford to do something like that. Coaches get a lot of credit sometimes when players get better. The biggest reason why players get better is they want to get better. Travis has a great attitude. I think that we coach them up pretty good, though. If you have a mind-set that you want to do something with this, then you're probably going to do it. He's had so many repetitions of doing it the way that we coach it, that he's gotten really good of playing it those ways. I think that he's bought in and that's the biggest reason why he's doing really well."
More on Taylor: A caller to Self's weekly "Hawk Talk" radio show voiced support for senior Tyshawn Taylor, who entered into a sparring match on Twitter with critics Friday night.
Of Taylor, Self said: "This team relies on Tyshawn as much as any team we've had rely on any one person since I've been here. I think fans obviously should respect that.
"I'm proud of Tyshawn. He loses focus, does a lot of things that makes you scratch your head. That does happen, but he can play. He can get in the paint whenever he wants to. He's not scared. Gosh, he makes things happen in there. He's trying to communicate with guys, being a good leader. If you are a point guard here, you have more scrutiny with that than maybe at some other places. If fans didn't talk about you, it would mean they didn't care as much. It's something you live with, deal with. There are ways to get people to respond differently, show it through his play. You can't worry about what people think. Go out and play and have fun. Fans that think he could be doing more for us, I'm not sure I totally disagree. But you can go down the line and say everybody should be doing more."
Next: KU (12-3 overall, 2-0 Big 12) will meet Texas Tech (7-7, 0-2) at 8 p.m. Wednesday at United Spirit Arena in Lubbock. Tech, which is led by first-year coach Billy Gillispie, is 6-1 at home, 1-3 in road games and 0-3 at neutral sites. The Red Raiders average 66.6 points per game and allow 65.8 and are outrebounding their opponents 32.2-30.9. Tech ranks second in the Big 12 in shooting percentage at 48.4 percent.