Videos
Bill Self weekly press conference: Jan. 9, 2012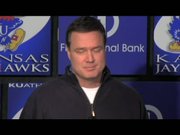 Kansas head men's basketball coach Bill Self addressed the media at his weekly press conference Monday, Jan. 9, 2012 at Allen Fieldhouse.
Two days after Thomas Robinson freed himself late during a coast-to-coast drive with a behind-the-back dribble, and five days after ESPN's Dick Vitale chose him as his mid-season college basketball player of the year, teammate Travis Releford talked about an advantage to Robinson flying solo.
"We can just take off," Releford said. "We don't have to wait for the pass."
So, Thomas, do you have the green light to dribble the whole way?
His smile answered the question before he did.
"I wouldn't say that," Robinson said. "More like a yellow."
Once a game, Robinson will do something he hadn't done before, such as Saturday's behind-the-back dribble in transition in the victory in Norman, Okla. Afterward, he'll smile and make sure to say he won't make a habit of it.
He has hit a three-pointer, has played the point in transition setting up others for easy buckets and routinely has hit elbow and baseline jumpers, demonstrating how far his game has come so quickly.
Rebounding and scoring close to the basket remain his bread and his butter, and he hasn't forgotten that.
Robinson (12.1 per game) ranks second in the nation in rebounding to Siena's O.D. Anosike (12.4) and is tied for third with 10 double-doubles.
Averaging 17.5 points per game, Robinson has the same number of dunks (39) as the rest of the team combined. He's shooting .534 from the field and .659 from the line.
None of those statistical achievements could be attained without Robinson's most obvious, least talked-about improvement. He doesn't commit personal fouls nearly as frequently.
As a freshman, Robinson got whistled for 5.5 fouls per 30 minutes, 4.2 per 30 as a sophomore and 2.7 this season. Avoiding foul trouble has enabled Robinson to average 30.9 minutes per game, second only to Tyshawn Taylor (32.1).
Robinson has had passive defensive games, none worse than Davidson, but overall his coach has no complaints.
"I think he's playing better defensively, I really do," ninth-year Kansas coach Bill Self said. "I think he's playing his man a little better before he catches it, and he has done a good job of staying out of foul trouble, knock on wood. I think he's getting smarter."
As a team, depth-challenged Kansas has avoided foul trouble.
"Against K-State, in a game in which there's usually a ton of fouls called, we were able to play pretty consistently with our feet and our head and not do a ton of reaching and grabbing inside," Self said.
The coach said he hasn't talked to Robinson about Vitale's mid-season award, which shows he doesn't fear his best player's head will swell from it.
"It's a great compliment to hear that," Robinson said. "But the Player of the Year's not given out until the end of the year, so I've still got a lot more work to do. The whole focus is to get the conference championship and then win the tournament."
More like this story on KUsports.com