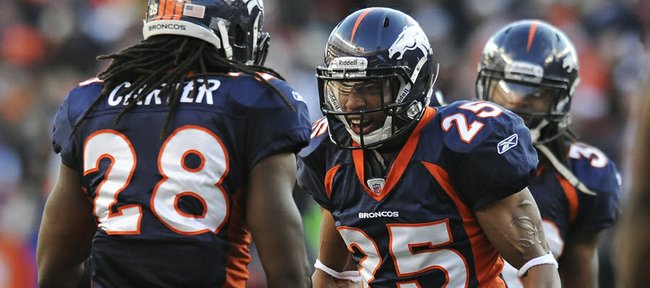 The first time former Kansas University defensive back Chris Harris met Tim Tebow, he was too fired up to notice.
"My first encounter with him was during (preseason) camp, the day they announced who made the team," Harris said during a phone interview Monday afternoon.
Today, Harris, the undrafted free agent from Kansas, and Tebow, the former first-round quarterback from Florida who possesses serious star power, have become key players on the Denver Broncos' run into the second round of the NFL playoffs.
Although they play different positions and come from different places, Harris and Tebow represent what has made the Broncos successful this season. Both are tireless workers with tiny egos, and that mentality has meshed well with the rest of Denver's roster. From veterans such as Champ Bailey and Brian Dawkins — both still grinding for that first Super Bowl ring in the twilight of Hall of Fame careers — to a stellar class of rookies that includes 2011 No. 2 overall pick and Pro Bowl selection Von Miller, the Broncos and first-year head coach John Fox consistently put the team ahead of everything. That led to an AFC West Division title and an upset of the Pittsburgh Steelers in the first round of the playoffs Sunday.
"We've been working hard all season," Harris said. "All of us. We just realized that the game is definitely bigger than us as individuals."
While the team has been the focus inside the locker room, Tebow talk has dominated headlines just about everywhere else.
"Tebowing" — an actual verb, defined as: "to get down on a knee and start praying, even if everyone else around you is doing something completely different" — has taken the world by storm, and "Tebow Time" has become as popular among football phrases as first down or field goal.
Harris said the polarizing quarterback has been pretty quiet about all the publicity. The way he sees it, Tebow probably is used to it.
"We knew Tebow had all the media hype," Harris said. "But that just comes with him being the quarterback at Florida and winning those national championships and the Heisman. People like Tim can handle that, though, and that's part of the reason people like him are great players."
Does all the praise being tossed at his quarterback bother Harris or any of the other Broncos' players?
"Oh, man, we don't care," Harris said. "We understand that's how it's going to be. We know that Tim's a leader on this team, and we really don't care who gets the praise as long as we get the win at the end of the day. Since the first day we got here, he's been a hard worker and has been doing everything he can to gain the trust of his teammates and his coaches and really just prove to everyone that he can play."
Now that he has the Broncos positioned as one of the eight NFL teams still standing, Tebow's confidence and popularity both have grown. For Harris, a 2011 KU graduate and starting cornerback on KU's 2008 Orange Bowl championship team, playing with a player like Tebow has been a thrill. Asked what Tebow trait he admired most, Harris pointed to the one for which most of his KU teams were known.
"Probably his heart, his will to win," Harris said. "He's not a traditional quarterback like everyone wants him to be, but he's kind of like me and a lot of other players on this team. We all just have a chip on our shoulder, and we always play hungry."
Kind of sounds a little like another quarterback Harris used to know.
"It's definitely a totally different game, but the way he's able to keep plays alive with his legs, that's pretty much the same thing Todd (Reesing) did in college," Harris said of KU's record-setting quarterback.
As was the case with Reesing, Harris said the team counts on Tebow to deliver from start to finish, not just when the fourth quarter arrives and the world is buzzing about Tebow Time.
"When it comes down to it, we know if Tebow has the ball in the fourth quarter, we have a great chance of winning," Harris said.
During his first professional season, Harris was named to the all-rookie team and finished fourth among rookies in tackles, with 72. That total was tops among all first-year defensive backs and ranked him four spots ahead of Miller (64) and six spots ahead of Denver safety Quinton Carter (56). Harris' five tackles Sunday tied him for third on the team during Denver's 29-23 overtime victory against Pittsburgh.
Before the season, Harris signed a three-year contract with Denver that, when completed, will pay him a total of $1.47 million, according to the terms of the NFL's new collective bargaining agreement.
KU football adds 2 to staff
KU officials Monday announced the addition of Adam Sitter and Scott Vestal to Charlie Weis' football staff.
Both come to KU after spending time at the University of Florida, where Weis was the offensive coordinator during the 2011 season.
Sitter will serve as KU's director of high school relations and most recently worked as a graduate assistant under Weis and the UF offense in 2011. Prior to that, he coached high school football for six seasons in his native Orlando.
Vestal will serve as KU's assistant director of football operations and most recently worked in quality control for Florida's defense in 2011. Prior to that, the Dallas native worked the same job at Texas in 2010.