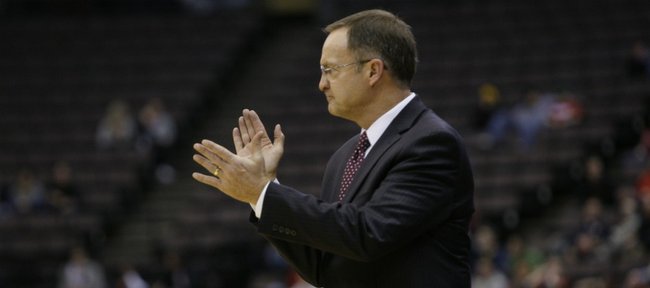 Norman, Okla. — Well-traveled Lon Kruger, who has been all over the map since leaving Kansas State in 1990, has returned to the heartland to coach college basketball.
The 59-year-old Silver Lake native, who both played and coached at his alma mater, KSU, is in his first year as University of Oklahoma's head coach after stops at the University of Florida, University of Illinois, NBA's Atlanta Hawks and New York Knicks and UNLV.
"It is back to the roots. It feels very much like coming back home," said Kruger, who has Oklahoma off to an impressive 10-3 start — 0-1 in the Big 12 — entering today's 1 p.m. game against Kansas at OU's Noble Center.
He spent the previous seven seasons in Las Vegas where he compiled a 161-71 record, which included four NCAA appearances and two NITs.
"People have been great and (I have) a lot of family still in the Silver Lake area. So (I'm) anxious to have an opportunity to see them more frequently," Kruger said. "Even though the conference has changed (since his Big Eight days) and appears to be continuing to change, it feels great. And I'm excited about it."
So far, the locals have taken a cautious attitude as Kruger embarks on his latest rebuilding task. OU has averaged 7,998 fans in seven games (all victories) in 12,000-seat Noble Center. OU drew a season-high 9,077 fans for its most impressive victory, a 78-63 rout of Arkansas.
OU in nonconference play also beat Houston, Washington State, Santa Clara, Sacramento State, Oral Roberts, Idaho State, Coppin State, South Carolina State and Northwestern State. The Sooners fell to Cincinnati (56-55) and St. Louis (83-63) in their only nonconference setbacks.
Missouri brought the Sooners back to earth, rolling, 87-49, on Tuesday in Columbia, Mo.
"The guys have been very receptive. They've done an excellent job of focusing on what our objectives are," Kruger said. "They've put extra time in. They've worked hard, have been great about moving the ball and being unselfish and making progress every day."
Improvement is needed ... "across the board," Kruger said. "We need to be more physical, aggressive to loose balls, execute things better offensively, minimize slippage and wasted possessions on both ends."
The Sooners are led by Steven Pledger, a 6-4 junior guard from Chesapeake, Va., who averages a team-leading 18.2 points with 4.0 rebounds per game. He had just 11 points versus MU.
"Steve has focused well, put a lot of time into it," Kruger said. "He has been efficient, made good basketball plays. He has a good feel for the game. He's shot the ball (53.2 percent; 34-70 threes for 48.6 percent), moved the ball, rebounded better and done well on the defensive end."
Andrew Fitzgerald, a 6-8 junior, averages 12.7 points and 5.4 rebounds; junior forward Romero Osby 10.5 points and 8.3 boards; soph guard Cameron Clark 8.3 ppg, 3.5 rpg and junior guard Sam Grooms 7.0 ppg and 5.5 assists per outing.
"Lon has got a good team," KU coach Bill Self said of Kruger, who preceded Self as coach at Illinois. "Missouri handed them a pretty big setback, but we know they are capable, and we have to go down there and play well. We don't play many games away from home. We have to get our minds right and our bodies right to go down there and take care of business."
It's the start of a two-game road swing. KU plays Wednesday at Texas Tech in an 8 p.m. tip.
"I'd be much happier winning Saturday (than Wednesday over Kansas State in Allen) because that'd mean winning away from home," Self said. "That's what you have to do to win in the league."
The Jayhawks realize the Sooners will be ultra focused playing a ranked team (KU is No. 14) while trying to erase the taste of a 38-point loss at MU.
"We know Oklahoma is a good team. They will be very ready to come back. Playing at home, they should be very ready," KU's Travis Releford said.
Noted KU center Jeff Withey: "We see OU as another great team, and we have to play them as hard as we did K-State. It's a tough game, but we need to go win it. We started it (league) off right, and we are going to build off it (win over KSU). It's a long season, and we know a lot can happen. We know we've got to come every night, and we'll be ready."
MU revisited
OU, which has outrebounded opponents an average of 40.7 boards per game to 32.2, had an off night at Missouri. The Tigers won the board battle, 38-23. OU had just seven offensive rebounds.
"We got dominated pretty much in every area," Kruger told the Oklahoman. "Rebounding for sure.
"We didn't offer much resistance. Missouri is a really good ballclub. Still, I would have liked to have thought we could stand in there and take a few swings. We didn't. Again, credit Missouri, but we have a lot of work to do."
Of the game, point guard Grooms said, "We suffered a loss. It was a big number. But I don't think we'll lose any confidence. Even the best teams lose. It takes a game like this that hits you in the mouth to really make you think what we need to do to get better."
This, that
KU, which has won seven consecutive games over OU, leads the all-time series, 136-64. KU is 48-40 in Norman and 16-15 in Noble Center. The Jayhawks have won three in a row at Noble and are 3-1 in the building under Self. ... Since the inception of the Big 12, KU is 15-4 against Oklahoma — 13-2 in regular season and 2-2 in the Big 12 championship. ... Self is 8-3 all-time against OU, including 8-1 while at KU. Kruger is 5-10 all-time against Kansas, including a 4-7 mark while coach at K-State. Two of those losses were in overtime and another by one point. OU assistant coach Steve Henson played in all 11 of those games. ... KU's Thomas Robinson and Naadir Tharpe and OU's Andrew Fitzgerald all played at Brewster Academy in New Hampshire. ... OU freshman James Fraschilla is the son of ESPN analyst Fran Fraschilla. ... OU sophomore Jarrod Kruger is nephew of Lon Kruger. Jarrod played at Topeka West High School. ... The last time Oklahoma beat a top-15 team was Feb. 6, 2009 (over No. 9 Texas 80-71). ... OU's Romero Osby, who was recruited by KU, has grabbed at least six rebounds in 10 of 13 games. In his 35 games at Mississippi State as a sophomore in 2009-10, Osby had at least six boards three times.
Open practice
OU coach Kruger is one of the rare coaches to actually open practice to the public.
"We just want people to know that we want them there. They're welcome any time, and we've had a lot of people at practice already to share ownership in the program," Kruger said. "We had over 100 former players and coaches come back for an alumni event in August. We just want people to enjoy the process, jump on board and have a good time."
What a game
KU senior Tyshawn Taylor's career-high scoring outing came at Oklahoma. As a freshman, Taylor hit for 26 points in KU's 87-78 win on Feb. 23, 2009.
KU well represented
OU's players are hoping there are more Sooner fans than Jayhawk fans in the stands today. A year ago, KU had at least half the arena in an 82-70 victory.
"You hear about Kansas' great tradition, they travel well and have diehard fans like football here. But that was crazy. I walked out thinking, 'Good grief, are we in Oklahoma?''' OU's Tyler Neal told the Oklahoman.
"That was hard for us, knowing they had more fans than us," junior forward Andrew Fitzgerald told the Oklahoman. "Hopefully this year there will be a lot more crimson than blue. It's going to be a very good game, a game I'm really looking forward to."
The game is expected to be a sellout.
More like this story on KUsports.com