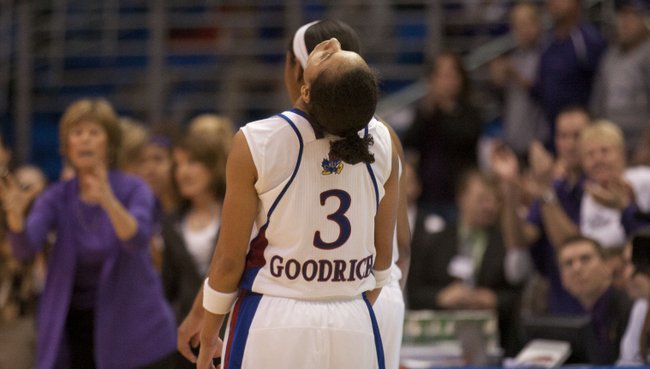 If you've followed the rivalry between the Kansas University women's basketball team and in-state foe Kansas State, you probably figured that K-State guard Brittany Chambers would play a huge role in Saturday's Sunflower Showdown at Allen Fieldhouse.
Bingo.
Chambers pretty much was the difference in K-State's 63-57 victory against KU in front of a split crowd of 5,657 fans. But it wasn't just her final line that made Chambers stand out. It was the way with which she competed and the timing of some of her biggest shots.
None was bigger than an off-balance three-pointer from two feet beyond the line that put K-State up 50-47 with 3:59 to play and ended a 6-0 run by the Jayhawks.
"She's very bouncy when she comes off screens," said KU junior Angel Goodrich, one of three Jayhawks who took a turn at guarding Chambers. "That's what's tough, because she's got screens coming from left and right."
Or, as KU coach Bonnie Henrickson put it: "In football, she's one of those players that runs 30 yards for a three-yard gain."
In many ways, Chambers was due. In two games against the Jayhawks last season — both K-State victories — she combined for 7-of-23 shooting and 18 points. Saturday, the junior from Jordan, Minn., finished with 23 points on 7-of-13 shooting (including 5-of-7 three-point shooting), eight rebounds and four assists in 40 minutes.
"That's Brittany Chambers," K-State coach Deb Patterson said of her star floor general. "She makes circus plays, circus shots, and I mean that with respect — impossible shots in critical situations."
Chambers' big three-pointer sparked a 13-6 KSU run that put the Jayhawks away. Of course, KU had something to do with that, as well. The Jayhawks (12-2 overall, 1-1 in Big 12 play) shot just 8-of-26 from the field in the second half (20-of-54 for the game) and were outscored 35-25 in the final 20 minutes.
Misses happen. And the players acknowledged that. But one miss hurt more than any of the others. Just seconds before Chambers hit her game-changing three-pointer, KU senior Aishah Sutherland watched as her driving lay-up rolled around and down the rim three times before popping out. Sutherland had scored two straight buckets to tie the game, and a third would've given KU the lead.
"It was a bad miss because everyone expected it to go in," said junior forward Carolyn Davis, who led KU with 19 points. "It was a little bit of a blow because it tipped the weight in their favor."
Saturday's loss hit the Jayhawks hard. Partly because it came against Kansas State (11-3, 2-0) and partly because it followed one of the program's biggest victories in years, a 72-67 victory at Texas on Wednesday. Asked if Saturday's disappointment surpassed Wednesday's excitement, Henrickson was frank.
"I think so," she said. "And you kick yourself because there's some things you can control."
Happy homecoming
K-State sophomore and Free State High graduate Chantay Caron played just her second game as a visitor in her hometown. In 12 minutes, she hit one of two shots and finished with three points and one rebound.
Caron talked about her second trip to Allen Fieldhouse as an outsider.
"I am still always nervous when I come back to Lawrence," she said. "When I come, I expect a lot of emotion. All of my family is here, and I know I have to put that aside and come in and play my game."
Caron is averaging 3.3 points and 3.0 rebounds per contest.
Postgame turnover
The bigger-than-normal crowd that packed the fieldhouse Saturday caused a traffic jam in the parking garage following the game. A line of cars that spanned three levels of the garage lingered for 30 minutes until KU officials alleviated the problem by lifting the gates.
Associate athletic director Jim Marchiony said KU was disappointed by the delays and would make sure such a logjam did not happen again at future games.
More like this story on KUsports.com