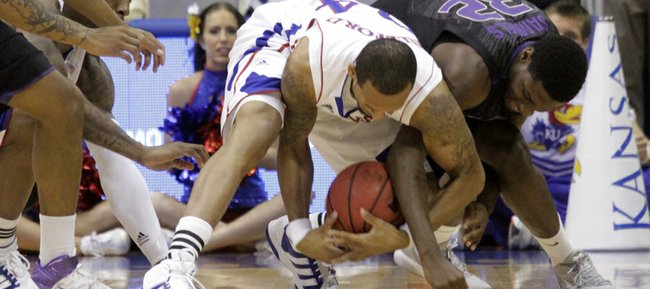 Travis Releford completed a post-game interview with ESPN.com at center court of Allen Fieldhouse, then walked through the building's fabled northwest tunnel with another reporter 45 minutes after scoring a career-high 16 points and grabbing a career-best 11 rebounds in Wednesday's 67-49 Big 12 opening victory over Kansas State.
"To be able to put on the Kansas jersey and run out of this tunnel is what I always wanted to do. I'm having a lot of fun," said Releford, a 6-foot-6 junior forward out of Roeland Park's Bishop Miege High School. "I'm trying to do whatever I can to give us the best chance to win," Releford added.
For the past three games, that's meant playing — and playing well — despite some discomfort in his right foot, one he bruised in KU's 63-47 victory over USC on Dec. 22 in Los Angeles.
He's been wearing a walking boot the past week or so as the bruise heals.
"I did something to it in the (SC) game. I don't even remember (how it happened)," Releford said. "It's just a little bruise. I have to wear this boot to take pressure off it. It's not bad at all. I'll probably be in the boot a couple more days."
Last Jan. 9, Releford suffered a severe left ankle sprain at Michigan.
That injury that forced him to miss five games and pretty much took him out of the rotation the remainder of his sophomore season.
Releford was expendable a season ago thanks to a deep KU roster. This year, he's been counted on for 29.6 minutes a game and relied upon for his defense.
"That's my role," he said of guarding standouts like K-State's Rodney McGruder, who hit five of 14 shots Wednesday en route to 15 points. "I feel if I come out and do that, it gives my team a better chance to win."
His secret to success on 'D'?
"Will and effort — wanting to stop the other team's offensive scorer is something I just want to do, and I've been doing that this year," he said.
He's been on somewhat of a roll offensively.
Releford, who averages 8.8 points and 4.3 rebounds a game, tied a career-high with 14 points off 5-of-10 shooting (1-4 threes) last Saturday against North Dakota, then improved on his career-best mark with 16 points off 6-of-11 shooting (2-4 from three) against the Wildcats.
"It's a long season. I don't really pay attention to that," Releford said of numbers. "Scoring and rebounding ... I just go out there and play and give it my all and that happens."
It was suggested he might be more fired up than usual playing rival K-State.
"It's one of our bigger rivals, but I was motivated because it's the first game of conference," Releford stated.
Of Releford, KU coach Bill Self said: "Travis set the tone the first half. He got on the floor twice (diving for the basketball). That was our whole deal, first one on the floor.
"He did a great job defending Rodney the first half (2-7 shooting, six points in 20 minutes); stealing us some extra possessions. He got five (of KU's first seven) points off the bat which got his confidence going. He has not scored consistently, but tonight he was a factor on both ends."
Next up for (11-3, 1-0) KU is a 1 p.m., tip Saturday at Oklahoma. The (10-3) Sooners are 0-1 in the league following Tuesday's 87-49 loss at Missouri.
Vitale lauds TRob: ESPN's Dick Vitale has named KU's Thomas Robinson his leading candidate for college basketball's player of the year.
Vitale writes: "When the Morris Twins declared for the NBA draft, coach Bill Self knew he would need Robinson as a dominant force and he has not disappointed. He has been a double-double man despite opponents knowing he would get the ball down low. His 30-point, 21-rebound game vs. North Dakota made him the third player in the illustrious history of Jayhawk basketball to put up a 30-20 performance."
Vitale has UConn's Jeremy Lamb his No. 2 candidate for midseason player of the year, followed by Jared Sullinger, Ohio State; Marcus Denmon, Missouri; Anthony Davis, Kentucky and Doug McDermott, Creighton.