Thursday, January 5, 2012
Podcast episode
Kansas coach Bill Self talks to reporters following the Jayhawks' 67-49 victory over Kansas State on Jan. 4, 2012.
Videos
KU vs. Kansas State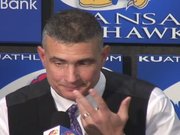 Kansas defeated Kansas State 67-49 on Wednesday, Jan. 4, 2012 at Allen Fieldhouse.
KU vs. KSU
Kansas University's basketball starters knew they were in for a fierce, physical battle — a war — against ultra-aggressive Kansas State on Wednesday night.
So Tyshawn Taylor and Co. asked the Jayhawk reserves for a big favor before practice last Sunday.
"We told our Red team to foul us a lot more than they usually do," senior guard Taylor said. "(Because of that) our practices have been more intense and physical. I think we were ready for them tonight."
Prepped well at practice the last three days, the No. 14-ranked Jayhawks outrebounded No. 23-ranked Kansas State, 50-26, in Wednesday's 67-49 Big 12-opening victory in Allen Fieldhouse.
"Christian (Garrett) and Niko (Roberts) and all those guys were out there beating on us, getting us ready," KU junior center Jeff Withey said after grabbing nine rebounds and blocking six shots, while scoring eight points in 24 minutes.
"Especially Jamari (Traylor) ... he was fouling every time," Withey added. "It was rough. They were rough practices, but definitely got us ready. The Red Team did a great job."
It showed on the stat sheet.
Junior power forward Thomas Robinson had 14 rebounds to go with 15 points. Junior forward Travis Releford secured a career-high 11 boards to go with a career-high 16 points. And junior guard Elijah Johnson grabbed a career-high eight boards to go with his five assists, three steals and three points.
"I'd never have dreamed we could outrebound them by that margin, but we did," KU coach Bill Self said. "We went after the ball.
"Thomas is going to get his," Self added. "The keys were Travis, Jeff, Elijah. We've not had our guards get eight. We've not had Travis get 11. Those guys did a great job getting on the glass. Other than McGruder (Rodney, five boards, 15 points, 39 minutes) and Samuels (Jamar, five boards, 12 points) getting loose a few times, I thought we did a pretty good job on the glass. There were not many possessions we didn't put ourselves in good position to rebound the ball."
Why?
"I think so much of this game is what you emphasize, and guys respond to that," Self said. "I made a pretty big deal ... against North Dakota I didn't play guys in the second half at all because they didn't go after the ball. Sometimes guys respond to those type of things. Of late we emphasized hitting somebody and going after the ball with two hands, who is going to get 70 percent of the balls in the air with nobody having possession of them? That's been our emphasis more than execution."
And so KU (11-3 overall, 1-0 Big 12) did suffer 20 turnovers while dishing eight assists. KSU (11-2, 0-1) had 13 turnovers and just six assists.
Robinson scored eight points, Releford five, Taylor four and Withey four as KU raced to a 23-5 lead. The Wildcats, who trailed, 35-20, at halftime, made it a game — 39-36 — with 12:31 to play.
That's when senior guard Conner Teahan (six points, 22 minutes) hit back-to-back threes sandwiched around a KSU bucket, giving KU a 45-38 margin at 10:49. The Jayhawks continued on a 17-5 run, opening a 56-41 lead at 7:11. Robinson also had four points in that surge and Releford three.
"Conner bailed us out. I thought Conner made the biggest shots of the game," Self said.
Of the shots, Teahan said: "I thought we were kind of laboring at the time. We were a little tight. When you get tight, the defense can sense it. I wanted to help get our confidence back up."
Teahan, who berated himself publicly after KU's loss to Davidson, was thrilled to help beat rival KSU with important shots Wednesday.
"That Davidson loss hurt. I've thought about it a lot. I still think about it," Teahan said. "It's good to get a big win over K-State and start the Big 12 right. My freshman year, we lost to them in Manhattan. Since then, it's been a much bigger rival to me."
KU will next meet Oklahoma at 1 p.m. Saturday at Noble Center in Norman, Okla.