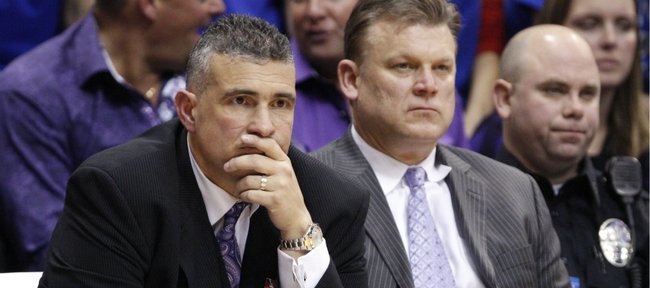 Podcast episode
Kansas coach Bill Self talks to reporters following the Jayhawks' 67-49 victory over Kansas State on Jan. 4, 2012.
Videos
KU vs. Kansas State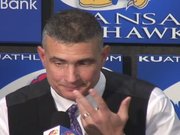 Kansas defeated Kansas State 67-49 on Wednesday, Jan. 4, 2012 at Allen Fieldhouse.
KU vs. KSU
He flapped his arms, barked at officials, tore into his players and flashed his many ferocious faces throughout the game.
Kansas State basketball coach Frank Martin on Wednesday did everything he had done thus far to help the Wildcats race to an 11-1 start and a No. 23 national ranking.
His team, however, did not join him, and the Wildcats were rocked, 67-49 by No. 14 Kansas University at Allen Fieldhouse.
The biggest culprit for Kansas State was rebounding. The Wildcats, who came in outrebounding opponents by more than seven boards a game — good for 25th nationally — were outworked, 50-26, in this one.
"In 27 years, including coaching 13-year-olds, I've never been a part of a game that our team got its tail whupped in the physical part of the game the way we did today," Martin said.
The tone for KU's dominant night on the glass was set early, when Kansas jumped to a 23-5 lead 11 minutes in and held a 35-20 halftime lead. Martin was not surprised. He's seen plenty of teams in purple suffer similar fates inside Allen Fieldhouse. In fact, he's so familiar with it, he even predicted it would happen.
"I told you guys that 10 minutes into the game, the game would probably be over. And that's kind of what happened," said Martin, referencing a Tuesday meeting with the media.
Although he has yet to crack the code of what it takes to play well in Lawrence, Martin certainly qualifies as an expert when it comes to explaining why so many teams struggle in front of one of the best home-court advantages in college basketball.
"It's a combination of three things," Martin said. "It's an incredible atmosphere, they've got very good players, and they're coached by one of the best. You put those three things together, there's a reason they've won 83 of their last 85 or whatever it is."
According to Martin's astute observations, the biggest obstacle for just about every team that plays at Allen Fieldhouse comes in the opening minutes.
"It's deflating," he said. "That's the problem with the first five or six minutes of the game here. I think every team that comes in here feels it. It's not just us. I watch tape. I see everybody's down 12-2 to start the game here. It's unbelievable. You take so much effort and energy to get yourself back to where you can manage the game, and then you make a mistake and they make you pay."
The animated K-State coach so believes in the difficulty of playing well on KU's home floor that he even cracked a joke about his team's first point of the night.
"I almost called a timeout when we went up 1-0," Martin said. "I was so excited we had a one-point lead in the first half."
Although things did not start nor end well for the Wildcats on Wednesday, they did show pieces of the team that had been trending upward in recent weeks. A 10-0 KSU run early in the second half cut Kansas' lead to 39-36 with 12:20 to play. But two three-pointers from KU sharp-shooter Conner Teahan kept the 'Cats at bay.
Moments later, after a Will Spradling three-pointer trimmed KU's lead to 47-41, Kansas responded with a 9-0 run that finished off the Wildcats for good and featured a Travis Releford three-pointer and three straight dunks.
"(Martin) said his past teams had the same problems," Spradling said. "And we came out the same way we did last year. That hurts."
More like this story on KUsports.com