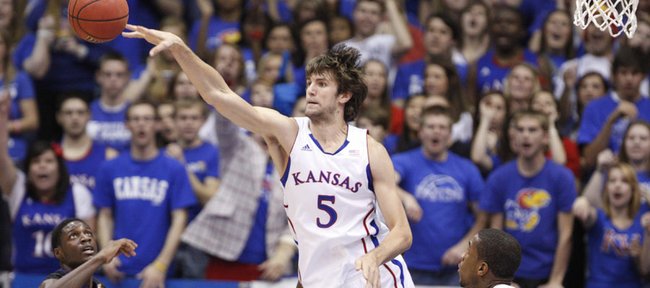 Podcast episode
Kansas coach Bill Self talks to reporters following the Jayhawks' 67-49 victory over Kansas State on Jan. 4, 2012.
Videos
KU vs. Kansas State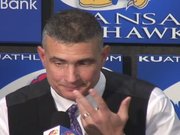 Kansas defeated Kansas State 67-49 on Wednesday, Jan. 4, 2012 at Allen Fieldhouse.
KU vs. KSU
When Kansas University center Jeff Withey received a pass from teammate Elijah Johnson on the baseline midway through the second half, three words from assistant coach Kurtis Townsend rattled through his head.
"Just dunk everything."
"He's been saying that all season," Withey said following KU's 67-49 victory over Kansas State on Wednesday night. "He wants me to go up strong and dunk everything. He tells me that every day."
So Withey tried it ... and succeeded, going right over KSU's 6-foot-11 forward Jordan Henriquez.
"I got pumped up for sure," Withey said. "That kind of led another streak. We started getting a rhythm."
The rim-shaking jam was part of a 14-3 second-half run, as KU extended a four-point lead to 15.
It also was the highlight of a bounceback night for Withey, who had eight points on 3-for-4 shooting with nine rebounds in 24 minutes.
In KU's last game against North Dakota on Saturday, the 7-foot junior played just eight minutes — including only 24 seconds in the second half.
"I wasn't that aggressive last game. I don't even like talking about it, because it's in the past," Withey said. "That was a bad game."
Withey indicated KU coach Bill Self didn't need to say anything to him after the poor performance.
"He just wanted us to execute and do everything right," Withey said. "We definitely weren't doing what we were supposed to. He was right for yanking us out. He just gave us a little message: 'Do what I say.'"
Withey was determined not to let the benching shake his confidence.
"I knew I screwed up. I took my medicine, and I learned from it," Withey said. "After the game, it was over. That's all I thought about it."
KU guard Tyshawn Taylor also noticed that Withey stayed even-keeled in practices following Saturday's game.
"Jeff kind of has the same face every time: He's got that poker face that people talk about," Taylor said. "His emotions come out every now and then, and it's mad surprising, but he was cool. He understood what he had to do."
Withey also contributed six blocks against KSU, which tied for his second-most in a game this season.
The San Diego native leads the Big 12 in blocks at 41, six above Baylor's Quincy Acy.
Withey was especially pleased with his second half against the Wildcats, when he grabbed eight of his nine rebounds after halftime.
"Last game was definitely frustrating, but, oh well. It's in the past. It's a new game," Withey said. "Coach always says, 'Move forward.' It was a good start for the Big 12 season and definitely a confidence-booster after last game."
More like this story on KUsports.com