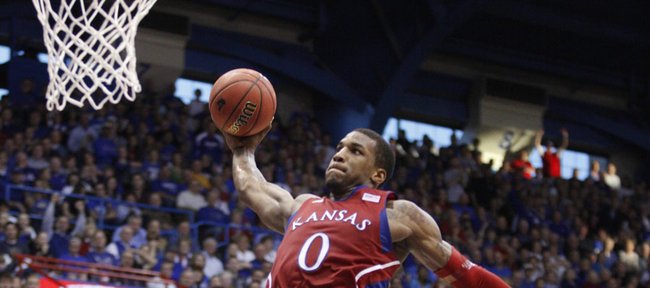 Videos
Bill Self weekly press conference: Jan. 3, 2012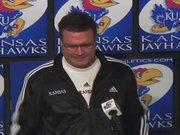 Kansas head men's basketball coach Bill Self addressed the media at his weekly press conference Tuesday, Jan. 3, 2011 at Allen Fieldhouse.
Kansas University junior power forward Thomas Robinson has watched Kansas State's basketball team on television this season ... and also studied the Wildcats in person.
He and teammates Elijah Johnson and Travis Releford were among the 16,685 fans who witnessed the Cats' 71-58 victory over Alabama on Dec. 17 in Kansas City's Sprint Center.
Releford's brother, Trevor, starts at point guard for the Crimson Tide.
"I feel like they're playing like they have something to prove, which is all good," Robinson said of the Wildcats, who take a 11-1 record into Wednesday's Big 12 conference opener against 10-3 KU.
Tip is 7 p.m., in Allen Fieldhouse.
"They are a tough team. I have respect for them. At the same time I want to beat them. We'll see (Wednesday)," Robinson added.
The Wildcats enter with a No. 23 national ranking in their first year without standout guard Jacob Pullen, who is now playing for Angelico Biella in Italy.
"They're more dangerous. They're not dependent on one person scoring for them. Now it's more of an equal opportunity thing," Robinson said, noting he left Sprint Center especially impressed with Thomas Gipson (7.1 rebounds per game), Jamar Samuels (7.2 rpg) and Jordan Henriquez (5.7 rpg). "It's easier to stop one player than 11."
The Wildcats once again seem to have taken on the personality of fiery coach Frank Martin. KSU has averaged 41.8 rebounds a game to its opponents' 34.7. KU outboards its foes, 38.5 to 30.5.
"They definitely crash the boards better than a lot of teams in the country," said Robinson, the only player in the Big 12 to average a double double at 17.7 points and 12.2 boards per game.
"They are a good 50/50 team," he added of securing the basketball when it is up for grabs. "It's going to be a man's game. Whoever wins most of the 50-50 balls has a lot better chance of winning.
"Me personally, it's definitely a side I bring," he added of being willing to scrap for rebounds. "That's what I live off of, coming down and rebounding. I'll take the challenge."
The 6-10, 237-pound Robinson said this one could come down simply to which team wants it the most.
"We want to start the conference right. Now we're playing for keeps," Robinson said. "I mean it's definitely for respect, but we've got something to protect. That's our conference title. We've got seven (in a row). We want to make it eight."
For KU to take care of business at home before heading to Oklahoma (Saturday) and Texas Tech (Wednesday), it'll have to beat a squad that has outscored foes 77.2 points a game to 61.7.
KU averages 76 points and allows 59.8.
"They care. They care a lot," KU junior guard Elijah Johnson said of what he learned by watching the Wildcats in Sprint Center. "They've got a tough coach over there. He chews them out. They got players who go the extra mile, who set the tone on the court, ones who are very vocal."
Four Wildcats score in double figures. Rodney McGruder leads the way at 12.5 ppg, followed by Will Spradling (11.8), Samuels (11.8) and Gipson (10.4).
"They are long, athletic and scrappy. It's K-State, just like always," Johnson said. "They rebound pretty well."
As far as intangibles ...
"If anything, they don't have that leader any more," Johnson said of Pullen, who scored 21 in a 90-66 loss to KU last Jan. 29 in Allen, then exploded for 38 in a 84-68 win over KU on Feb. 14 in Manhattan. "We've still got our leader, Tyshawn (Taylor), and we've got some other leaders on our team. I like our experience on the floor. We're ahead of them. Honestly, there's not too many teams I can say that about. I feel like we're ahead of them as far as experience, as far as leadership and having some players who have played in some big games. I don't feel we lack in that area," Johnson added.
K-State's only loss was to West Virginia, 85-80, in double overtime, on Dec. 8 in Wichita. The Wildcats have won at Virginia Tech and also downed Southern Illinois, UTEP and Long Beach State at the Rainbow Classic in Hawaii. The Cats routed LBSU, 77-60; KU beat the same opponent, 88-80, in Allen.
KU coach Bill Self enters with a healthy amount of respect for the new-look Wildcats.
"I think they are probably more balanced now without Jacob," Self said, "but I watched Jacob in person get 38 (points). I thought they were pretty good that night. From my standpoint, I'm glad he's graduated and gone.
"I do think that there's more balance now, and guys seem to accept their roles. Usually when you don't have a go-to guy like they had in Jacob, it makes it hard to guard because teams don't just focus in on one guy. I think on the offensive glass ... they do that as well as anybody," Self added. "A big key is whether or not we can keep them off the glass. Sometimes their best offense is missed shots, which is a compliment to them, because that's a testament to how hard they play."
Playing a rugged team like KSU certainly makes for an intriguing opener in the Big 12.
"It's a toss-up game whenever it's K-State versus Kansas," KU's Johnson said.
"We don't hide from anybody," Robinson noted. "This is how we've got to start, then this is how we've got to start. I'd rather come out of the gate running than walking to somewhere."
The race
Self said he could envision a record of 14-4 winning the Big 12: "We've won a few times at 13-3, so 14-4 may not get it outright. I think that would be a great record in this league with a chance to win it. The league is so much better than anybody thought it was coming into it," Self said.
Rebounding
On center Jeff Withey being used just eight minutes in Saturday's rout of North Dakota: "I'm not mad at Jeff or the other guys (on bench). I'm just a little perturbed," Self said with a smile. "I don't think we rebound the ball like we should. The reason we make emphasis of certain things is for games like this game. If you let it slide against other people, then the chances are that when you really have to be a great rebounding, physical team, chances are you can't just turn it on and off. It has to be a staple of who you are. Jeff is going to be very important in this game, but others are (as well)."
Boot
KU junior Releford has been wearing a boot to protect a bruised right foot. KU coach Self said Releford is OK and should be able to play tonight.
Frank Martin on KU
"I don't think anybody in the country would have an undefeated record if they've played the schedule that Kansas has played. Kansas has lined up and played anybody and everybody, and anywhere."
Of the game, he added: "We're ready to go. Does that mean we have a chance to win? I've got no idea. But our guys have been good. They've answered the bell every time. What's going to happen in Big 12 play?" Martin asked. "I don't think anybody knows."
The Associated Press contributed to this report.