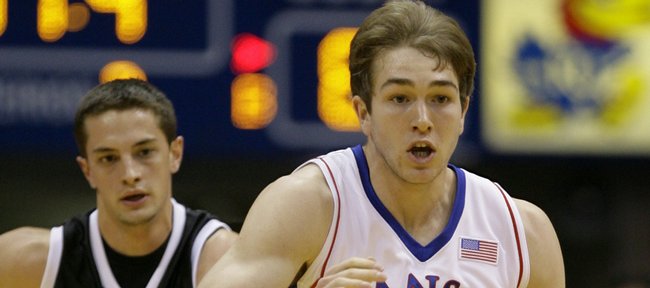 Jordan Juenemann will be spending more time than usual in Allen Fieldhouse second semester.
"I'll be a working man — 8 (a.m.) to 3 (p.m.) until we practice, wearing a suit and tie," Juenemann, Kansas University's 6-foot-3 senior walk-on basketball guard, said proudly.
The exercise-science major, who minored in business the past four years at KU, has landed a 15-hour internship with KU's Williams Fund to complete his undergraduate academic responsibilities.
"Whatever they ask," Juenemann said, asked what his duties will entail. "I will work with Mr. Mohajir (Terry, KU senior associate AD/external relations). Greg Gurley (director of development, Williams Fund) is in there. I'm looking forward to being an intern, sitting in an office and taking calls and interacting with members.
"I'm really looking forward to it. I love KU athletics. I love this place. I love Kansas. I could live here and sleep in the gym. I'm excited about being in the building all the time and all the people I've met and working with everybody."
Juenemann, who grew up in Hays — his family moved to Olathe two years ago — hasn't finalized his career path quite yet.
Last summer, he indicated that after graduation he planned to play basketball overseas, then would pursue a law degree, with aspirations to be an athletic director or sports agent.
"I want to stay around basketball and do something in basketball — in administration or athletics," Juenemann said. "I'll see what God brings me here in the next few months.
"I'm just enjoying the season. I've been here four years and now, I've got four months left. I'm trying to do everything I can to enjoy and savor the moment. I can't believe how time flies. I'll see what God has next for me."
A walk-on who played 27 minutes in KU's two exhibition games, then 10 minutes total in KU's first 11 regular-season contests, Juenemann scored five points in a 10-minute stint Thursday against Howard. He had three rebounds in seven minutes in Saturday's 84-58 victory over North Dakota.
KU coach Bill Self called on Juenemann to play the final three minutes of the first half of the UND game.
"I was guarding Huff. He was their really good player," Juenemann said of UND guard Troy Huff, who hit six of 13 shots and scored 16 points. "He got a bucket on me. He was going pretty hard. I've got to keep guys in front of me and play solid defense."
Self, who has not been pleased with his bench lately, definitely is not afraid to call on his more experienced players. Juenemann keeps himself ready at all times.
"If coach wants me for my defense, that's what I need to come in there and do and get stops," Juenemann said, "be a ball mover, do anything the team needs. I want coach to know I'm there and ready if he needs me. If not I'll be helping out in practice and doing those things."
Senior walk-on Juenemann's former roommate, Jeff Withey, had his first bad game of the season on Saturday, logging just eight minutes.
"With Jeff, I was encouraging him, (saying), 'Stay in there and keep positive,''' Juenemann said. "With our team and what coach says, 'Think next play, next game,' you have to keep your head up. It's a long season, and that's one game and one experience. What you learn is through these experiences. That's how you get better.
"Coach is coaching them. He has a way he wants them to play. Coach expects that. As a player, you want the coach to coach you and teach you those things for the betterment of the team."
It's easy for Juenemann to try to inspire. He is a man of great faith, evidenced by his description of himself on his Twitter account.
It reads: "Servant of Christ Jesus. University of Kansas. Seek first the kingdom of God and His righteousness, and all these things shall be added to you — Matthew 6:33."
"I feel like every direction in my life, God has had a hand in it. He led me to where I am now," Juenemann told kuathletics.com. "I was uncertain on a college choice but wanted to play at the Division I level. I believed I had what it takes and had an opportunity to walk on at Kansas (coming out of Hays High).  I felt that's where my life direction was heading and I took that leap of faith. It is a great experience and I have met an amazing group of people, while having doors and opportunities open I could not imagine.
"The desire in my heart led me to my faith and that is where I find my true happiness."