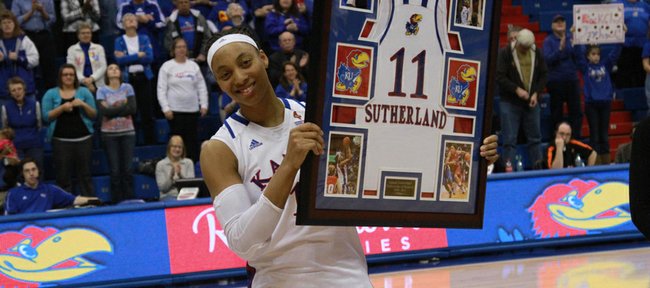 Judging by tone alone, it was obvious Kansas University's women's basketball players realized the damage they did to their postseason hopes by dropping Wednesday's game to Oklahoma State, 66-63, in Allen Fieldhouse.
"This is a game we're not gonna forget about," said forward Aishah Sutherland, who had the unfortunate challenge of attempting to celebrate her Senior Night after one of the toughest losses of her career. "It's a game we should've won, and now we have to win a game that people don't think we should win."
Kansas (18-11 overall, 7-10 Big 12) and Oklahoma State (15-11, 7-10) entered Wednesday's game desperate teams searching for that one victory that could spark a late surge into the NCAA Tournament. Both played like it.
"It's very desperate," KU junior point guard Angel Goodrich said. "Now we put ourselves in a little hole."
Leading up to Wednesday's colossal disappointment, the Jayhawks were still feeling confidence from a big road victory at Texas Tech last week that put them in a good position in terms of qualifying for the NCAA Tournament. One recent projection of the tournament field had the Jayhawks in as an at-large team. The loss to OSU might have changed that, and that was just one of the things that made the loss to the Cowboys so difficult to swallow.
"It hurts a lot because everyone's fighting to get into that middle part (of the league standings)," said Goodrich, who finished with 13 points and a game-high 11 rebounds. "Right now, if you lose, you might not get knocked down one, you might get knocked down a couple of spots."
Another aspect that left the Jayhawks scratching their heads was that it was another in a long list of home losses. After cruising through nonconference play with a 10-0 mark in Allen Fieldhouse, the Jayhawks have won just three Big 12 games in nine tries at home.
"It's been really rough," Goodrich said. "Our record at home has been very disappointing. This is where we're supposed to feel comfortable. This is where we're supposed to do business."
Perhaps the biggest bomb was that it rarely felt as if the Jayhawks were headed to frown town. Kansas led for most of the first half and trailed by just three points at halftime. In the second half, a 10-0 KU run turned a 41-40 deficit into a 50-41 lead with 13:42 to play. Instead of adding to it and riding out a huge victory, the Jayhawks let Oklahoma State back into it, and the Cowboys answered KU's run with a 12-0 spurt of their own to reclaim the lead.
From that point on, the teams traded leads and took the game to the final seconds. Kansas actually had two chances to tie or take the lead in the final 40 seconds, but one possession ended with a turnover and the other with an off-balance heave at the buzzer.
After the game, Sutherland (23 points, 10 rebounds) and her parents made the walk to midcourt to soak in the Senior Night experience. It was tough.
"I was just thinking about the game and the loss and what we need to do for the rest of the season, and I wasn't really focused on my Senior Night, so no tears," Sutherland said.
Added Henrickson: "We wanted to have tears of joys and celebration, and we didn't get it."
Kansas will close the regular season Sunday at Oklahoma.
More like this story on KUsports.com