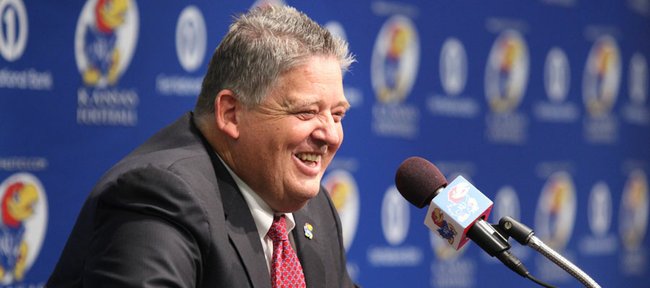 Kansas University football coach Charlie Weis announced Wednesday that the program's annual spring game, which marks the end of spring drills, will take place at 1 p.m., April 28.
The first of 15 spring practices will take place on March 27 and the Jayhawks will use helmets only for the first two days, as mandated by the NCAA.
Beginning March 31, KU will suit up in full pads and Weis and his coaching staff will begin installation of the team's new offensive and defensive philosophies.
The spring game will be open to the public and free. The rest of the sessions are closed.
Walk-on tryouts
Weis also announced on Wednesday that the Jayhawks would host two separate walk-on tryouts during the month of March for any full-time KU students who own a grade-point average of 2.75 or better.
The first session, March 12-15 will be for all positions. March 12 will be used for measurements and the next three days will consist of drills and fitness testing.
The second session, which will be for specialists only (long snappers, kickers, etc.) will run March 26-27.
Anyone interested in trying out should contact assistant director of football operations, Scott Vestal, via email at: svestal72@ku.edu.