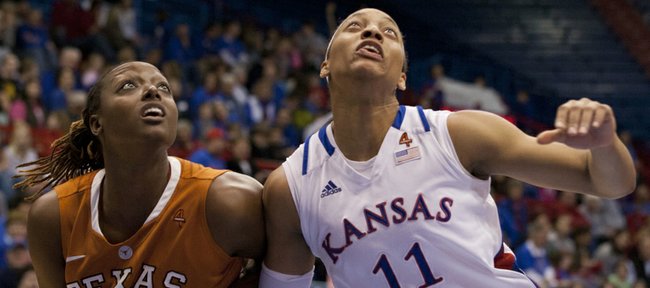 When Kansas University senior Aishah Sutherland first was recruited by KU coach Bonnie Henrickson as a senior at Perris (Calif.) High, she had to check out a map to make sure she knew where the Sunflower State was located.
Today, as she prepares for the final home game of her four-year college career — 7 tonight vs. Oklahoma State at Allen Fieldhouse — this West Coast native's imprint is all over the Midwestern program.
Though often overshadowed in the box scores and headlines by all-Big 12 teammates Danielle McCray, Carolyn Davis and Angel Goodrich, Sutherland, gradually and away from the spotlight, piled up impressive numbers that have landed her on the short list of top players to ever play women's hoops at Kansas.
"She has, at times, benefited from that, being able to be the third guy," Henrickson said. "And what a really, really good third guy she's been."
Heading into the final home game of her career, Sutherland ranks second in career blocks (144), third all-time in rebounding (867) and seventh in games played (125).
None of those totals have surprised Henrickson, even if it took her a little longer than normal to offer Sutherland a scholarship.
"I really just felt that if she would buy in and commit to me growing her game, she had the tools to become a really, really special player," Henrickson said. "You don't play in this league and put up those kinds of numbers and not be significant, and certainly she is."
The first time Henrickson actually saw Sutherland play in person, the ultra-athletic forward logged just one minute of action while playing for what Henrickson said was the best AAU team in the country. Because Sutherland's father, Clinton, had played at the University of Cincinnati — and later professionally overseas — she always leaned on her dad to help shape her game. When the recruiting began to pick up, the Sutherlands believed it best for her to receive the exposure that AAU ball could bring, so she gave the AAU circuit a crack.
It worked. But just barely.
After initially seeing such a limited sample of Sutherland's abilities, Henrickson returned to California in the fall to watch her practice.
"We didn't know enough about her," Henrickson recalled. "I went out there and said, 'Let me just watch a practice.' About five minutes in I (decided), 'OK, we're gonna offer.'"
After receiving the offer, Sutherland became sold while visiting Kansas for Late Night.
"That was a long time ago," she laughed. "But I just wanted to go play basketball. After I came to Late Night, I just wanted to come here. The atmosphere was great. And the fans, it was great. After Late Night, I didn't really care how far I was going."
As the only senior on this year's roster, Sutherland will have the Senior Night stage to herself tonight. She won't mind. In fact, she's used to it.
"After Angel got hurt, I was the only sophomore," she said. "Last year, I was the only junior, and now I'm the only senior. It's my night, but I want to make sure we stay focused and play together. We need to win this game. After that, it's all the fun, walking and hugging everybody."
When reflecting upon her place among KU's all-time greats, the humble and playful power forward stayed true to the character that has made her a favorite of her teammates during the past four seasons. She never focused on pursuing her stats or dwelling on anything negative, only on getting better each day and delivering the type of effort that "Coach Bonnie" asked from her.
"I just did what I needed to do to help this team," Sutherland said. "I wasn't trying to do anything outstanding, and I wasn't really in the spotlight, but I just did what I needed to do for us to win, just the little things."
Asked what ranking near the top of so many career lists meant to her, Sutherland stuck to the script.
"It means I did what I needed to do in this program," she said.
For the senior's final season to end the way Sutherland and so many of her teammates hope it will, tonight's game is crucial. At 18-10 overall and 7-9 in Big 12 play, the Jayhawks need every victory they can get to keep alive their hopes of playing in the NCAA Tournament. With the Cowboys (14-11, 6-10) sitting one game back in the league standings, staying ahead of the pack is more important than ever for the Jayhawks.
"They're a team that's kind of in the same boat we are," Henrickson said of OSU. "We talked (last Tuesday) about Texas Tech and us kind of staring at each other saying, 'We need to get you.' This is the same thing."
Despite all of the potential distractions surrounding her, Sutherland has her mind fixed on facing the Cowboys. After all, it's a match-up she likes, even if she's not expecting things to go quite as well as they did during KU's 65-60 victory on Jan. 18 at Oklahoma State. In that one, Sutherland led the Jayhawks with 15 points and a career-best 22 rebounds.
"Since I did get 22 rebounds there, I feel like they're going to box me out," the KU senior said. "I'm sure their main focus is going to be box me out and put a lot more pressure on me and not let me do the things I'm good at doing."
As for KU's main focus, Henrickson summed that up with ease: "We all care so much about Aishah, and the most important thing for us is to win and to send her out of here with a victory on Senior Night."
More like this story on KUsports.com