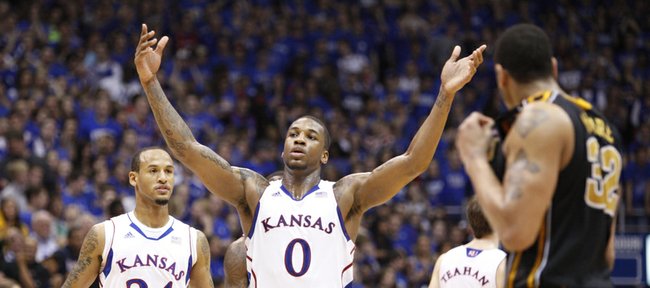 Kansas junior forward Thomas Robinson was selected as the Big 12's player of the week, the conference announced Monday.
Robinson, a 6-foot-10 Washington D.C. native, averaged 19 points and 12.5 rebounds during KU's victories over Texas A&M; and Missouri last week.
Robinson's best effort was Saturday's home contest against Missouri, where he posted 28 points and 12 rebounds in the Jayhawks' 87-86 overtime win. He completed a three-point play with 16 seconds left in regulation to tie the score at 75, then also blocked a Phil Pressey layup attempt with 4 seconds left to send the game to OT.
This is the fourth time that Robinson has won the award this year, putting him in a tie for the third-most honors in a season in conference history.
The list of four-time honorees includes former KU forward Drew Gooden in 2001-02, Texas' Kevin Durant (2006-07), UT's P.J. Tucker (2005-06) and Iowa State's Marcus Fizer (1999-00). All of those four were later named the Big 12 Player of the Year.
KU has won Big 12 Player of the Week seven times in 2011-12, which is the most ever in a season for the Jayhawks. KU's previous high of six weekly honors came in 2001-02.
KU's Jeff Withey probable for Monday's game against Oklahoma State
Kansas University center Jeff Withey remains listed as probable for Monday night's Big Monday game at Oklahoma State, coach Bill Self said on Monday's Big 12 coaches call.
Withey sprained his left ankle early in Saturday's victory over Missouri.
"I anticipate him starting tonight and playing well," said Self, who will run his players through an afternoon shootaround before the 8 p.m. game.
The Jayhawks practiced just 15 minutes Sunday before the four-hour bus ride to Stillwater.
"I think it will probably be as hard a game as we play in large part because Oklahoma State has played well at home," Self said. "I like their talent. Also because I think we're going to have to dig pretty deep. That game Saturday (emotional overtime win) certainly took a lot out of everybody. We came off that emotional high on Sunday. We really weren't able to practice yesterday. We were a tired team. We practiced 15 minutes, saw that wasn't going anywhere, then got on the bus and drove four hours down here.
"With Saturday/Monday games, we never practice more than 45 minutes to an hour anyway," Self added. "It was a draining deal. Fortunately we won. Not winning ... that game in the fashion in which it was played would have been very very hard to have this recovery time. That's life. In the NCAA Tournament we practiced 18 minutes on Sunday when we played Memphis (Monday). This is nothing unusual."
OSU's Le'Bryan Nash is listed as doubtful for the game. He suffered a fracture in his left hand last week against Oklahoma.
He'll be checked out by doctors Monday.
"He wants to play badly," coach Travis Ford said. "He keeps pressing the issue."
• A previous version of this story has been updated.