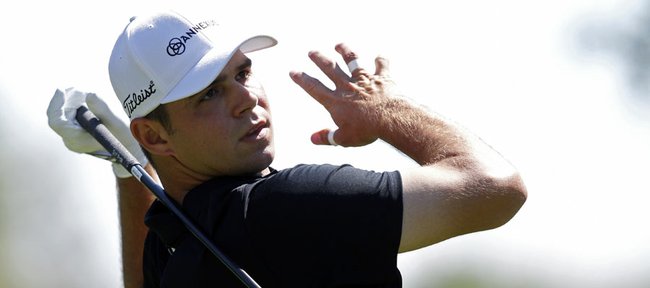 PGA tour professional Gary Woodland had hoped to be in Arizona competing in the Accenture Match Play Chamionships in Saturday's quarterfinals. He had no complaints about what amounted to a most memorable consolation prize.
Woodland and glam gal pal Gabby Granado spent the afternoon watching as entertaining a game as ever has been played in Allen Fieldhouse, where Kansas defeated Missouri, 87-86, in overtime.
Woodland, 27, was eliminated in the first round of the match-play event by reigning Masters champion Charl Schwartzel, 4 and 2. That allowed him to spend a few days in his home state at just the right time to witness the end of the Border War.
Not much about the basketball game Woodland watched Saturday could have reminded him of the one he played in Allen Fieldhouse. Woodland was a freshman basketball player for Washburn University, which plays Kansas in a preseason exhibition every other year. He then transferred sports and universities, signing up to play golf for KU.
Woodland became one of golf's best stories in 2011, his first full year on tour, when he established himself globally. (His 2009 and 2010 seasons were shortened by shoulder woes). Woodland finished 17th on the PGA Tour money list with $3,448,590.80. In November, he teamed with Matt Kuchar and gave the United States its first victory in the World Cup, played in China, since Tiger Woods and David Duvall won it in 2000.
This year hasn't gone as well so far for Woodland, but he said he anticipated that because he's in the midst of a swing change with his new instructor.
Randy Smith, head golf professional at Royal Oaks Country Club in Dallas, had been Woodland's swing guru since during his days at KU. But when Woodland replaced Randy's son Blake Smith of Hambric Sports Group as the man handling his corporate marketing, Randy Smith fired Woodland as his pupil.
Don't waste any sympathy on Woodland. He now works with Butch Harmon, a name known by even casual sports fans because he was Tiger's instructor from 1993 to 2004. Golf purists revered that last name long before it became associated with the world's best golfer. Claude Harmon, Sr., was the 1948 Masters Champion and best instructor of his era. Like father, like son. In an annual Golf Digest poll of instructors, Butch Harmon has been voted No. 1 every year since 2003. His brothers, Craig, Dick and Billy Harmon, also are highly ranked instructors.
Craig Harmon has been head golf professional since 1972 at one of the world's finest golf courses, Oak Hill Country Club in Rochester, N.Y., site of the 2013 PGA. Craig's college teammate at San Jose State, All-American Ross Randall, was Woodland's coach at Kansas. Small golf world.
Ideally, swing changes should start earlier than Woodland's because they take time to get rooted, but the ever-confident Topeka native said during halftime of Saturday's classic game he is encouraged by how far down the road Harmon has him.
"We've made a lot of changes the last few months. We're trying to get ready for Augusta," Woodland said of the Georgia course where the Masters is played every year. "That was the plan. I think we'll be ready before that. We're ahead of schedule. It's pretty good on the range. I've just got to trust it when I get on the golf course. That's been the hardest part."
One of the longest hitters in the world, Woodland has always cut his driver, which means giving it a slight left-to-right path. Harmon has taught him how to draw the ball, which puts it on a right-to-left path and adds yardage.
Butch Harmon is in such demand that he doesn't take clients unless he strongly believes in their ability, as evidenced by the star power of his small stable. He teaches Dustin Johnson, Phil Mickelson, Nick Watney and Woodland, not your average Sunday morning foursome.
"The kid has a chance to be the best player in the world," Harmon told Doug Ferguson of the Golf Channel.
As Woodland looked out on the court on which he once played, he talked about his work with the world's most respected golf instructor.
"We're just trying to hit more consistent, trying to hit every shot," Woodland said. "I was pretty stuck with one way, always cut a driver. We're trying to hit it both ways. Especially going into Augusta. We're just trying to get the whole arsenal ready to go."
Woodland, one of four golfers (Schwartzel, Steve Stricker, Ryan Palmer) to finish in the top 30 in all four 2011 majors, tied for 24th in the Masters last April.
"The golf course suits me great," Woodland said. "Hopefully, we get the game where everything's clicking on all cylinders, and we'll be ready to rock and roll."