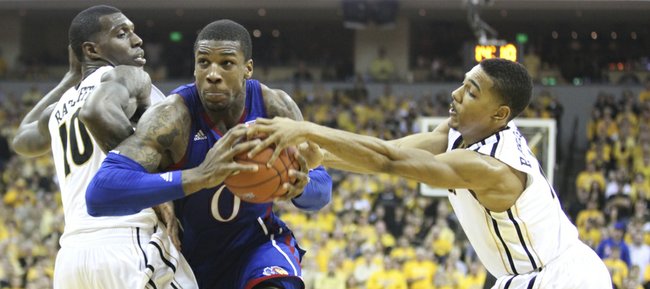 Kansas University's basketball players congregate at center court and chant, "Big 12 champs," as they conclude each practice during the marathon conference season.
Today, in front of their own fans, the Jayhawks can stake claim to at least a share of an eighth-straight league title — and achieve an all-important goal — by defeating rival Missouri in a 3 p.m., tip, in Allen Fieldhouse.
"If we win this game, we put ourselves in great position to win the conference. We don't want to be that team that ends the streak, so we definitely want to go out there and play tough," said KU junior center Jeff Withey.
No. 4-ranked KU (23-5, 13-2) holds a one-game lead over No. 3 Missouri (25-3, 12-3) with three games left on the slate. Third-place Baylor and Iowa State are way back and non-factors at 10-5.
"These kids will be fired up to play for a lot of reasons," said KU coach Bill Self. His squad blew an eight-point lead in the last two minutes of a 74-71 loss to MU on Feb. 4 at Mizzou Arena. "They have a chance to get a ring, at least a piece of it, a chance to play Missouri, but more importantly, a chance to play a team that beat us the first time we played. That would be plenty to focus on."
KU also has a chance to win what's being billed as the final game against MU in Allen (the Tigers move to the SEC next season). The Jayhawks currently have a 12-game winning streak against their rivals at home.
"The most important thing is to win the game, to put yourself in a position to win the league. That's every team's goal," Self said. "This gives you an opportunity to at least put yourself in a good position. It puts them in a good position, too, if they win."
Despite a significant size advantage in the first meeting, 7-foot KU center Withey failed to score while grabbing four rebounds in 23 minutes.
"We know how much this game means for our team, and for me personally it means a lot because I had a horrible game against them last time," Withey said.
"There's a lot of things I could have done. I was posting up against a smaller guy (6-8 Ricardo Ratliffe, six points, four boards vs. KU) so I need to definitely take advantage of that and hopefully open things up for Thomas (Robinson, 25 points) and for Ty (Taylor, 21 points) to be able to drive into the lane. We have a lot of size. Last time I didn't take advantage of that at all."
Guard Marcus Denmon (29 points) hit six of nine threes on a day MU cashed in 10 of 22 to KU's six of 16.
"We actually guarded them pretty well, but we didn't guard him (Denmon), in large part because he made some great plays," Self said. "It's kind of a 'pick your poison' deal because if you stretch out too far, then that puts the ball in (Phil, point guard) Pressey's hands to make plays. We have to find a rhythm and a balance on how to keep them out of the paint and still pressure outside. (Michael) Dixon's on a roll right now too, but their whole perimeter is terrific."
Pressey had just two points and three assists in the first meeting, while Dixon had 15 points.
"We played hard, which we always do. We executed well. We shared the ball and handled their post presence," MU coach Frank Haith said of the first meeting, one in which the Tigers were outrebounded, 29-26. "We did a nice job with Jeff. He's a tough match-up — five, six, seven inches taller than any of our post guys. We have to do our work early, to establish low-post position and have got to keep them off the glass."
As far as intangibles, the Tigers have to handle the noise level in the fieldhouse.
"The noise ricochets off those walls," Haith said. "It's deafening. When I was at Texas (as assistant) and we played there, you couldn't hear yourself speaking on the bench. We've got to be ready to play. The good thing about it ... we said this in the meeting room, our guys have experienced playing there. That's a good thing.
"It's a constant noise," Haith continued. "Very few places have that in the country. Duke is another place the noise is constant. It goes from high to higher. That's it. But it's fun. If you are a college player ... it's a great opportunity for our young people."
Numbers: KU leads the series, 171-95. KU is 88-33 vs. MU in Lawrence, 41-14 in Allen. ... KU is 24-10 vs. MU since the inception of the Big 12 ... KU coach Self is 17-4 all-time against MU, including a 14-4 record while at KU; MU coach Haith is 1-0 against Kansas as a head coach.
More like this story on KUsports.com