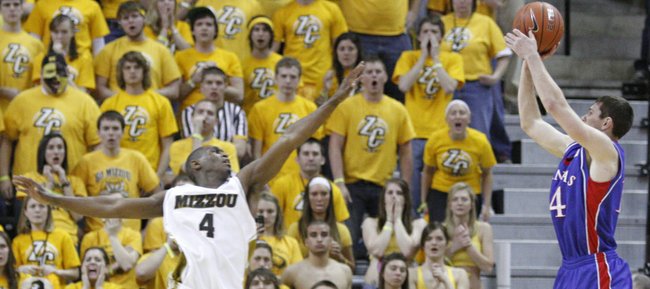 Like hordes of Kansas University basketball players before him and those who wore the Crimson and Blue after him, Greg Dreiling circled a couple games on the schedule before the start of each and every season.
"I always loved to play against Missouri. What Jayhawk doesn't?" said Dreiling, a 7-foot center out of Wichita, who went 5-1 versus the Tigers from 1983-86. "I talk to former players. They have a dislike for Kansas State or whoever else, but for some reason Missouri gets under your skin just a little bit more. I don't know what it is ... the hate for Missouri is instilled. Does it go all the way back to the burning down of Lawrence?" Dreiling asked.
"I don't know, but certainly when Ronnie, Calvin and I were seniors, we wanted to make sure we took care of those guys and went out on a good note."
The Jayhawks, led by Dreiling, Ron Kellogg and Calvin Thompson, crushed MU, 100-66, on Feb. 11, 1986, in the final Border War conflict of their careers.
"Our greatest joy was hearing (MU coach) Norm Stewart screaming at his players during timeouts. That was enough for us," said Dreiling, who went on to play 10 years in the NBA and is now an advance scout for the 2011 NBA champion Dallas Mavericks. "When we put a beatdown on those guys like my last game at home my senior year ... Norm made them aware of what was happening. I didn't want to be in that huddle," Dreiling added with a laugh.
One might figure Dreiling would be a little melancholy knowing today's KU-MU meeting (3 p.m., Allen Fieldhouse) will likely be the last played between the schools in Lawrence.
Not so.
"I hate to see one of the longest rivalries in the history of college sports come to an end, but I'm a realist. I understand what it's all about. Of course we all know what it's all about," Dreiling said, referring to the perceived extra dollars MU will make as the Tigers move to the SEC next season, compared to the Big 12. "You move on. At Kansas we don't care what anybody else does. We just care about what we do and continue to put forth our best efforts and be Kansas Jayhawks. We don't need them to be a Jayhawk."
Here are some other former KU players' takes on MU's move to a new league and the conclusion of the Border War:
Scot Pollard, KU center, 1993-97
"It makes sense because I know what it's about. Obviously it's about money," said Pollard, who played in the NBA for 11 years and now dabbles in broadcasting and other ventures.
"As far as college athletics goes ... it's about rivalries, not about money. It's about the competition. It's about history. There are a lot of rivalries out there, but few actually stem from real bloodshed. This rivalry stems from real bloodshed, real war. To lose that rivalry is a huge thing.
"I'm sure the schools will end up playing each other occasionally, if not every year, but to lose them in a conference ... I'm not sad to see Missouri leave, but I am really sad to see the rivalry die. I don't hate anybody but I really dislike those Tigers. We really loved beating those Tigers," added Pollard, who went 5-4 versus MU.
Rex Walters, KU guard, 1991-93
"It's awful. They broke tradition and natural rivalries for money I guess. I loved playing against Mizzou and we will miss those type of games....but we still have K-State," said Walters, head coach at University of San Francisco who went 6-0 vs. MU.
"I just remember Norm (Stewart, who went 33-41 versus KU) yelling at Richard Scott and myself. We really didn't know what he was saying — I would have definitely said something back if I understood him .... bad habit that coach (Roy) Williams couldn't break me from — so Rich and I looked at each other and started laughing ... that and the score probably made him even more upset.
"I also remember Anthony Peeler's 43 point game at the fieldhouse (in 1992). Coach Williams kept saying that one guy couldn't beat us and I knew he was right, but I have to admit that I was going to hear it from my teammates that 'AP' went for 40-plus on me. I just want to go on record and say that Alonzo (Jamison) was actually matched up on him most of the game. Sorry Zo, you got me a lot of lay-ups and guarded my man 90 percent of the time but this is the truth about the match-up."
Milt Newton, KU forward, 1985-89
"The SEC is not in our region so it's funny to think of MU playing in that conference," said Newton, who went 5-4 versus the Tigers. "Let's face it, the SEC has historically been a football conference, with a sprinkling of some basketball teams with Kentucky being the constant. We're going to miss beating up on them on a regular basis.
"Am I sad? No, I don't play anymore," wrote Newton, Washington Wizards' vice president of player personnel. "My best memory of the KU-MU rivalry is that after coach (Larry) Brown was left with no other choice after Archie (Marshall) went down with an ACL, Bill Pope our team manager didn't have any playing eligibility left and neither did Chuck Newman, the equipment manger. So I paid coach Brown to assure he would play me (just kidding).
"My first home game as a starter was against Missouri. I proceeded to rip the Band-Aid off Derrick Chievous and gave him 21 points and five rebounds as we beat them, 78-74. They were ranked high that year if I recall. I also remember (fans yelling), 'Sit down Norm! Sit down Norm!'
"In Columbia, I remember jumping over Mike Sandbothe and dunking on him. That shouldn't have been a big deal because he couldn't jump, but he would always try to play dirty. Also, the Antlers (MU student cheering section) saying things that were outside the lines of good sportsmanship," Newton added.
Clyde Lovellette, KU center, 1950-52
"Money ... it seems to me that's all it is. They think they can make more money in that league rather than the Big 12," said Lovellette, who went 6-1 vs. the Tigers. "Sure it's sad (to see MU leave). It's a tradition for 100 or more years. You take that out of the mix then you've got to have another rival. You go with K-State. If they leave, who are you going to be a rival with?"
Asked whether the K-State or MU games meant more, Lovellette said: "Both. I don't know if I hated them (Tigers) but it was a tradition that you did hate them. You'd get on the court and just play."
Brett Ballard, KU guard, 2000-02
"I hate the fact Mizzou is joining the SEC. I think the KU-Mizzou rivalry is terrific for both programs and for college basketball. I am very sad that KU and Mizzou won't be playing anymore, but I understand KU's and coach (Bill) Self's stance on not scheduling them for the time being," said Ballard, Baker University's second-year hoops coach who went 3-1 vs. MU.
"Both games my senior year were memorable — at home when we drilled them pretty good (105-73) and Kirk (Hinrich) went off (23 points). The place was rocking. At Mizzou when we capped off the 16-0 Big 12 conference season (95-92 win).
"After we won my senior year, I was running off the court and a Mizzou fan threw a cup and hit me. The funny thing was the CBS camera was on me for some unknown reason so it was on TV and it definitely gave my friends and family a laugh. Also my senior year the Antlers kept calling my apartment phone. The night before our home game my roommate was on the phone with them for 45 minutes and they thought it was me. We always hang a KU flag on our locker room door at opposing arenas. At Mizzou a couple of years ago they took it down and said we couldn't do that. Needless to say we put it back up and it stayed up (and we won)."
Terry Nooner, KU guard, 1997-2000
"I think it's a bad move to join the SEC. I don't think they can compete in any sports, especially football and women's basketball. I also hate to see the rivalry end. Being a Kansas City kid, the KU-MU rivalry runs very deep and I've been around it all my whole life," said Nooner, assistant women's basketball coach at Southern Illinois University, who went 5-4 vs. MU.
"My favorite memories were my freshman year and Raef's (LaFrentz) crazy tip dunk ... and my senior year getting to start, and Keyon Dooling jumping over Ashante Johnson ... but the home refs called charge!" wrote Nooner.
Sasha Kaun, KU center, 2005-08
"I think it's sad for the conference. We are losing a great school, but I'm sure they have their reasons to go, so all we can do is wish them luck," said Kaun, who went 6-2 versus MU.
"Of course," the CSKA Moscow pivot added, asked if he was sad that the schools would not play again in the regular season. "It's one of the best rivalries in sports. Those games meant so much to the people of Lawrence and Columbia and all the area in between. All the bragging rights about who is better and just in general about who went to KU and who went to MU. I just hope that the schools will find a way to figure out to play each other out of conference and continue the great tradition of KU-MU games.
"MU is definitely one of the hardest teams to play," Kaun wrote. "Just like any other rivalries no matter who is ranked or not, who is better, none of that matters. The game is gonna be great, it's gonna be close and each team is gonna fight till the end. And personally I loved it. I loved it when we played home, and away, it was great and one of the best games ever!"
Scooter Barry, KU guard, 1985-89
"I realize that the world is constantly evolving. You can call me old-fashioned, but I don't like all of the conference shuffling that destroys traditional rivalries! KU versus Mizzou will always be some of my fondest memories," said Barry, who went 5-4 versus Mizzou. "I'm very sad for the future players that won't be able to enjoy the special atmosphere that surrounded the rivalry.
"There were always great battles with Derrick 'the Band-Aid man' Chievous, Doug Smith, Anthony Peeler and Byron Irvin to name a few," added Barry. He retired as a player in 2008 after a long career in Europe and is currently pursuing new opportunities after working three years in the corporate office of 24 Hour Fitness in the Bay Area.
"The Antlers that protected the sidelines of the Hearnes Center were some of the most creative hecklers I've ever seen!" Barry wrote. "The bleachers seemed to run almost vertically up from the court creating a cylinder of attention on the visiting players. You could see fans through the glass backboards while shooting free throws. Standing-room-only to be sure that the 'Chicken-hawks' don't escape with a victory.
"One year, the rumors of coach Brown leaving were floating around and we came out to an oversized cardboard construction of a bus towing a smaller cardboard construction of a U-Haul with giant headshots of coach (Ed) Manning driving coach Brown across the court! Even the coaches had to crack smiles as they taunted them on the bench. They made giant cartoon characters of players. I remember Kevin Pritchard depicted as a Wolf-Boy and a feminine version on me that was accompanied by chanting, 'Scooter, you're the daughter your father always wanted!' They were hilarious!"
Tyrel Reed, KU guard, 2008-11
"I'm not a big fan of them leaving the league," said Reed, who went 7-1 vs. Mizzou.
I guess if they think it's going to be better for them with exposure or academics, then that's fine. However, I believe that athletically the Big 12 is just as strong if not stronger than any other conference in all sports and therefore a bad move. I don't know all of their reasoning behind the move since most all of the talks and everything went on while I was in Europe (playing pro ball in Belgium for a couple months).
"I'm sad that they won't be in the same league any more and KU be guaranteed to play them twice each year. However, since they left I don't think we owe them anything and have to schedule them again," Reed added. "If KU wants to later on when it's beneficial for them then I'd be all for it. I loved watching the KU-MU rivalry growing up so will miss watching it once again now that I'm finished playing at Kansas."
He noted: "I was so excited every year knowing we were going to play them twice and all of us players are a little bit more amped to play that game. It may be cliched since it's the most recent memory and seems to be the one people talk about, but it would be when I hit the three last year at MU in the corner and yelled at the crowd. I didn't say anything in specific just got caught up in the moment I guess. I mainly remember seeing the replay on the Internet after the game and seeing coach (Kyle) Keller go crazy, which was hilarious to me."
Wayne Simien, KU forward, 2001-05
"It's disappointing anytime you see a team from the conference that you played in and love leave, whether it's Colorado, Nebraska, Texas A&M; or MU," said Simien, who went 8-2 against the Tigers.
"No," he added, asked if he was sad the series was ending, "because KU finishes the series on top at 170 something and 90 something (KU leads 171-95) — advantage KU. I'm looking forward to playing someone else.
"My favorite memory in Columbia was my junior year when they made the mistake of scheduling us to play the last game ever in the Hearnes Center. We won, 84-82, when David Padgett hit a shot at the buzzer. Also my freshman year when we completed our 16-0 Big 12 undefeated season in Columbia. In Lawrence, it was the year we were both in the top 10 and we smashed them."
Eric Chenowith, KU center, 1998-2001
"It is truly upsetting that KU will not play MU any more. It is the second oldest college football game and we have played them since 1907 in basketball," said Chenowith, assistant coach at Villa Park (Calif.) High School, who went 4-4 vs. MU. "As much as we hate each other it is still always a great time for everyone when we play. At the end of the day it comes down to pride and passion for your university and beating Missouri. I feel the worst for our fans. Our students camp out the longest for that game and our alumni look forward to that game the most. Missouri is so easy to hate and beating them always feels amazing! But leave it up to Missouri to screw up a good thing."
He wrote: "I remember the first time playing in Columbia and hearing all the chants from The Antlers. One of them called my AD at Villa Park and tried to dig up dirt on me which was obviously unsuccessful. Calling themselves the Antlers.... really? I remember beating them in Columbia my sophomore year and how amazing Ryan Robertson played. He was lights out! I also remember coach getting upset for us celebrating on their court because it was a lack of class and we should have acted like we have been there before. The students always sold shirts that said 'Muck Fizzou' which I thought was hilarious. My senior year I wore one under a white Dri-Fit shirt while I was shooting around before the game and the students picked up on it so I had to do a quick change before coach saw. By the way, we won that day."
Ted Owens, coach, 1964-83
"When I look around and see the geographic nonsense that is going on ... West Virginia is a perfectly good university and they will bring a nice program in, but it's crazy," said Owens, who had a 26-20 coaching record vs. MU. "Once you get past football and basketball, for your other sports you have to travel with your teams. It's just crazy.
"Missouri makes a little more sense, At least they border on Arkansas. There will be no more Texas-Texas A&M; rivalry — no more Kansas-Missouri rivalry. That's sad. I think it was a great rivalry. I am saddened by the fact the Big 12 is breaking up, a wonderful conference."
Of the series with MU Owens added: "Norm Stewart did a great job there. He took over a program that wasn't very good and developed it into a team competing for conference honors on many an occasion.
"As sad as it is, after all these years the anti- and pro-slavery battles across the border and so forth, there still are ill feelings between Missouri and Kansas. You would notice in recent years things Missouri (fans) wore. I'm not pointing at Missouri. We did enough things that were probably not right, ourselves, but even as late as two or three years ago they wore T-shirts praising Quantrill for killing all the people in Lawrence, at the Kansas-Missouri game (football) in Kansas City."
Keith Langford, KU guard, 2001-05
"Ultimately, I am disappointed, but at the same time there is a part of me that says good riddance," wrote Maccabi Tel Aviv standout Langford, who went 8-2 vs. Missouri. "Early in my career I knew Missouri was our rival but I didn't have a complete understanding why. You hear 'Border War' and assume that the meaning behind it all is the fact the Kansas and Missouri are neighboring states. I kept this understanding all in school spirit until a day in history class when I found out the true meaning of Kansas and Missouri despising one another. Learning about Bleeding Kansas, Missouri being a slave-advocating state and details of the Missouri compromise has a profound effect on my views of the rivalry.
"I changed from 'Oh, I don't like these Mizzou guys,' to 'How could they go to this school?' I went from thinking that the Mizzou fans in the stands cheering against, attempting to spit on, and yelling racial slurs at us were just showing school spirit to 'maybe this does have a deeper meaning.' In turn it gave me a deep disdain for the entire build-up of the game and the fact that it was still called the Border War. Of course I understand that guys who enroll there probably are not aware and probably don't care as long as they can get a degree and further their basketball careers, but I do believe that awareness of what you represent and 'fight' for are critical. I'm also saying that using hindsight. So I do bid the 'Border War' adieu but we all would be naïve to think that we have seen the last of it.
"Two games come to mind. The first one is my sophomore year in Columbia. I remember going in there so focused as a team. We blocked out everything. Media, fans, even girls on campus. Well maybe not the latter but needless to say we were ready. The play that stands out more than anything is me coming off a curl and passing it to Aaron Miles and from about 25 feet with the defense hanging all over him slings it in from his hip! That play and game (79-74 win) still gives me goose bumps! Mike Lee's big offensive rebound and a kick out to Kirk for another bomb from downtown late in the game too. Damn I love that team. The best Mizzou game was shutting down the Hearnes Center my junior year (84-82 win). Back and forth game early, I made a couple threes, Arthur Johnson had it going too. I may have had my favorite KU dunk during my career that game — on Johnson I might add! I just remember Wayne (Simien) being huge down the stretch as he was most of that year. I remember the end as time was expiring and coach Self gave me the ball and told me to make a play. Drove right (yes right lol) double-team came and hit David Padgett for a five-foot baseline shot. Big shot for a freshman! DP I don't know where you are now but damn that was a helluva shot bro! Great memories and great times... I can't wait until Saturday!"
Jeff Boschee, KU guard, 1999-2002
"It's crazy how the game of basketball has brought me to the state of Missouri," said Boschee, who went 5-3 vs. the Tigers. "I started as a high school coach in KC MO (Barstow School) and had to play all Missouri schools. After that I took a job at Missouri Southern in Joplin, where we play a majority of our games in Missouri. I will say people still remember an old Jayhawk like myself, and trust me I still get harassed. I have my share of Mizzou friends that are normal and aren't crazy, but some of these Mizzou fans are brutal and relentless.
"My last year at the Barstow School, we are playing in the championship game at a tournament at Cass Midway. It is a rural Missouri school with surrounding communities attending. We were playing Adrian, and their fans — literally, I think — would have kicked my butt if they could have. As I am coaching, everytime something went wrong with my team, two at least 50-year-old men, with their Mizzou shirts on, would stand up and yell and harass me. I would just look down and smile at them. They had the look of death in their eyes. As the game went on, they kept yelling at me, yelling at the officials, till finally they got kicked out. As the two were walking by me right by my bench, one would say 'M-I-Z,' and the other would say 'Z-O-U.' Then one stopped right in front of me, and said to me, 'You stupid Jayhawk arranged us getting kicked out here 'cause we were Missouri fans!' I just chuckled and went on my way.
"The best memories for me were obviously getting the victories there my freshman and sophomore year. My freshman year being able to help Ryan Robertson get, I believe, his only victory in Hearnes Center (73-61). It was special. The way the fans of Mizzou treated him was harsh. That was the most quiet I had ever heard that place in my four years.
Always the Antlers, were a joy to hear. I remember them calling my parents at the late hours of the night, calling my dorm room or apartment. My freshman year, at about 3 a.m. in our hotel hallway, I remember people yelling and shouting pounding on our doors trying to wake all of us up. I always felt on edge when going to the hotel the night before playing Mizzou. You never knew what was going to happen.
My senior year, beating them by damn near 30 at our place (105-73). I had never heard Allen Fieldhouse that loud. A few weeks later, we had an opportunity to go 16-0 in the Big 12. I remember like it was yesterday — Clarence Gilbert heaving a shot from three, and Kirk Hinrich grabbing the rebound and sprinting to half-court and we had escaped (95-92). I never got to experience a national championship, but that was the best feeling besides an N.C. that anyone could have experienced. I still remember sitting in that small locker room after the game, and coach Williams speaking to us and thinking, 'I can't believe this just happened.'''
More like this story on KUsports.com