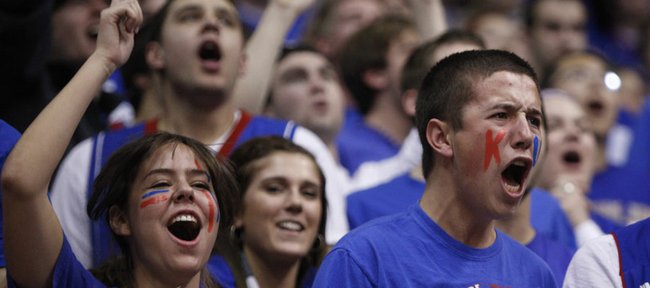 The end is near for Kansas University senior guard Tyshawn Taylor, who has just two home games left to play in his college career.
Both figure to be major happenings — Saturday's 3 p.m., clash against Missouri in what is being billed as the last game in history between the rivals in Allen Fieldhouse, and an 8 p.m., March 3, Senior Night contest against Texas.
"I think it's definitely going to be the biggest in my four years," Taylor said, asked if Saturday's rematch of a 74-71 loss to the Tigers on Feb. 4 in Columbia, Mo., could be the biggest game since Allen Fieldhouse opened.
"Look at all the people we have out there (hundreds of student campers). This is the most campers we've had in a minute, so I think it's gonna be crazy. I've been a part of probably three or four like really crazy games, and I think this is probably going to top all three or four of those," Taylor added.
The Jayhawks are eager to make up for the game at Mizzou Arena in which KU squandered an eight-point lead late.
"We're still kind of bitter about that," Taylor said. "We kind of let that slip away, so we're going to try to bounce back at home."
KU coach Bill Self believes this has the potential to be the greatest game-day atmosphere in at least his nine seasons at KU. After all, a victory would assure KU a tie for its eighth-straight Big 12 title with two games left on the slate. What's more, the country's top high school prospect, Las Vegas' Shabazz Muhammad, will be sitting behind the KU bench as part of his official recruiting visit.
"I haven't been here that long, but this is my 10th year counting the year I was here with Larry Brown," Self said of the 1985-86 season. "I don't think there will be anything that compares to it. The only night I can think of that would be close to as energized would be the inaugural event, the opening of the building. I would think that would have been a special, special night when KU played K-State to open the building (March 1, 1955, when KU beat the Wildcats, 77-67)."
KU junior Jeff Withey realizes the roar before the opening tip could raise the roof.
"You can barely hear yourself think when it's like that," Withey said. "It's real exciting playing in an atmosphere like that. I know it's going to be really intimidating for the other team."
T-Rob says he's sorry: KU junior forward Thomas Robinson apologized for his technical foul in Wednesday's victory over Texas A&M; on Twitter late Wednesday night.
He wrote: "Let my emotions get the best Of me tonight apologize to all my jayhawk fans and anybody who supports me or our program won't happen again!"
Self said Thursday that he speaks with Robinson "all the time" about teams trying to frustrate him.
"We had a kid at Oklahoma State named Byron Houston that was a beast, but he was emotional. When you'd put a reserve or two reserves in to lay on him or something like that, he'd get frustrated. Thomas has really handled that, for the most part, really well," Self said. "Last night, there was nothing that Texas A&M; did that was even remotely worth getting frustrated over. You've just got to finish plays. That led to his frustration as much as anything.
"I think it happened (shoving A&M;'s Ray Turner as they fought for a loose ball) strictly out of frustration because he hadn't had a good game. I don't think it had anything to do with the actual play. It was frustration for a lot of reasons, how they defended him and that kind of stuff. That is what disappoints me. I think kids can get emotional in a scuffle or a loose ball, that doesn't bother me. You have to think for the team's benefit, and you can't push anybody, which was a bad play on his behalf and probably gave them the only chance they had to possibly win the game."
Missing Mizzou?: Self was asked if he has personal feelings about playing Missouri for the last time.
"No," he said. "I love playing Missouri. I loved playing them when I was at Illinois, and I've loved playing them since I've been here, but it's not anything that I'm going to sit around and think about. I don't feel that strongly at all about it."
Jayhawks to attend: Plenty of former KU players will be in the house Saturday. They include: Eric Chenowith, Nick Collison, Matt Kleinmann, Raef LaFrentz, Christian Moody, Brady Morningstar, Marcus Morris, Markieff Morris, Kevin Pritchard, Tyrel Reed, Bud Stallworth, Billy Thomas and Stephen Vinson.
More like this story on KUsports.com