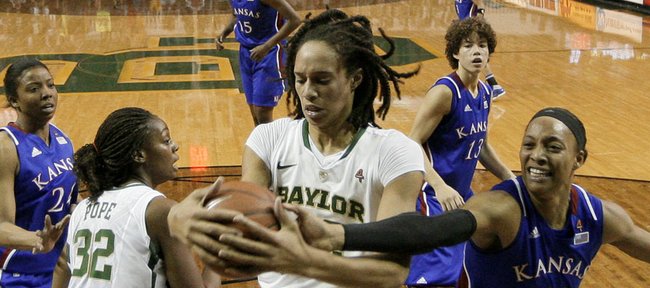 Baylor All-American forward Brittney Griner is averaging 22.7 points and 9.8 rebounds, but it's another aspect of her game that impresses Kansas University coach Bonnie Henrickson the most.
"I've always said that the most impact she has is on the other end of the floor because she's going to take 25 to 30 (points) away from you at the rim and even mid-range," Henrickson said. "You have to be really smart with her and recognize she doesn't have to be very close to you to get a piece of it. She can cover a lot of ground in a short period of time."
KU will have to be opportunistic to try to score against the 6-foot-8 Griner and BU during today's 6:30 p.m. home game against the No. 1-ranked Bears. Baylor remains as the only undefeated team left in men's or women's Div. I basketball.
The Jayhawks' first crack at the Bears' defense didn't go so well.
KU made just 18 of 61 field goals (30 percent) and 13 of 49 twos (27 percent) in a 74-46 loss at BU on Jan. 28. In that game, Griner contributed five blocks in 31 minutes.
"You can't go challenge her at the rim," Henrickson said. "That's wasted possessions."
Henrickson said it was important for her team to take advantage of transition opportunities and also knock down open jumpers when they were available.
On Saturday, Texas Tech demonstrated another strategy that was effective against BU: shooting lots of three-pointers early instead of taking the ball into Griner.
The Red Raiders made six of eight first-half threes, taking a 35-30 halftime lead before eventually falling, 56-51, at Waco.
KU did show the ability to hit outside shots in the first match-up, making five of 12 threes (42 percent).
Another important matchup for KU offensively will be point guard Angel Goodrich against BU's Odyssey Sims, who leads the conference with 3.2 steals per game.
"We've got to get her screened a little bit and try to get her off of (Angel) a little bit," Henrickson said, "because that's a lot for Angel to handle."
BU has won the last four games against KU and 14 of the last 15.
More like this story on KUsports.com