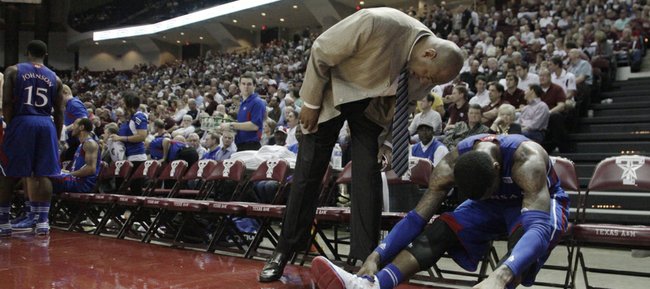 Podcast episode
Kansas coach Bill Self talks to reporters following the Jayhawks' 66-58 victory over Texas A&M; on Feb. 22, 2012.
KU vs. Texas A&M
While winning a basketball game Wednesday night in Reed Arena, the fourth-ranked Kansas University basketball team also managed to diagram a blueprint for how to make an early exit in the NCAA Tournament.
Get a big lead and then turn inattentive, lose the ball, get into foul trouble, lose your temper and in the same play remove the best player on the team.
Next thing you know, the clock expires, the game is lost, and the tournament is just a television show that hurts too much to watch.
Kansas defeated Texas A&M;, 66-58, and in doing so should have defeated any notion that the Jayhawks have enough talent to stray from playing with more intensity and smarts than the other guys and still cruise to victory.
Kansas is in contention for a No. 1 seed more because of its extraordinary will than skill, and when the former falters, the lack of depth of the latter gets exposed in a hurry, especially when it can't shoot straight.
In less than a five minutes of game clock, an 18-point lead became a four-point lead.
Compounding matters, Kansas, which led by as many as 21 points, would have had to play an overtime period without Thomas Robinson because he couldn't check his temper and shoved his way into a technical, his fifth foul. Robinson played just 28 minutes, Tyshawn Taylor just 30, thanks to foul trouble.
On this team, when starters are forced to sit for longer than a quick rest, bad things can happen.
Kansas did come away with the victory it needed, and to a large extent scoring from an unexpected source helped that to happen.
All things considered, Elijah Johnson picked a great night to assert himself offensively. Johnson scored 18 of his game-high 21 points in the first half. At that point, with Kansas leading 31-21, Johnson had more than a third of the game's points for both teams.
In the first half, Robinson and Taylor combined for one field goal and three points, and Travis Releford and Kevin Young, with four points apiece, were tied for second in scoring.
"Elijah was great in the first half," Self said. "I didn't realize he had 18 until I got to the stat sheet. When your second-leading scorer has four, that's obviously not great."
Johnson made three of seven three-point shots, the rest of the team one of 11. Johnson made seven of 11 field goals, the rest of the team 14 of 43 (.326).
"He was huge," Taylor said of Johnson. "He got us off to a good start and shot the ball well. We had kind of been waiting for him to get going. It was good for him to get a little bit of confidence going into a big game."
Relying on Johnson, a .294 three-point shooter coming into the night, to get hot, and banking on Conner Teahan to steal possessions by banging the boards (career-high eight rebounds, three off the offensive glass) won't cut it in the tourney.
Look for Kansas to be at its best in front of the home crowd in Saturday's rivalry game pitting No. 3 Missouri against No. 4 Kansas.
That atmosphere will blow away any NCAA Tournament environment.
In contrast, just 6,868 made it to Reed Arena. Tourney crowds all are bigger than that, but with so many of the seats filled for some games with fans waiting for another contest or not having a strong rooting interest, the feel can be a lot closer to that of Wednesday's game than Saturday's.
If the KU players, especially the best one, can remember how quickly things turned sour midway through the second half Wednesday, it might help them avoid the same mistakes that could be fatal once the season advances to the single-elimination phase.
More like this story on KUsports.com