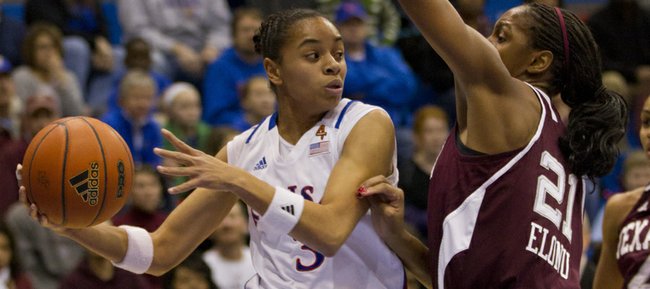 Lubbock, Texas — Kansas University's Angel Goodrich led the KU women's basketball team to a road victory against Texas Tech Tuesday night, and the junior guard did it in record-breaking style.
Goodrich's eight assists broke the KU single-season assist record, while her team-high 20 points pushed the Jayhawks past the Lady Raiders, 69-64.
The Jayhawks (18-9 overall, 7-8 Big 12), who put a stop to a three-game losing streak, had not won in Lubbock since 1978. It also marks the first time since 2000 that KU has won at least seven Big 12 games.
Goodrich, who also had a team-high six rebounds, shot the Jayhawks into the lead early, scoring 15 of her points in a back-and-forth first half. Kansas, led by a trio of Goodrich three-pointers at the end of the half, led Texas Tech, 31-28 at the intermission.
The Lady Raiders (17-10, 5-10) came back to take the lead with 12:31 left in the second half, but freshman Natalie Knight (12 points, five rebounds) fired off two straight three-pointers to tie and overtake Tech with just under seven minutes to go. Goodrich's record-breaking eighth assist came on a Tania Jackson three-pointer that pushed KU's advantage to 64-58 with 2:46 left. That pass gave Goodrich 208 career assists — one better than former Jayhawk Lisa Braddy, who finished with 207 in the 1987-88 season.
Senior Aishah Sutherland scored 15 points with four rebounds, while sophomore CeCe Harper had nine points and six rebounds.
Texas Tech guard Chynna Brown led the Lady Raiders with 21 points.
The Jayhawks will take on No. 1 Baylor at 6:30 p.m., Friday at Allen Fieldhouse. The game will be broadcast on FSN.
Goodrich honored: Junior guard Angel Goodrich was named as a semifinalist for the Nancy Lieberman Award Tuesday.
The award honors the top point guard in all of Division I women's basketball, and focuses on "floor leadership, play-making and ball-handling skills that personified Hall of Famer, Nancy Lieberman during her career," according to the Rotary Club of Detroit's website.
Goodrich is one of eight semifinalists. Three finalists and a winner will be chosen during the Final Four weekend, April 1-8.
Before Tuesday's game against Texas Tech, Goodrich averaged 12.5 points, 3.7 rebounds, 7.7 assists and 2.8 steals per game. Her assists-per-game rank second in the nation.
Baylor's Odyssey Sims is also among the nominees.
More like this story on KUsports.com