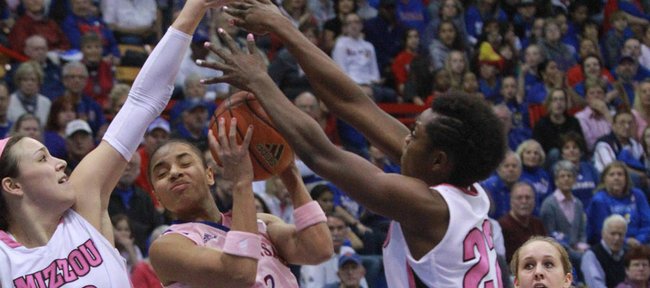 Angel Goodrich has a chance to set the Kansas University women's basketball single-season assist record during the Jayhawks' road game against Texas Tech at 7 tonight.
Just don't expect her to make a big fuss if she does.
"Like I've said before, I don't really care about records. I just care about the outcome of the games," Goodrich said. "I just give thanks to my teammates, because I wouldn't be able to have assists if they didn't make the shots. Without them, I wouldn't be really making a record."
With four games left in the regular season, Goodrich already has recorded 200 assists, which is just seven behind Lisa Braddy's school record of 207 assists set in 1988.
KU coach Bonnie Henrickson said Goodrich has a "phenomenal" ability to get the ball to players in positions where they can take easy shots.
"It's just who she is. She has a gift," Henrickson said. "It's pretty special to watch her. Most of the time, I've been around her long enough to know, 'She's going to throw it right there,' and sure enough, she does."
The 5-foot-4 Goodrich is averaging 7.7 assists this season, which is second nationally.
Her role has changed in the last couple of weeks, though, as she's being asked to shoot more following forward Carolyn Davis' season-ending knee injury on Feb. 12.
Even with Goodrich and 6-foot-2 forward Aishah Sutherland as the top two options offensively for KU (17-9 overall, 6-8 Big 12), Henrickson said she needs more out of those behind them as well.
That includes freshmen starters Natalie Knight and Chelsea Gardner.
Before Saturday's 70-65 loss to Missouri, Henrickson talked to Knight and also texted her about being more assertive and becoming KU's third scoring option.
Right after that, in 20 first-half minutes, Knight had no field-goal attempts.
"That was really inspirational, wasn't it?" Henrickson joked.
Henrickson reminded Knight to be more aggressive at halftime, and after the break, the Olathe South product went 3-for-6 from the floor and 2-for-4 from three to finish with 10 points.
"For her it's not consistency; she's got to be more aggressive," Henrickson said.
Gardner, meanwhile, had no shot attempts in 11 minutes against MU.
She'll most likely be relied upon more tonight, as her 6-3 frame matches up better against Tech's best player Kierra Mallard.
The 6-3 center leads the Red Raiders, averaging 11.6 points, 8.1 rebounds and 2.1 blocks. Mallard missed the teams' previous matchup: a 62-43 KU victory on Jan. 25 at Allen Fieldhouse.
Tech (17-9, 5-9) should have some confidence after losing at No. 1 Baylor, 56-51, on Saturday night. The Red Raiders actually led by seven early in the second half, while the game tied for BU's lowest margin of victory this season.
More like this story on KUsports.com