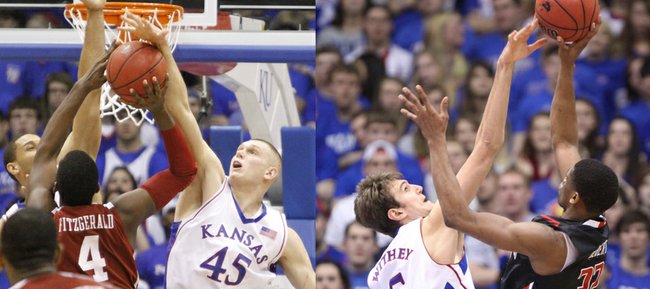 Jeff Withey's recent emergence has led to inevitable comparisons to former Kansas University center Cole Aldrich.
Without even being asked to do so, Jayhawks sixth man Conner Teahan, in his fifth year in the program, volunteered insight in the area of both centers' specialty.
"He's the best shot-blocker I've seen since I've been at Kansas, I have to say that," Teahan said of Withey. "He just has a great feel. ... Usually, when you go up against a guy with length, you want to go up into their body and try to draw a foul or knock them away. He does a good job of absorbing the hit and still blocking shots."
Better than Aldrich, with whom Teahan teamed for three seasons?
"I would say so," Teahan said. "I really would. Now, that doesn't take anything away from Cole because Cole was a great defensive center. He blocked shots, but Jeff, I guess he just has a knack for it. I don't know if it's because he played volleyball or what, but he just has a knack for blocking shots."
Withey comes from a big volleyball family. His older sister, Michelle, played the sport at Oral Roberts University, and Jeff played it growing up. When it came time to choose a sport, basketball won out, but the volleyball instincts never left him.
Volleyball players trace the ball with their eyes and hands in order to time their jumps properly.
"It's all about timing," Withey said of volleyball before a recent practice. "Whenever I see the ball in somebody's hands, it's kind of in slow motion to me."
Withey's hand-eye coordination is so sharp he blocks shots with precision, controlling the velocity of them in order to catch his own blocks.
"That's something I've learned," Withey said. "You don't want to hit the ball far away because then you don't get it. If you tip it to yourself, it counts as a rebound, too. It's something I've worked on for many years. It's just something I get to call mine."
For such an aggressive shot-blocker, Withey does a solid job of avoiding foul trouble.
"I'm just trying to be smart going after the ball after it's in the air instead of trying to attack the guy when he's right in the middle of the shot," he said.
Withey will have to maintain his recent level of overall performance for a longer stretch to draw comparisons to Aldrich, but he does have a higher ceiling as a center and runs the floor better.
The numbers already back Teahan's contention that Withey's a better shot-blocker. Withey has blocked 5.44 shots per 40 minutes for his career and 5.63 per 40 this season. Aldrich blocked 4.34 per 40 for his career, 5.19 as a junior.
In 14 conference games, Withey has 57 blocks, five more than then next two Big 12 players combined (Oklahoma State's Michael Cobbins and Baylor's Quincy Acy).
More like this story on KUsports.com