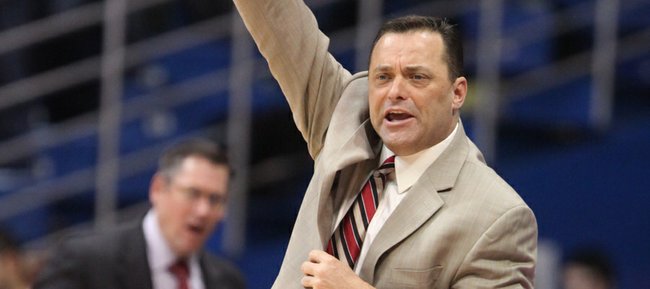 Podcast episode
Kansas coach Bill Self talks to reporters following the Jayhawks' 83-50 victory over Texas Tech on Feb. 18, 2012.
KU vs. Texas Tech
Texas Tech coach Billy Gillispie seemed to understand his team's underdog status following its 83-50 loss to Kansas University on Saturday night.
Asked about his team's difficulties on the defensive glass, Gillispie referenced the movies.
"When you look at our guys ... 'Seabiscuit' is one of my favorite movies," Gillispie said. "I keep on thinking every single time when we have the tip, remember that scene in 'Seabiscuit' where they walk Seabiscuit out here, and he's going against War Admiral, and War Admiral's about this much taller than him?"
The analogy seemed to hold up past the tip. Though KU and Tech are in the same conference, the differences between the schools' size was difficult to miss Saturday.
"You fight like crazy. That's what you do against anybody you play, no matter what your situation is," Gillispie said. "... Our guys are fighting hard; we just didn't get many results tonight."
Afterward, Gillispie outlined a few of his biggest frustrations.
One was the start of the game, where scouting-report miscues led to KU's first two baskets: layups by Elijah Johnson and Travis Releford.
"Those are mental errors that don't have to be made," Gillispie said. "They're a good team, and they're hard enough to guard when you don't make mistakes."
The Red Raiders also had 20 turnovers, three above their season average. Gillispie said that included one pass "over the top where the cheerleaders couldn't even catch it, and they're way off the court."
Tech also had problems competing on the boards, especially early. KU came away with offensive rebounds on seven of its first nine misses and ended the game retrieving 13 of its 27 missed shots.
"We didn't pursue the ball hard enough," Tech guard Ty Nurse said. "The person that wants it more is going to get it. They just played harder."
There were some positives. Gillispie was pleased with his team's three-point shooting, as the Red Raiders made six of 12 three-pointers. TTU also was 8-for-8 from the free-throw line.
Gillispie complimented his team for getting the ball inside, though many times Tech wasn't able to score there. The Red Raiders made just 12 of 32 shots from two-point range (38 percent).
"We just made too many mental errors," Gillispie said, "and that's why the game wasn't closer."
Gillispie, who admitted that he likes a good challenge, said it was just a matter of time before Texas Tech started succeeding like schools at some of his previous coaching stops.
"We've done this before, and we'll do it again," Gillispie said. "And it'll be done in quick order."
More like this story on KUsports.com