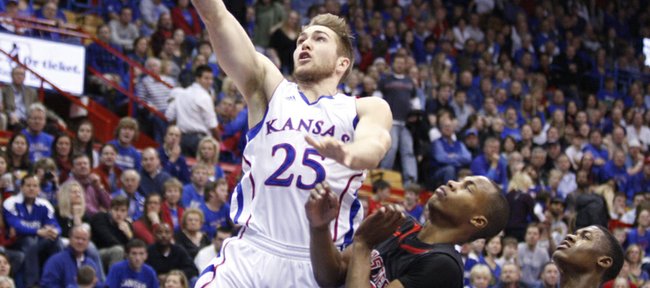 Podcast episode
Kansas coach Bill Self talks to reporters following the Jayhawks' 83-50 victory over Texas Tech on Feb. 18, 2012.
KU vs. Texas Tech
Kansas University senior walk-on Jordan Juenemann was playing press defense for the Red Team — the scout team — 10 minutes into practice on Jan. 13 when KU director of basketball operations Barry Hinson appeared on the Allen Fieldhouse floor.
"Coach (Bill) Self yelled, 'Jordan!' and I thought I was in trouble. Like, 'What did I do?'" Juenemann said, entering storyteller mode after Saturday's 83-50 home rout of Texas Tech.
"Coach said, 'Coach Hinson has something to show you with these papers.' Right when I got to coach Hinson, coach Self said to the team, 'Jordan is getting ready to sign his scholarship papers.' Right there I had a feeling I can't even describe. Coming in as a freshman, my goal was to do that. To have that accomplished ... I'm just proud," added the former Hays High standout, a walk-on no more.
The 6-foot-3, 195-pound Juenemann resembled a true scholarship athlete in exploding for a career-high seven points off 3-of-3 shooting (1-for-1 from three) while playing the final four minutes Saturday. He was one of nine KU players to score on a night the bench chipped in 31 points.
"I told our guys, 'I'll have a set of parents mad at me. I should be playing him more,'" Self said, lauding Juenemann after KU improved to 22-5 overall and 12-2 in the Big 12. Tech fell to 8-18, 1-13.
"The four minutes he played, he played great. It's good to see him be aggressive and make shots. I put him on scholarship second semester. It seems he works even harder. He made the most of his opportunity tonight."
Juenemann surpassed his old career high of six points against Tennessee Tech on Nov. 27, 2009.
"It was a blast," Juenemann said. "Before the game, coach said 'We have just three (home) games left.' He gave me four minutes of opportunity. It was so much fun."
All's well that ended well for KU on a night that started on what Self called "kind of a downer."
A power surge in the fieldhouse knocked out the videoboard screen at an inopportune time, during introductions when the pregame highlight video (the one capped by Mario Chalmers' game-tying three in the 2008 national title game) blares and fires up the crowd and the team. The video was shown at halftime.
"I told the guys, 'There's no highlight film, so let's make our own highlights,'" Self said.
The Jayhawks hit their first six shots in rolling to a 14-7 lead. KU led, 44-22, at halftime, then looked a bit lethargic in outscoring Tech, 39-28, the second half.
"We did some good things in the second half, but we're not very mature at all," Self said. "I knew we were in trouble in the first half (with 7:19 left) when they do the Thomas Robinson bit (pop-up video) on the board, and everybody watches it, and the guys are out there watching it, laughing and smiling, and the officials are smiling with 'em. I thought there'd be a chance we could lose focus.
"We are so immature in some ways, and when we get challenged we are terrific. Certainly the second half wasn't anything to write home about, but we did have some great possessions on both ends in the second half."
Robinson led the way with 16 points off 6-of-10 shooting with eight rebounds in 24 minutes. Travis Releford had 12 points, Conner Teahan 11, Kevin Young 10, Jeff Withey and Tyshawn Taylor nine apiece to go with Juenemann's seven and Elijah Johnson's six. Naadir Tharpe hit a three.
"When we share it, we are pretty good," said Self, whose Jayhawks had 20 assists (Robinson led the way with five) against 13 turnovers; Tech had 11 assists to 20 turnovers. "They went triangle-and-two and box-and-one, and we didn't share it. Guys went off on their own, and I didn't like it much at all. I took Ty and Thomas out for a while because I didn't feel we were sharing it the way we should, and they should spearhead everything. When Ty and Thomas are the most unselfish kids, everyone is going to follow. Thomas made some great plays passing in the second half. Ty did some things there late a little better, but that was a good win. We were solid."
KU will meet Texas A&M; at 8 p.m. Wednesday in College Station, Texas.
More like this story on KUsports.com