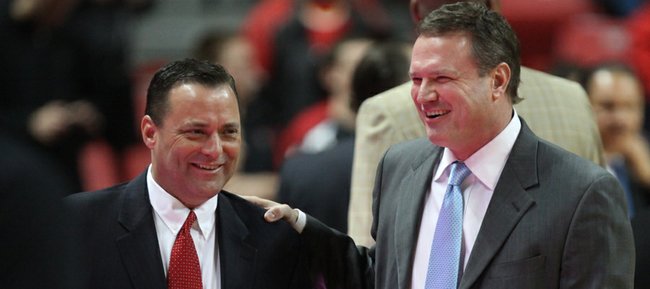 There's always a chance Kansas University's basketball team will put on a high-flying offensive display — featuring an assortment of lob-dunks and breakaway jams — on any given night in Allen Fieldhouse, a place where the Jayhawks have won 88 of their past 89 games.
The odds of such a show decrease a bit, however, when the opponent happens to be coach Billy Gillispie's 2011-12 Texas Tech Red Raiders.
Tech (8-17), which has averaged a league-worst 53.2 points a game while winning just one of 13 conference contests, has allowed 67.2 points a game while holding its last two opponents — Oklahoma (47) and Texas A&M; (47) — under 50. The last time Tech held back-to-back league foes under the century mark was way back in 1987.
"I know Billy well enough to know he'll muddy it up," KU coach Bill Self said in previewing today's 7 p.m. home match-up between the No. 4-ranked Jayhawks (21-5, 11-2) and Red Raiders. Tech is coached by former Self assistant Gillispie, who is not against slowing the game to a crawl if necessary.
"When we played down there, he did a good job. It was 16-15 with five minutes left in the first half. We set ball back a few years in that first half," Self added. The Jayhawks led, 35-20, at the break before scoring 46 points the second 20 minutes of an 81-46 rout of the Raiders on Jan. 11 in Lubbock.
"Of course in Manhattan, both the Jayhawks and Wildcats set ball back 15 or 20 years," Self said of Monday's 59-53 KU victory in Manhattan. "I don't think winning ugly is all bad. This past Monday was a typical Big 10-type game. There were fewer possessions, and it was muddied up. That will be the same when we play Billy."
Sophomore guard Javarez Willis was the only Red Raider to score in double figures in the first meeting with KU. He scored 12 points on a night KU's Thomas Robinson, Tyshawn Taylor and Travis Releford totaled 19, 15 and 12 respectively.
"They are better than we were in my first year. We lost 18 in a row (at Oral Roberts), and that wasn't exactly playing Big 12-caliber competition," Self said. "He's way ahead of where we were, but it's tough. He didn't get a chance to really recruit (after taking over for Pat Knight). By the time he got the job, most of the guys had signed or committed. I'm not worried about Billy getting players there. He's going to get better players there, and they're going to get better. They're better than they were the first time we played them. They could have easily beat (Texas) A&M.; They had the game muddied up, just the way they wanted it. They beat Oklahoma muddying it up, and they'll come in here and try to muddy it up."
Tech scored just 38 points in Tuesday's 47-38 home loss to A&M;, a game that followed Saturday's 65-47 home victory over OU, Gillispie's first conference win since his last coaching stint at Kentucky.
The Raiders actually led the Aggies, 24-9, with 6:30 left in the first half, making the rest of the game that much more disappointing.
"We've been seeing results. The only one anyone cares about is wins and losses," Gillispie said. "As coaches you see the process more than the end result. We understand the end result is what matters. We understand that and like that. I've seen us improve in so many areas during the course of the season, while we were not winning conference games, but that makes me appreciate and respect our guys even more.
"There are not too many people in life when things don't start out as well as you want they keep on fighting hard and stick with it and are persistent and have the tenacity and all those things that will bode well for the future of the program."
The Raiders have just one double-digit scorer — Jordan Tolbert, a 6-foot-7 freshman who averages 11.4 points a game. Robert Lewandowski, a 6-10 senior out of Blue Valley West High School, averages 7.3 points and 4.0 rebounds per game.
"We knew what we signed up for. Our players knew it'd be a challenge all year long. They've been up for the challenge as far as doing every single thing right other than just winning games in the conference," Gillispie said. "You don't want to go through the long losing streak. But it makes you very, very proud as a coach when young people continue to fight even though the result is not what anybody wants."
Johnson update: KU junior guard Elijah Johnson takes an 8.7 scoring average into tonight's game. He has made 41 of 140 threes for 29.3 percent. He averages 7.2 ppg in league games, making 16 of 58 threes (27.6 percent)
"He's doing fine. He's not making shots like he can, but he's actually done a really nice job defensively in most cases," Self said. "He did a really nice job on (Brady) Heslip down at Baylor. He did a nice job, for the most part, the other night on (K-State's Will) Spradling. He was locked up on him most of the time. He's done some good things. Elijah is not concerned at all about scoring or that kind of stuff. He just wants to win. He takes great pride in doing little things to give us the best chance to win, so I'm pleased with him. I'm still waiting for that stretch (of breakout games). Every player has that stretch, and his hasn't come yet. I'm excited about that stretch because I know it's coming."
Asked what to expect from Tech, Johnson said: "Their best shot. It's the biggest game they play in conference when they come to Kansas, so I'm ready. We're ready ... all of us."
League race tight: Conference co-leader Missouri travels to Texas A&M; today for a 1 p.m. tipoff. MU and KU are tied for the league lead at 11-2
"We can definitely win the league," KU junior center Jeff Withey said. "There are five more games, and the league is ours if we go to work and do what we are supposed to do. We can beat out Missouri when they come here if we do what we're supposed to do and play basketball like we are capable of playing. We want to win the league, and that is something that we pride ourselves on and we just have to go to work everyday."
Withey, who was national player of the week last week, was asked if he's noticed a change in people around him.
"Definitely, walking on campus trying to talk to everybody who wants to talk to you," he said. "You try to stay humble by not believing the hype. I've tried to stay away from the media. It's hard, but I want to stay humble and focus on basketball."
More like this story on KUsports.com