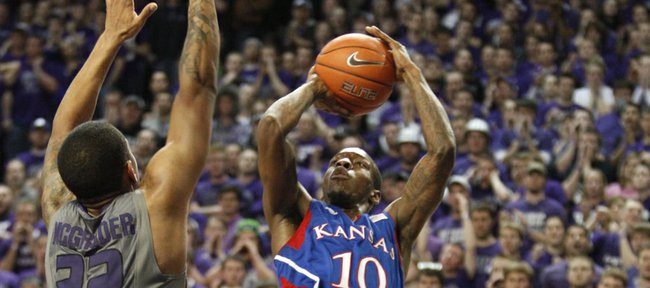 Tyshawn Taylor's play of late has thrown him into the discussion at the very least for Big 12 Player of the Year honors.
"Have we ever had a player since I've been here that's played better over a six-week period that's a guard than what Tyshawn has? Tell me," KU coach Bill Self said at Thursday's weekly news conference in Allen Fieldhouse.
"Sherron (Collins) didn't have a stretch like this; Mario (Chalmers) didn't have a stretch like this, because they played on teams where they could defer. This team he can't defer. He's been pretty solid for us."
Taylor, in fact, is the Big 12's second leading scorer through 13 games.
He's averaged 18.5 points per game, which puts him behind Texas' J'Covan Brown (20.2 ppg) and ahead of teammate Thomas Robinson (17.8). Missouri's Marcus Denmon (17.2), Kansas State's Rodney McGruder (16.3) and Texas A&M;'s Elston Turner (16.2) are all over the 16.0 ppg mark.
Taylor — he ranks fifth in assists at 5.0 per game (eighth in assist/turnover ratio) and is tied for fourth in steals at 1.54 per game — of course, doesn't figure to beat out the 6-10 Robinson in player-of- the-year voting, considering Robinson averages a double-double with 11.8 rebounds a game in 13 league contests.
Still, to be mentioned as a possibility ... not a bad accomplishment for the Jayhawks' senior playmaker.
"I think Thomas is Big 12 Player of the Year," Self said. "I think you could make a case for Ty and make a case for Denmon (Marcus, Missouri guard). To me, I think those three have distanced themselves from the other really good players to have a chance for Big 12 Player of the Year.
"A guy that has a chance to be National Player of the Year probably would be the safer bet to be conference player of the year," Self added of Robinson, who averages 17.8 points (third in league) and a league-leading 12.0 rebounds in all games played. Taylor is fifth in scoring in all games played (16.9) and fifth in assists (5.12).
Self was asked how Taylor's skill set compares to other point guards he's coached.
"I'd say he's unique because I'm not sure I've ever coached anybody that tall, that long and that fast," Self said. "He doesn't think the game like Deron (Williams, Illinois) or Aaron (Miles, KU). He doesn't have the energy that Dee (Brown, Illinois) had. He doesn't have the ability to make the shots consistently like Sherron (Collins) had, but none of them had the speed he has or the courage to get in there and make plays."
Taylor has hit 47.9 percent of his floor shots and 43.1 percent of his threes, but just 65.8 percent of his free throws — 59.7 percent in league action.
"I don't worry about free throws. I never have. I worry about turnovers," Self said. "We can practice that (free-throw shooting). He has to have some courage, faith, confidence he can make 'em. Ty is one of those guys who is never going to be an 85 percent shooter. That's not who he is. He should be a guy that makes them when it counts because he's a winner."
Self said he "loves" coaching the senior.
"I like kids with personality, but when you have kids with personality and that are stubborn and strong-willed, it creates confrontation. I would rather have a guy have a confrontation with me than have a guy that's soft and backs away," Self said. "He is my kind of guy. I don't know if I could enjoy coaching a kid more than I have enjoyed coaching him the last couple of months. I think he knows I'm enjoying coaching him, which is probably more than he's known for a period of time since he's been here.
"Look at the things that have gotten him in trouble: Tweeting and Facebook. When you talk about guys who have had bad experiences in college, they're not really talking about those types of things. Those are things that maybe go unnoticed if you play at a place that isn't as high profile as a place like this, but he brings it on himself. He gets in his own way a lot. He has certainly matured and corrected that many times over this past year."
The bottom line ... "He's had a great career. There have only been three or four other players that have ever put up the numbers he has from his position at our school," Self said. "Of course, he's also started for four years, so it's easy to put up numbers when you start for four years. He's been inconsistent, but for the most part terrific."
Academic All-Big 12: KU seniors Jordan Juenemann and Conner Teahan were named to the Academic All-Big 12 team Thursday. Juenemann made the 11-player first team; Teahan the second team. KU leads the Big 12 with 48 all-time Academic All-Big 12 selections; Texas is second with 37. First-teamers have maintained a 3.20 or better GPA while the second team selections hold a 3.00 to 3.19 GPA.
Rest: Self gave the Jayhawks two days off following Monday night's win at Kansas State.
"The batteries are recharged, and everybody's feeling good," Self said. "There's no excuses. We gave 'em two days off. We'll practice hard today and tomorrow, and we'll be ready to play (vs. Texas Tech at 7 p.m., Saturday in Allen Fieldhouse)."
Confident in Withey: Self said 7-footer Jeff Withey is the tallest player he's sent to the line to shoot technical foul shots.
"We had a guy at Illinois who was 7-3, Nick Smith, and a great free-throw shooter but we also had Deron and Dee and Luther (Head) so he never got a chance to shoot them."
League race: The Jayhawks are fully aware they are tied with Missouri for first place in the league at 11-2.
"In our room we have a board that we update the standings every day. We take great pride in looking at that stuff," Self said. "Now, we don't talk about 'this team has them left.' All you do is play it one game or one week at a time."
More like this story on KUsports.com