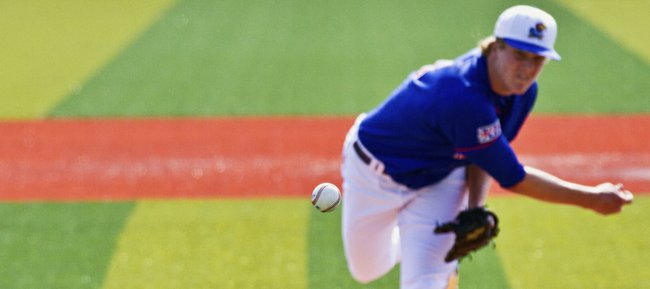 In an effort to turn around his team's fortune late in games, Kansas University baseball coach Ritch Price has flip-flopped pitchers heading into the 2012 season.
A year ago, after KU finished the season by dropping nine straight games and missed out on a trip to the Big 12 postseason tournament, it did not take Price long to pinpoint the reason for the collapse.
"We blew four leads in the ninth inning," said Price, who is set to begin his 10th season in charge of the Jayhawks.
With that haunting him all offseason and more than a dozen new faces in his dugout, Price came up with a strategy for 2012 that he dubbed "unique."
"We are going to put our best arm in the back end of games and see if we can make sure we can close the deal when we have the lead," Price said earlier this week at his team's annual media day.
Meet Tanner Poppe, the closer, and Frank Duncan, the starter.
In order to give the Jayhawks a better shot late in games, the two hurlers have exchanged roles, with Poppe taking the ball with the game on the line and Duncan being asked to eat up innings along the way. Duncan, a sophomore who served both as the team's set-up man and closer in 2011, will begin the season as the Friday night starter and will be the first to take the mound at 3 p.m. today, when the Jayhawks open the year at Middle Tennessee State. According to their teammates, Duncan and Poppe's new roles fit their personalities and throwing styles. According to Price, the new approach gives his team the best shot to win games.
"You could make an argument that our two best arms are at the back end of ballgames, and that is by design," said Price, referring also to set-up man Robert Kahana, a freshman from Hawaii.
The new job is quite a departure from the role Poppe is used to. As a sophomore in 2011, the hard-throwing righty made 13 starts and finished 3-6 with a 3.66 earned-run average and 47 strikeouts. A year earlier, he made nine starts and finished 3-4 while striking out 31.
"It's a different mindset being out there in the last inning," Poppe said. "You get everyone's best shot, so you just have to go out there and be confident and know you're going to succeed. I've usually been the starter, so I'm excited for the change. It pumps me up because there's so much adrenaline in the eighth and ninth innings. It's going to be fun."
Like Poppe, Duncan spent most of his life as a starting pitcher before entering into new territory last season. He, too, is excited about the new opportunity to take over the role opened up by the graduation of T.J. Walz, a player many have said had the same serious demeanor as Duncan.
Rounding out the Jayhawks' rotation will be freshman lefty Wes Benjamin and junior righty Thomas Taylor. Freshman Drew Morovick also figures to start many of the mid-week games.
The bullpen will include senior Jordan Jakubov, transfer Jordan Luvisi, freshman Colin Toalson — a Free State High graduate — and Matt Kohorst, Taylor Rappaport, Jaydee Jurgensen and Conner Murray.
KU's change in pitching philosophy is not the only major shake-up that Price will employ this season. On defense, senior Zac Elgie and junior Jake Marasco also have flipped spots, with Elgie headed from first base to third and Marasco taking over Elgie's role as the team's first baseman.
"I almost did it last year during the middle of the year," Price said of the switch. "But we were playing so well at the time, and I thought it could be disruptive if it didn't work. I think the switches work well for both players. Jake has made an outstanding adjustment to first base. He picks the ball well, but I think Zac is a little bit of a better athlete as far as having better lateral movement."
Both corner infielders also figure to provide some power and consistency for the Kansas offense, which Price says has a chance to be one of the best in the Big 12.
Because of the nine-game losing skid that capped off 2011 and the fact that the Jayhawks have 14 freshman on this year's roster — five of which Price said would play significant roles — the league's coaches recently ranked Kansas ninth (out of nine) in the preseason coaches poll. Rather than sulk about it, Price and his team chose to take a different attitude.
"You bet we're going to use it as motivation," he said. "I actually like where we're at. I like our club. And if I didn't like our club, I'd tell you that straight up, too. We have great team chemistry, we have depth and we have potential. If our coaching staff does our job, we'll overachieve, and we'll be successful when it's all over."
Saying goodbye
This season will mark the last for both Missouri and Texas A&M; as members of the Big 12 Conference, and that figures to bring a special feel to both series this spring.
"I was really sorry to see those teams leave," Price said. "I love playing Texas A&M.; The rivalry against Missouri is as good as any in the country and ours is included.... I think if you're going to lose Texas A&M;, you couldn't have a better team to get than Texas Christian. They've been in the top 10 and the College World Series two years ago. They'll be an outstanding addition to the (Big 12 in 2013)."
Welcome back, Ritchie
Back in the fold for the Jayhawks this spring is former KU standout Ritchie Price, the oldest son of KU's head coach. Ritchie returns as an assistant coach in charge of offense, infielders and recruiting. He also will coach third base. He comes back to KU after a successful stint as the head coach at South Dakota State.
"He brings baseball savvy," the older Price said. "He understands how to play the game the right way. He's the smartest player I've ever coached, and I don't just say that because he's my son. It's a reality. He's going to bring some insight to the game that's going to make all of our players better, and he's earned a right to come back here."
New bats, Take 2
The 2012 season will mark the second go-around with the new NCAA-mandated composite bats that were first unveiled last season. While last year's change significantly impacted the power numbers in college baseball, Price said the newer models were more reminiscent of the old aluminum bats in terms of both feel and production.
"Easton has done a really nice job," Price said. "That's who our bat contract is with. The bats are better balanced, and the performance has been better in our practice and games. They didn't expect the change to happen so fast a year ago and the bat companies weren't prepared for it. They've got them balanced properly now, and we're hitting the ball out of the ballpark in (batting practice) and in scrimmage games. A year ago, we couldn't hit the ball to the warning track. It's been a significant difference."
More like this story on KUsports.com