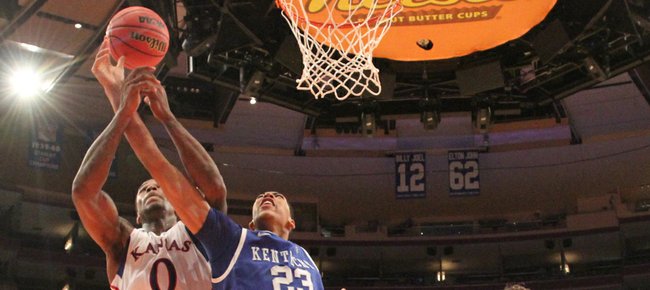 Kansas University's Thomas Robinson and Kentucky's Anthony Davis head into the homestretch of the regular season as leading contenders for college basketball's National Player of the Year.
An ESPN panel of 54 pollsters who vote for either the Wooden Award, Naismith Trophy, AP Player of the Year or Oscar Robertson Trophy has Robinson leading Davis 141 points to 112.
Robinson, a 6-foot-10, 237-pound junior from Washington, D.C., received 34 first-place votes, 19 seconds and one third in the network's straw poll. Davis, a 6-10, 220-pound freshman from Chicago, received 20 firsts, 25 seconds and two thirds. Ohio State's Jared Sullinger checked in at third, followed by Creighton's Doug McDermott, Michigan State's Draymond Green, West Virginia's Kevin Jones, Missouri's Marcus Denmon, Mississippi State's Arnett Moultrie, Murray State's Isaiah Canaan and Marquette's Darius Johnson-Odom.
Robinson led by a more sizable margin during ESPN's previous two POY polls.
"I feel more motivated right now than when people were spreading rumors that it was locked (for Robinson)," Robinson said Wednesday on Doug Gottlieb's ESPN radio show. "You never believe that, especially with so much of the season left. Now that I see I have to compete with somebody else, that makes it better. Now you have a different motivation. It makes it competitive.
"(If) I'm going against somebody, of course I want to win," added Robinson, who is averaging 17.8 points (off 54.6 percent shooting), 12.0 rebounds, 1.2 blocks and 1.1 steals a game for the No. 4-ranked Jayhawks (21-5, 11-2 in Big 12).
Davis averages 14.0 points (off 65.1 percent shooting), 9.9 rebounds, 4.9 blocks and 1.5 steals for No. 1 ranked Kentucky (25-1, 15-0).
Kentucky defeated the Jayhawks, 75-65, on Nov. 15 in New York. In that game, Robinson scored 11 points off 5-of-12 shooting with 12 rebounds in 27 minutes. Davis scored 14 points off 6-of-8 shooting with six boards, seven blocks and three turnovers in 33 minutes.
"I believe Anthony Davis is going to be a better pro and higher-drafted pro. He's a great shot blocker and affects the game more on the defensive end than Thomas Robinson," Gottllieb, a former Oklahoma State guard, said on his show. "My argument of why Thomas Robinson would be player of the year at this point is if you take him off of Kansas' team, I'm not sure they make the NCAA Tournament. If you take Davis off Kentucky, it's still a good team, still a Top-25 team, and now they (with Davis) have a chance to win the championship. That is the argument. It's kind of splitting hairs. They are different players. I'd take Robinson because of the effect and value he has to that specific Kansas club."
Robinson said the Jayhawks have come a long way since November.
"I think we've lost every type of way this year — close shots, buzzer beaters, blowouts. We've experienced a lot," he said. "For us to not be so deep talent-wise, we know our margin of error is very small. We have been able to stick together as a team, play hard and become successful from it."
Chalmers in contest: Former KU guard Mario Chalmers of the Miami Heat will compete in the NBA three-point shooting contest on Feb. 25 in Orlando, Fla. Others in the contest: James Jones, Kevin Love, Anthony Morrow, Joe Johnson and Ryan Anderson. Former KU swingman Brandon Rush of the Golden State Warriors was not invited to compete in the all-star weekend event despite leading the league in three-point field-goal percentage. He has made 40 of 73 threes for 54.8 percent.
Next up: KU will next meet Texas Tech at 7 p.m. Saturday in Allen Fieldhouse. The Jayhawks beat the Red Raiders, 81-46, on Jan. 11, in Lubbock.
More like this story on KUsports.com