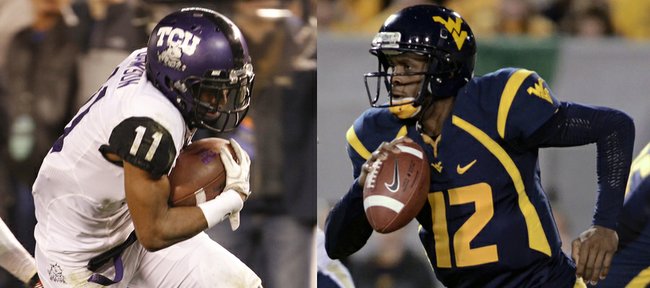 While the rest of the Big 12 football world greeted Tuesday's release of the 2012 conference football schedules with euphoria and a sigh of relief, at least one man in Lawrence refused to get worked up about the wait.
"For me, it's not a problem because all the teams are going to be new to me," Kansas University football coach Charlie Weis said at his introductory news conference in December. "Having West Virginia and TCU in here, that's just who we play. No matter who is here, those nine games you have to play are all going to be new to me."
Big deal or not, KU will play a big role in welcoming newcomers TCU and West Virginia into the Big 12 next season.
With West Virginia's divorce from the Big East becoming official Tuesday morning, the Big 12 Conference was free to release its much anticipated football schedules for the 2012 college season. When the slates surfaced, the Jayhawks learned they would open and close the 2012 season with the two Big 12 newcomers. KU is scheduled to face TCU on Sept. 15 in Lawrence in the season's first conference game, and it will play West Virginia in Morgantown, W.Va., on Dec. 1 in the regular-season finale.
The rest of Kansas' Big 12 schedule includes home games against Oklahoma State (Oct. 13), Texas (Oct. 27) and Iowa State (Nov. 17), and road games at Kansas State (Oct. 6), Oklahoma (Oct. 20), Baylor (Nov. 3) and Texas Tech (Nov. 10).
Although Weis has plenty of time to prep and gameplan for every one of those conference foes, he took the KU job with a pretty good understanding of what he was getting into.
"I just know that this is a very competitive conference that has had nothing but good teams come out of it for many years," Weis said. "It's not just this year or last year. The thing is, we want to be one of them. We want to be one of those teams where you go, 'Wow, what happened to Kansas?'"
KU's schedule, which features two bye weeks (Sept. 29 and Nov. 24), also includes home dates with non-conference foes South Dakota State (Sept. 1) and Rice (Sept. 8), as well as a trip to Northern Illinois on Sept. 22.
Kickoff times have not yet been released.
More like this story on KUsports.com