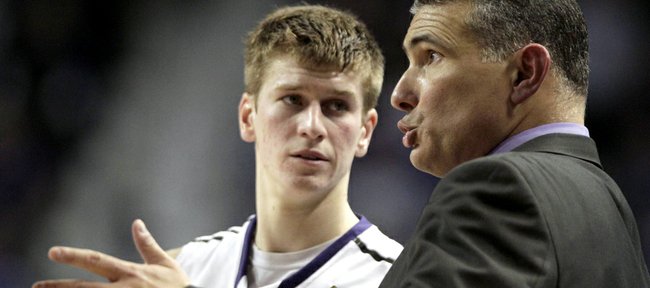 Manhattan — Kansas State's signing of Shawnee Mission South guard Will Spradling to a national letter of intent in November of 2009 did not create a lot of buzz in the college basketball world.
Some skeptics, in fact, saw Wildcat coach Frank Martin's pursuit of the 6-foot-2, 180-pounder as a mere goodwill gesture.
"I feel people doubted me. The main thing (from peers) I'd get is, 'Are you going to red-shirt?' That pushed me to show them I was going to have a key role," Spradling told the Journal-World in a preseason interview.
He has started all 24 games in this, his sophomore, season, after starting six games and playing meaningful minutes in 34 games during his freshman campaign.
Spradling — he'll start in the backcourt for KSU (17-7, 6-6 Big 12) in today's 8 p.m. Sunflower Showdown versus KU (20-5, 10-2) in Bramlage Coliseum — last season became the first Wildcat true freshman to play in all games since Jacob Pullen and Michael Beasley in 2007-08.
"I felt I came in and made a statement (that) I wasn't going to sit on the bench. I wasn't going to be the in-state player they picked up just because I'm from the state," said Spradling, who orally committed to KSU before the start of his junior season.
"It was tough the first couple weeks (on campus as rookie). Jacob just tried to embarrass me in practice every day. I'd get embarrassed and yelled at for whatever," Spradling added.
"Right after I got done getting yelled at, Jake was there telling me what I could do to get better. That really taught me a lot. By the end of the year, me and Jake were going at it every day.
"He was a great player. That's one of the greatest players in college basketball last year. I'm happy I got to play with him," noted Spradling, who is averaging 10.4 points off 38.3 percent shooting (40 of 105 from three for 38.1 percent) with 62 assists against 40 turnovers. He averaged 6.4 points (off 39.7 percent shooting, 40-of-108, from three) and 1.8 assists his rookie campaign.
"After the season, he (Pullen) said stuff like, 'This is your team this year. You really have to take it over and be a leader.'''
Spradling enters tonight's ESPN Big Monday game with a 1-2 record versus KU. He scored five points (2-of-7 shooting 1-for-4 threes) with five assists and four turnovers in 33 minutes in KSU's 67-49 loss to KU on Jan. 4 in Allen Fieldhouse.
As a freshman, he had four points (2-of-6 shooting, 0-for-3 three) in KSU's 90-66 blowout loss in Allen and nine points (3-for-4, 1-for-2 from three) in the Cats' 84-68 rout of KU in Bramlage.
"He's a solid glue guy, a stabilizer," KU coach Bill Self said. "Today (Saturday in 75-64 loss at Texas) he made three threes the first half (en route to 11 points). One of his big keys is making shots. That's a big bonus for them."
KU didn't recruit Spradling, who finished his career as SM South's No. 2 scorer of all-time (1,225 points). That was OK with Spradling.
"I was never a KU fan. I felt that wasn't a program I really wanted to go to," Spradling said. "My dad (Shannon) was a basketball coach (for Spiece Mo-Kan AAU). I followed where his players went. He had over 70 players go Div. I, so I followed the teams they were at."
First meeting revisited: The Jayhawks, who were led by Thomas Robinson (15 points, 14 rebounds and Travis Releford (16 points, 11 boards), outrebounded the Cats, 50-26, in Allen. Rodney McGruder had 15 points, while Jamar Samuels had 12 points and a team-high six rebounds for KSU.
"I thought the first game we did an exceptional job getting the majority of the 50/50 balls," Self said. "We've got to do a great job of that over there. It will be a juiced atmosphere, and it is probably the hardest game to play in, but the most fun game at the same time. It seems like they do a great job whenever they play us (in Manhattan), and we are going to have to play a team that is very, very hungry."
Taylor's final trip to KSU: KU senior Tyshawn Taylor is 2-1 against KSU in Bramlage. The Cats clubbed KU, 84-68, last season in Manhattan.
"Jacob Pullen," Taylor said, asked what he remembered about that game, one in which Pullen exploded for 38 points. "I feel like he hit every shot (9-for-17, 5-for-6 from three, 15-of-19 from the line) and we lost."
Of playing at Bramlage, Taylor said: "The intensity level for their team rises, like anybody else that plays at home. They feed off their crowd. We know when we play against Kansas State that they're going to have a good crowd all the time. I'm sure they're going to be hyped. The last time we beat them on the boards, so I'm sure that's going to be an emphasis for them to crash the boards and be more aggressive. We have to be ready to match their intensity and not get sped up and play into their hands and the crowd's hand."
KSU's take: KSU last year was coming off a loss at Colorado the night the Wildcats clobbered KU by 16 points.
"If you can find Jacob Pullen to line up and score 38 on Monday, I'd feel a lot better about it," KSU coach Frank Martin told the Manhattan Mercury. "That turnaround feels a lot better when you've got a guy who can do that.. Last year is meaningless to this team, but the reason I thought we had a chance to succeed was because we had been playing well, we didn't dwell on a loss, and we went in there on Sunday and did a great job of preparing.
"Our kids were optimistic, enthusiastic, and that gave us a chance to succeed on Monday. We'll do the same thing. That's not going to change."
Of KU's Taylor, Martin said: "Tyshawn is playing as well as any guard in the country right now. I knew he was good, but what I've been watching as of late is just phenomenal because of how well he's playing."
This, that: KU leads the all-time series, 182-91. KU has won 22 of the last 24 in Manhattan and 43 of the last 46 overall. ... Martin is 2-8 versus KU, 2-2 in Bramlage; Bill Self is 17-3 vs. KSU as KU coach, 18-3 overall. ... Since the inception of the Big 12 Conference, KU is 28-3 in regular-season battles and 35-3 including Big 12 Championship meetings versus Kansas State.
More like this story on KUsports.com