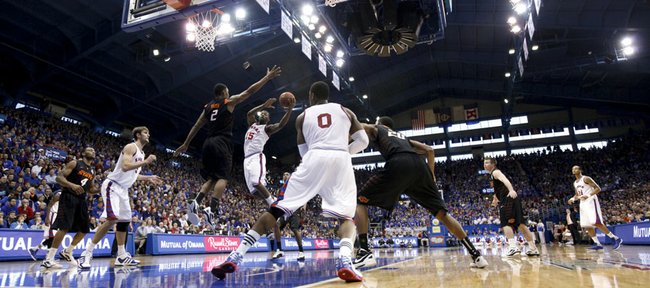 Podcast episode
Kansas coach Bill Self talks to reporters following the Jayhawks' 81-66 victory over Oklahoma State on Feb. 11, 2012.
Videos
KU vs. Oklahoma State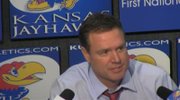 Kansas defeated Oklahoma State, 81-66, on Saturday, Feb. 11, 2012, at Allen Fieldhouse.
KU vs. Oklahoma State
Elijah Johnson admits it was nice to see his shot go down a few times during Saturday's game.
Still, the Kansas University junior guard says his offense isn't his focus.
"I'm not paying it any mind," Johnson said following KU's 81-66 victory over Oklahoma State on Saturday. "I'm trying to be good on the defensive end. Offense is going to come."
After going scoreless Wednesday's against Baylor, Johnson provided KU with an offensive boost in the first half against OSU. He went 4-for-6 from the floor and 3-for-5 from three-point range, posting 11 points, four assists, two steals and no turnovers in 15 first-half minutes.
Johnson said making early shots — he made two of his three-pointers before the first media timeout — helped get him going.
"It shouldn't be that way, but it's just human nature for it to be a totally different ballgame for you," Johnson said. "You've just got an extra little juice going to get turned up defensively and offensively."
Johnson was a big reason for KU's defensive success against Baylor on Wednesday. Matched up mostly against three-point specialist Brady Heslip, Johnson barely allowed the sophomore to get a shot off.
Heslip's one three-point attempt against KU was a season low, while he failed to make a three for just the second time all season. It also was the second time this year Heslip failed to score a point.
"I'm more excited to play defense than offense. I feel like it makes me calm," Johnson said. "Most people that think about offense get amped and get going, but when you think about defense, it usually just calms you down. Because you know what you're doing, where (on) offense you don't know what situation you'll be in."
Johnson was critical of his defensive effort against OSU guard Brian Williams on Saturday. Williams, who averages 8.1 points per game, scored 11 points, making two of six field goals and seven of eight free throws.
"I could've been there faster. I could've shut a lot of plays down if I just did one small thing," Johnson said. "Just being aware, being alert, I could've changed the game eight to 10 points."
Johnson finished with 11 points, going 4-for-9 from the floor and 3-for-6 from three-point range.
Johnson's three treys were the most he'd had in a game since Jan. 14 against Iowa State.
Coming into Saturday's game, Johnson had been struggling from three, making six of his previous 30 (20 percent). His season three-point average also had dropped to 28 percent.
"I think those shots that he was taking tonight are the same shots he's been taking. He just hit a couple tonight," KU guard Tyshawn Taylor said. "Once he got off to a good start, I definitely started looking to him more.
"Elijah's a streaky shooter. He can get hot, so when he gets hot, we want to ride him."