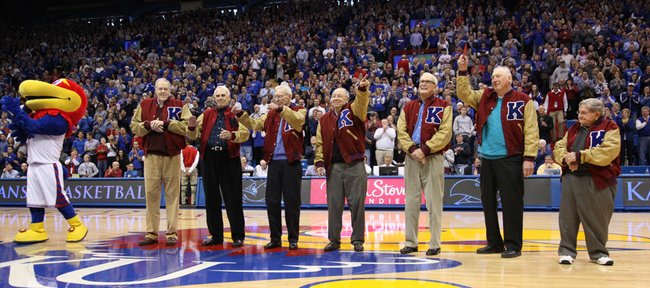 Podcast episode
Kansas coach Bill Self talks to reporters following the Jayhawks' 81-66 victory over Oklahoma State on Feb. 11, 2012.
Videos
KU vs. Oklahoma State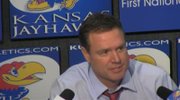 Kansas defeated Oklahoma State, 81-66, on Saturday, Feb. 11, 2012, at Allen Fieldhouse.
KU vs. Oklahoma State
Members of Kansas University's 1952 NCAA title team were honored at halftime of Saturday's KU-Oklahoma State game. Those in attendance: players Bill Heitholt, Bill Hougland, Al Kelley, Bob Kenney, Bill Lienhard and Clyde Lovellette, plus manager Wayne Louderback.
"It was great. It's always great to come back to KU," Lovellette said. "The fans were great. They've always been great."
"That was a lot of fun," Lienhard added.
KU coach Bill Self spoke with some of the honorees before practice Friday and attended a reception Saturday night.
"I'm going to go hang out with them and listen to them lie and tell each other how great they were," Self joked of the team holding a 60th-anniversary party. "I told our guys before the game ... this is (freshman) Ben McLemore's birthday. I said, 'Today is not about you at all. It's about those guys coming back.' I think 60 years and having that many guys in good health coming back ... our first NCAA national championship team ... having those guys walk around in letter jackets, to me that's cool.
"And the cheerleading outfits today were cool," Self added of the cheerleaders wearing 1950s attire. "Everything about today was cool, and I'm sure they appreciated that."
KU senior guard Tyshawn Taylor said he liked wearing replica jerseys from the '52 season.
"They fit nice. They're nice and light. I want to play in them again," Taylor said.
T-Rob's day: Thomas Robinson had a first-half pass bang off the head of Oklahoma State's LeBryan Nash and drop through the hoop. Initially, the bucket was given to Robinson but later deemed a "team basket" per NCAA rule Section 1, Article 8C.
"That was a first," Robinson said.
He and OSU's Markel Brown exchanged words during the game.
"I was just wishing him a good trip back home," Robinson said with a smile.
What a week: KU junior center Jeff Withey averaged 21.5 points and 12.5 rebounds in victories over Baylor and Oklahoma State. He had a career-high 25 points at Baylor and grabbed a career-best 20 rebounds against OSU. Withey entered the week averaging 8.1 ppg, 5.8 rpg, 3.0 blocked shots per game and a .533 field goal percentage in 23 games. Following those two efforts, Withey improved to 9.2 ppg, 6.3 rpg, 3.2 blocks per game and a .545 shooting percentage.
"(He almost had) a triple-double ... the hard way," former KU center Scot Pollard said after Saturday's game in which Withey blocked seven shots to go with his 20 boards and 18 points.
"People are saying he's the best player to ever come to Kansas from San Diego. I believe them, too," added Pollard, a San Diego native, with a laugh.
Faces in crowd: Future KU forward Perry Ellis, a 6-foot-8 senior from Wichita Heights, attended with family members. ... Kansas City Chiefs coach Romeo Crennel sat with KU football coach Charlie Weis on press row in the north end zone ... The students for the second straight home game did not chant "Home of the Chiefs" at the end of the national anthem, perhaps signalling the official end to the practice. "Home of the Brave" has appeared on the videoboard near the end of the anthem for the last three home games. Self earlier this season told the Journal-World he'd like the students to sing the actual words to the anthem.
This, that: Robinson (14) and Withey (20) combined for 34 rebounds — most since Nick Collison (21) and Jeff Graves (16) combined for 37 in the 2003 national championship game against Syracuse on April 7, 2003. ... Withey's 20 boards were the most by a Jayhawk in a conference game since Cole Aldrich had 20 against Oklahoma on Feb. 23, 2009. ... KU has 20 or more wins for the 23rd-straight season, dating to 1989-90. ... KU has won 10 or more conference games for 18 straight seasons (dating to 1994-95). ... KU has won 16 straight home games against Oklahoma State. ... KU has a 19-game homecourt win streak. ... KU has a 142-7 home record under coach Self. ... KU outrebounded OSU, 50-21. The plus-29 rebounding margin was best since out-rebounding Miami (Ohio) 46-17 on Jan. 2, 2011. ... OSU's six boards in the first half are fewest by a KU opponent since Missouri had six in the first half of a Feb. 18, 2006 game. ... KU outscored OSU, 46-12, in the paint.
More like this story on KUsports.com