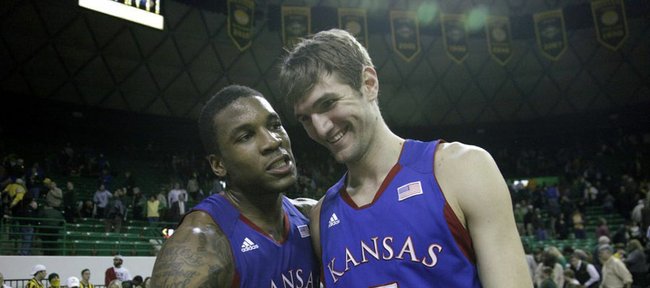 Podcast episode
Kansas coach Bill Self talks to reporters following the Jayhawks' 68-54 victory over Baylor on Feb. 8, 2012.
Podcast episode
Baylor coach Scott Drew talks to reporters following the Bears' 68-54 loss to Kansas on Feb. 8, 2012.
KU vs. Baylor
Waco, Texas — A little peer pressure helped Jeff Withey bury Baylor on Wednesday night in Ferrell Center.
"We've been screaming at him every day at practice, punching him in his chest, jumping on him, trying to get him fired up," Kansas University senior guard Tyshawn Taylor said after Wednesday's Withey-led 68-54 rout of the Bears.
Withey, a 7-footer from San Diego, scored 25 points off 8-of-10 shooting and 9-of-11 free throwing just four days after scoring zero points in a 74-71 loss at Missouri.
"He came out and played amazing, man," Taylor added after watching Withey explode for 17 points the first half alone, surpassing his previous career-high scoring mark of 15 points set against Oklahoma on Feb. 1. "I'm so happy with my big fella right now."
Withey, who scored five points in a 14-3 run to close the first half and turn a 10-point deficit into a 33-30 lead, also had six points to Taylor's 10 in a 23-2 surge that upped a 33-32 lead to 56-34 with 12:40 left.
He admits his teammates have been on him a bit since the MU game.
"Tyshawn (19 points, 4-of-7 three-point shooting), Elijah (Johnson, no points, five assists, 37 minutes) and Thomas (Robinson, 15 points, 11 boards) ... every practice, if I mess up they're are all over me. They expect a lot out of me. I expect a lot out of them," Withey said.
"We keep each other accountable. They definitely try to get me fired up, whether it's punching me in the chest or whatever."
Withey, who also had five rebounds, six turnovers and three blocks in 29 minutes Wednesday, said coach Bill Self also has been in his ear.
"Coach definitely got in my head. He told me I can't go games where I don't score. I have to be part of this team and help out," Withey said. "My teammates trusted me today. They made great plays and found me open."
Self scoffed when informed of Withey's words.
"These guys are unbelievable coming up with stuff to tell you guys (media) that doesn't have anything to do with anything," Self cracked. "I don't know what I told him. It wasn't anything different than what I usually tell him."
Self was mighty impressed with Withey's effort on a day the No. 7-ranked Jayhawks (19-5) forced a tie with Missouri for the Big 12 Conference lead at 9-2 and pulled ahead of No. 6-rated Baylor (21-3, 8-3).
"It's probably about as good offensively as we've had a big man play here (in Self's nine seasons at KU). Cole (Aldrich) had some good games. I don't know if he had any better than that. He was great. We needed him to be great tonight," Self said. "We get one point out of two starters (Travis Releford had one point in 24 minutes and Johnson none in 37 minutes). That means some guys pitched in and played well."
Withey said the Jayhawks made some adjustments on the fly after falling behind 19-9 early.
"We decided to change plays against their zone, have somebody always in the middle. It just opened up," Withey said. "They way we were matched up, it left me open every time."
Again, Self refused to take credit for any specific plays to help turn around the team after a slow beginning.
"We attacked their zone well the first time we played them," Self said of KU's 92-74 victory over the Bears on Jan. 16 in Allen Fieldhouse. "We tried to attack it similarly tonight. They did a better job with that. I don't know if it was great adjustments. It was guys getting in gaps and playing."
Conner Teahan had eight points off the bench on a day just five Jayhawks scored. KU held Perry Jones III to five points off 1-of-8 shooting in 25 minutes.
"Thomas played great defense. We decided to trap the post. I think it bothered him a lot," Withey said. "Thomas played straight up on him, and it forced him to take awkward shots."
Pierre Jackson scored 16, while Quincy Acy and Cory Jefferson had 11 apiece for BU.
KU will meet Oklahoma State at 3 p.m. Saturday in Allen Fieldhouse.
More like this story on KUsports.com