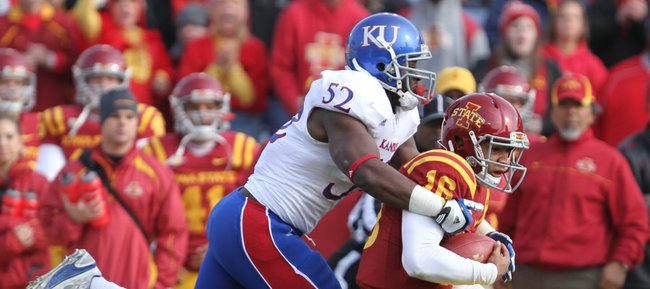 The Kansas Jayhawks are back in the NFL combine.
After a one-year hiatus, the Kansas University football program once again will be represented at this year's combine in Indianapolis, as linebacker Steven Johnson recently received an invitation to attend the world's most publicized job interview for college football players eyeing the jump to the NFL.
The former walk-on, who eventually earned a scholarship and finished his career by leading Kansas in tackles during both his junior and senior seasons, likely solidified his invitation with a strong showing in this year's East-West Shrine Game in January. During the game in St. Petersburg, Fla., Johnson recorded five tackles for the victorious West squad.
As a senior at KU, the Media, Pa., native led the Big 12 Conference in tackles (93) and finished the season ranked 16th in the nation with 124. Johnson, who earned both second team and third team all-league honors following KU's 2-10 season, also finished in the top 25 nationally in solo tackles with 66.
The last time a Jayhawk participated in the NFL combine was in February of 2010, when former KU stars Dezmon Briscoe, Kerry Meier and Darrell Stuckey all ran through the four-day event that measures everything from size and speed to intelligence and intangibles. All three were drafted in the 2011 NFL Draft, and Johnson, who has spent the past few weeks training in Arizona, hopes to join them.
This year's combine, which will feature more than 300 NFL hopefuls, will run from Feb. 22-28. Johnson will attend from Feb. 24-27, with his skills testing scheduled for the final day.
The 2012 NFL Draft is scheduled for April 26-28.