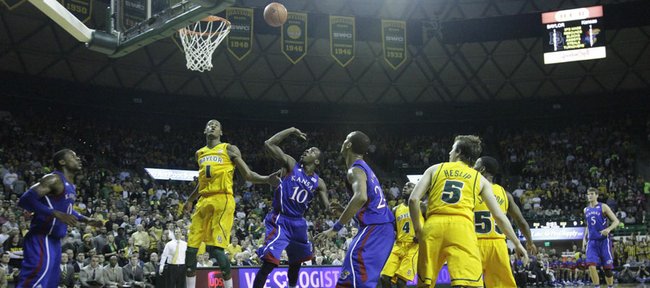 Podcast episode
Kansas coach Bill Self talks to reporters following the Jayhawks' 68-54 victory over Baylor on Feb. 8, 2012.
Podcast episode
Baylor coach Scott Drew talks to reporters following the Bears' 68-54 loss to Kansas on Feb. 8, 2012.
KU vs. Baylor
Waco, Texas — As I watched both teams on the same court for the second time this season Wednesday night, a light flickered in a normally very dark place — my brain — and it became plain to see why Kansas keeps beating Baylor, even though the Bears win so many recruiting battles.
The Jayhawks make it no fun to play against them. They plant themselves in your face and stay there. The Bears have so many good basketball players, but nothing about them makes Kansas dread playing them.
Kansas defends against Baylor with the urgency of a make-it, take-it team playing from behind. The Bears defend in a way that calls to mind All-Star teams, as they settle into a passive zone that once solved tends to stay solved.
Kansas is a boot-camp basketball program, Baylor a summer-camp team, replete with a no-cussing policy implemented by coach Scott Drew, a magnificent recruiter and likable face for the once-disgraced program.
Kansas brings a football (ultimate team sport) mentality into the Baylor games, whereas the Bears look more like a track and field team (individual sport), showcasing most-impressive high jumpers and sprinters.
A shaky Kansas start and an oh-so-sloppy finish resulted in a deceiving score, a 68-54 victory that lifted the Jayhawks back into a first-place tie with Missouri and shoved Baylor into third place, one game behind the leaders.
That score doesn't speak to the dominance Kansas displayed once it stopped tripping all over itself and started striking fear into Baylor. In a span of 11 minutes and 14 seconds, starting with a few minutes left in the first half, the Jayhawks outscored Baylor, 32-4. Those merciless meanies, bullying the poor Bears like that.
That stretch defined as well as any why teams that play aggressive man-to-man defense have higher ceilings than those that play a passive zone.
Why, the question was put to Kansas coach Bill Self, are his teams so good defensively, year in and year out?
"To be honest, I don't think we've guarded for three weeks," Self said. "I don't think we have."
He's never satisfied, which is why his players don't relax and in turn get better. But every year the numbers define Kansas as one of the nation's strongest defensive teams.
"It's what we believe in," Self said. "It's got to be the staple of who we are, and we take pride in that. We've recruited some good players, and those good players have all sacrificed to become that, so that's more of a compliment to them than it is anything else. But it's who we are."
Tyshawn Taylor was asked the same question.
"I think that's just his emphasis," Taylor said of Self. "He always emphasizes defense, defense, defense, and he wants us to play high on the floor. He wants us to pressure as much as possible, and I think we try to do that the best we can. We play high on the floor, not letting them get easy passes, pressuring the ball when people are bouncing it.
"Our big guys do a good job of trapping the post when we set that up, and our guards do a good job of rotating and just helping each other out. We're a good defensive team because we help each other out."
Guard Elijah Johnson (five assists, one turnover) didn't score a point, and neither did the man he guarded, three-point shooter, Brady Heslip.
"I didn't see any reason to let him catch the ball," Johnson said. "He's not a threat if he can't catch the ball. So I planned on not letting him be a threat."
Defense always comes first at Kansas.
"That's our team," Johnson said. "That's our program. Anybody can score. That's why you're in college basketball. But we can defend."
It can be difficult for players to accept that because scoring is more naturally enjoyable than preventing someone else from doing it.
"I bought into it since the summer I got here," Johnson said. "I definitely did because he knows something I don't know, and I take his word for it."
Baylor needed just 1:53 to score seven points at the game's start, five of them scored by McDonald's All-Americans Perry Jones III (dunk off a lob) and Quincy Miller (three-pointer). For the remaining 38:07, neither player scored a field goal.
It should be noted, though, that Miller played just 14 minutes. After Miller threw a vicious elbow into Jeff Withey's chest, Drew benched him for the remainder of the game for playing too hard. Check that, for playing too roughly, not too hard.
"Obviously, Quincy should never have done it," Drew said.
True, but Miller and teammates need to learn to play a more physical brand of basketball. On paper, they look like championship material, on the court, at least against Kansas, more like an All-Star squad.
More like this story on KUsports.com