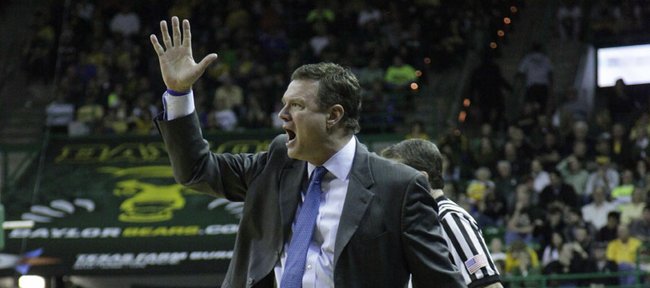 Podcast episode
Kansas coach Bill Self talks to reporters following the Jayhawks' 68-54 victory over Baylor on Feb. 8, 2012.
Podcast episode
Baylor coach Scott Drew talks to reporters following the Bears' 68-54 loss to Kansas on Feb. 8, 2012.
KU vs. Baylor
Waco, Texas — Bill Self loves the way his Kansas University basketball team has bounced back from Saturday's deflating loss at Missouri.
"The kids put a lot into that game. To play so well and come up empty is obviously deflating," Self said of his team's blowing an eight-point lead late in a 74-71 setback to the Tigers.
"These guys ... I'll be honest, they showed me something," he added after Wednesday's 68-54 victory at Baylor. "I didn't think our energy level was very good today (at shootaround). I didn't think it was great yesterday. I thought we might pout up and feel sorry for ourselves.
"We showed some toughness. Take away three minutes in the last 80, that's about as well as a team we've had at Kansas play on the road since I've been there ... against two Top-10 teams, but the three minutes obviously cost us a game."
Streak alive: KU has gone 228 games without consecutive losses, which is the longest active streak in NCAA Division I. KU's last two straight losses were Jan. 14 vs. Kansas State (59-57 in Allen Fieldhouse) and Jan. 16 at Missouri (89-86 overtime in Mizzou Arena) during the 2005-06 season.
"I did not know that until recently," Self said. "The thing that amazes me in basketball, in league play it's all about momentum. You can't let one become two or two become three. These kids have done a great job. I can't remember the last time we lost two in a row. Of all the things these teams have accomplished, that may be one of the more impressive ones."
Elbow: BU's Quincy Miller was called for a flagrant foul in the second half after elbowing Jeff Withey in the chest. Withey hit one of two free throws, and KU scored on the ensuing possession to give KU a 43-32 lead. Self could have had anybody shoot the free throws, but said he chose Withey to see how he'd fare with nobody else standing at the free-throw line. Self said he could choose Withey or Tyshawn Taylor to shoot free throws down the line in similar situations.
In the hunt: KU is tied with Missouri for first in the Big 12 at 9-2. Baylor fell to third at 8-3.
"We wouldn't have been out of it if we lost, but it'd be an uphill climb," Self said of the league race.
This, that: KU, which outrebounded Baylor, 39-24, in a 92-74 win on Jan. 16 in Allen, outrebounded the Bears, 32-30. ... BU's Scott Drew is 1-10 versus KU; Bill Self is 10-1 vs. BU as KU coach, 10-2 overall.
... Self said Conner Teahan's minutes (22) rivaled that of starter Travis Releford (24) because he felt Teahan was playing better offensively and would be better against the BU zone . ... Former KU forward Archie Marshall, who lives in Dallas, attended.
Frankamp over 40 points again: Future KU guard Conner Frankamp scored a season-high 48 points to lift Wichita North to a 61-42 victory over Wichita Carroll on Tuesday night. It was the fourth time this season the junior has scored more than 40 points in a game.
"We tried to bring two people. We tried to deny him. Maybe next year we'll try to guard him with five people," Carroll coach Lonnie Lollar told the Wichita Eagle.
Future KU forward Perry Ellis scored 32 points in Wichita Heights' 78-51 win over Wichita West. Heights has won 58 straight games. Ellis hit 10 of 11 shots and 12 of 15 free throws with 11 rebounds.
Markieff in rising stars game: Former KU forward Markieff Morris of the Phoenix Suns will play in the 2012 BBVA Rising Stars Challenge on Feb. 24 in conjunction with 2012 NBA All-Star Weekend in Orlando, Fla.
The 6-10 Morris is averaging 7.2 points and 5.2 rebounds while logging 20.6 minutes per game in 25 games. He leads all rookies in three-point percentage (.460), which is seventh-best in the NBA overall. He ranks eighth among first-year players in scoring.
Joining Morris on the team: fellow rookies Kyrie Irving, Ricky Rubio, MarShon Brooks, Brandon Knight, Kawhi Leonard, Tristan Thompson, Kemba Walker and Derrick Williams.
Participants were selected by the NBA's assistant coaches, with each team submitting one ballot. This year, a new format is being implemented to a game that has featured NBA rookies competing against sophomores. For the first time, rookies and sophomores will be mixed together on teams. TNT analysts Charles Barkley and Shaquille O'Neal will serve as the general managers of the two opposing teams.