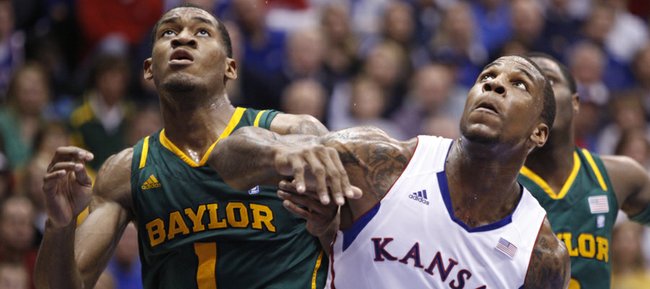 Waco, Texas — A certain top-five pick in the 2011 NBA Draft, Perry Jones III elected to return to Baylor University for his sophomore season.
His main reason? The desire to remain a carefree, 19-year-old kid at a place he loves.
"It's a good Christian school. The people on campus ... everybody is always speaking to you, saying hi. It's just a nice atmosphere," the 6-foot-11, 235-pound Duncanville, Texas native told the Journal-World during the preseason.
"I'm striving to be one of the best big men in the country."
Jones — he scored 18 points and grabbed five rebounds in the sixth-ranked Bears' 92-74 loss to No. 7 Kansas on Jan. 16 in Allen Fieldhouse — takes a 14.8 scoring, 7.9 rebound average into today's 6 p.m. showdown against KU in Ferrell Center. He averaged 13.9 points and 7.2 rebounds per contest his freshman campaign.
"I wasn't ready to be on my own," Jones told ESPN.com. "I'm not ready to move onto that next level yet and to have that lifestyle. I'm 19. I know I could be a top-five pick. I know I could make a lot of money.
"There were a lot of people that were pressuring me, saying that I was making a mistake because I was going to go in the top five," Jones added. "A lot of it was on Twitter, a lot of people I didn't know. If people didn't go to Baylor, they weren't happy for me."
Jones, who is eighth in the Big 12 in scoring during conference play (15.9 ppg) has had a double-double in three of his past four contests (versus Oklahoma State, Texas A&M;, Texas, Oklahoma). He has 74 points and 42 rebounds during that span and has shot 50 percent or better in eight of his last nine games.
He leads a star-studded Baylor team (21-2, 8-2) that is tied for second place in the Big 12 with KU (18-5, 8-2), right behind Missouri (22-2, 9-2).
Guard Pierre Jackson (12.7 ppg) and forwards Quincy Acy (12.4 ppg) and Quincy Miller (12.4 ppg) are double-digit scorers with guard Brady Heslip right behind at 9.6 ppg.
"I think everybody talks about their athletic ability and length and rightfully so," said KU coach Bill Self. "They are unselfish and share the ball. Their team is so hard to guard because there's balance.
"The key to me will be rebounding. We rebounded the ball so well against them the first time," added Self. The Jayhawks, paced by Thomas Robinson's 14 boards and Jeff Withey's 10, won the board battle, 39-24. "They are playing better, fast on the perimeter and of course they've got so much length inside. It should be another great atmosphere, one we've got to let Saturday (loss at Missouri) go and focus in on Wednesday. We can't let one (loss) become two. Now it's time to become mad and try to take it out on a very good team Wednesday."
The thing is ... Baylor also figures to enter today's game "mad" at the Jayhawks.

KU handed BU its first loss of the season.
"The last time we played, they really took it to us. They definitely played well, and we'd have liked to play better," said Baylor coach Scott Drew. He is 1-9 versus KU; Self 9-1 at KU (9-2 overall) versus BU.
"That's the great thing. The home court in the Big 12 does give you a big advantage," Drew added "We've got to do a better job of trying to minimize their runs. We didn't answer the bell in that one as we did in 17 games previous to that."
Tyshawn Taylor had 28 points off 10-of-14 shooting (4-6 threes), while Thomas Robinson had 27 points off 11-18 shooting with 14 rebounds in the first meeting. Jones had 18, Miller 17, Acy 14 and Pierre Jackson 11.
"I think at the end of the day, everybody faces the same thing. No matter what you do, he'll get his. He's probably been player of the year thus far," Drew said of Robinson. "The question is ... can you limit him to where he does not have a career night and other guys do not have career nights as well?"
Robinson says he's motivated to avoid the agony of defeat for a second straight game. KU has gone 227 games without consecutive losses, which is the longest active streak in NCAA Division I. KU's last two straight losses were Jan. 14 vs. Kansas State (59-57 in Allen Fieldhouse) and Jan. 16 at Missouri (89-86 overtime in Mizzou Arena) during the 2005-06 season.
"It's just a feeling of not wanting to lose again. You still have that bad taste from the last game, so going into the game after that you want to get that taste out of your mouth," Robinson said. "You do not want to have a longer feeling of revenge."
Noted Taylor: "I don't think we like the feeling of losing. We always come in with a good attitude and we try to get better and learn from our mistakes that we made in the previous game."
Withey a key: KU center Jeff Withey had 10 points, 10 rebounds, three blocks and three steals in the first meeting vs. Baylor. Playing against much smaller players, he didn't score and had four boards versus Mizzou.
"When I was trying to post them up they were quicker to get in front of me, and they were always attacking my knees. It is definitely harder for a big man to guard a little guy," Withey said, referring to the Missouri game. "You can usually use a swim move on a forward but when boxing out a guard they are at your knees, and you don't expect it and it kind of takes your legs out from under you."
He'll try to be assertive against Jones and Baylor's other big men.
"I think that I can help out offensively. Not scoring any points and being out on the floor for 20 minutes is not very good for me," he said. "If I can be more of a threat, that helps out everybody on the floor. I definitely want to be able to score, that way it relieves pressure on the other guys. I like playing against guys my size a lot more than playing against a bunch of guards. But it is still going to be a tough game, and we are getting ready for that."
Retro jerseys Saturday: The Jayhawks will be wearing 1952 retro jerseys during Saturday's game against Oklahoma State (3 p.m., Allen Fieldhouse) in celebration of the 60th anniversary of the 1952 NCAA title season. The jerseys will soon be available for purchase at KUstore.com.
More like this story on KUsports.com