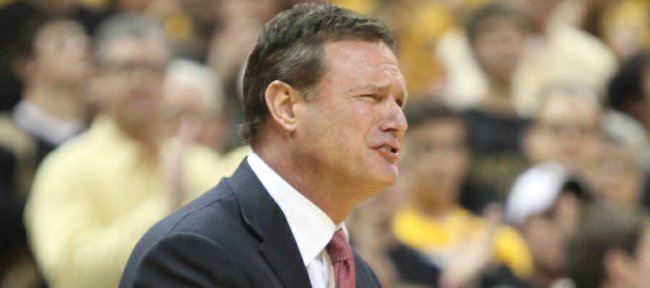 Bill Self isn't a bit surprised his Kansas University basketball team, which lost on Saturday at Missouri, actually jumped a spot from No. 8 to 7 in this week's AP poll.
He's in agreement with voters that the Jayhawks (18-5, 8-2) are a better team today than before Saturday's 74-71 setback in Mizzou Arena.
"Three things we left the game with ... a.) They are really good; b.) We've got to close; and c.) We're really good," Self said Monday.
He sounded a lot more upbeat than after one of KU's five losses this season — 80-74 to Davidson on Dec. 19 in Sprint Center in Kansas City, Mo.
"After Davidson? It was, 'They're good. We stink. We're soft. We don't care. We don't like each other.' I don't feel that. If anything, I'm leaving Columbia thinking, 'Hey we've got a chance to have a really good team,''' Self said.
"When we left Davidson, my deal was, 'We may not win a league game.' I feel a lot of positives in leaving Missouri. I didn't see any positives in getting our butt beat in Kansas City."
He had great praise Monday for his two veteran leaders — Thomas Robinson, who scored 25 points and grabbed 13 rebounds in 35 minutes versus MU, and Tyshawn Taylor, who had 21 points, three assists and six turnovers in 38 minutes.
"He's getting to where he can put the ball down and get to the hole a lot better," Self said of the 6-foot-10 Robinson, who on Monday was one of 20 players named to the midseason watch list for the Oscar Robertson Trophy, which goes to college basketball's player of the year as voted by the U.S. Basketball Writers Association.
"He has a great heart, good motor, tries hard. He's a stud kid having a tremendous year. His second half against Missouri (19 points, six boards) is as good a half as a guy's played that I've seen. He didn't get easy baskets. He had to earn every one of them. I'm proud of him because he's developed into a force."
Of the 6-3 Taylor, Self said: "That kid played great. If I had it to do all over again, I'd want him on the free-throw line more than anybody else on our team. He likes that moment more than anybody else (despite missing two down the stretch as KU squandered an eight-point lead).
"I don't have anything remotely negative to say," Self added. "He lost the ball once, and he charged once, and I know he wishes he could have that back. The first half I thought he played so well (17 points) that we had a couple of bad possessions, because he was feeling it too much. We'd call a play, and he said, 'Well, I see an opening.' If we call a play, run the play and then see the opening after you run the play.
"That'd be the only thing that I could say from his floor game, going into the last three minutes, that I'd say, 'He could improve on that.' I was so mad at him because Phil Pressey, who is a terrific guard, gets past him and makes a layup on a made basket. Other than that, defensively, pretty good."
KU will meet No. 6 Baylor (21-2, 8-2) at 6 p.m. Wednesday in Ferrell Center in Waco, Texas.
Losing is no fun: KU has dropped five games this season. KU lost just three games in both Taylor's junior campaign and sophomore year after an eight-loss freshman season.
"I'm not used to this losing thing. I don't like how it feels. I don't even know how to handle it," Taylor said. "I don't know what I'm supposed to do, how I'm supposed to act. I'm sure my teammates feel the same way. When we take an 'L,' we've got to watch tape, learn from mistakes and get better from what we did the previous game."
Perry Ellis is No. 1: A Wichita Eagle double-check of the record books shows that future KU forward Perry Ellis of Wichita Heights is the all-time leading scorer in Wichita City League history.
It had been reported that Ellis needed 38 points to pass former KU center Greg Dreiling's 31-year-old record of 1,963 points. The paper now reports that Dreiling of Kapaun scored 1,888 points from 1977-81. Ellis has 1,926 points, meaning he broke Dreiling's record during Heights' Jan. 24 win over Kapaun. Ellis' accomplishment will be recognized during Heights' next home game on Feb. 17.
"Congratulations to Perry Ellis on his accomplishment, one that came two weeks earlier than we thought," the Wichita Eagle, official statisticians of the City League, wrote Monday.
Others on the Oscar Robertson watch list with Robinson: Harrison Barnes, North Carolina; Isaiah Canaan, Murray State; Anthony Davis, Kentucky; Marcus Denmon, Missouri; Daymond Green, Michigan State; John Henson, North Carolina; John Jenkins, Vanderbilt; Kevin Jones, West Virginia; Michael Kidd-Gilchrist, Kentucky; Jeremy Lamb, UConn; Perry Jones, Baylor; Damian Lillard, Weber State; Doug McDermott, Creighton; Mike Moser, UNLV; Arnett Moultrie, Mississippi State; Mike Scott, Virginia; Jared Sullinger, Ohio State; Cody Zeller, Indiana; Tyler Zeller, North Carolina.
More like this story on KUsports.com