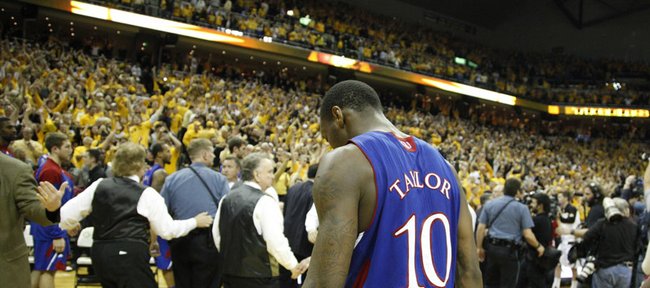 Podcast episode
Kansas coach Bill Self talks to reporters following the Jayhawks' 74-71 loss to Missouri on Feb. 4, 2012.
KU vs. Missouri
Columbia, Mo. — The other guys score the last 11 points of the game and beat your guys, and you want to scream at somebody. That's understandable.
But when it's Tyshawn Taylor you want to scream at, that's where it gets a whole lot tougher to comprehend.
Taylor aimed enough anger in his own direction after he stumbled to the finish line in Kansas University's 74-71 loss to Missouri in amped-up Mizzou Arena. He doesn't need any backup singers piling on.
"I feel like I cost us the game, and that's a sucky feeling," Taylor said.
That's a little harsh from a guy who without question was the best player in the game in the first half, a guy who scored 21 points, made nine of 15 field goals, knocked down a pair of three-pointers and defended Missouri point guard Phil Pressey so well that he had more turnovers (three) than points (two).
A selfish player might have taken his 17 points into the second half and tried to see how many he could score. Taylor took a smarter path, fed teammate Thomas Robinson and watched him carry Kansas to a big lead, and then Taylor scored what to that point was the team's biggest bucket.
Taylor freed himself with one of his too-quick-to-see moves on a baseline drive punctuated with a dunk that put Kansas up, 71-63, with 3:24 left. After that, Missouri couldn't do much wrong, Taylor and his teammates couldn't do much right, and the arena that was loud from wire to wire took on disco-like volume. And no disco party is complete without a couple of impossible-to-ignore whistles. Those went the way of the hosts in the waning moment.
Missouri scored the game's final 11 points in the final 2:04, and Taylor and Robinson, who had played so well, faded as the lead vanished.
Taylor played no small part in the meltdown, which left him thinking he had cost his team the game.
With Kansas up two and 1:15 left, Taylor lost his dribble and turned it over. With 42 seconds left and Kansas trailing by a point, he missed a pair of free throws, and it was difficult to see that and not think for a quick second about Christian Moody, no matter how hard you might have tried to think about anyone but him.
With 10 seconds left, Taylor drove into the lane, put up a shot and was called for a charge after making contact with Michael Dixon. That call could be termed questionable. That term did not fit a bigger whistle that went against Robinson, which was better termed unquestionably bad.
Robinson made a bucket that would have put Kansas up seven with 1:43 left. Steve Moore — don't be surprised to see him at the Oscars accepting a trophy for the best flop of the 2011-2012 college basketball season — willed himself onto the floor. The ref bit, nullified the bucket and tagged Robinson with a charge.
After the loss, KU coach Bill Self must have been torn, not knowing whether to hug or slug his players. For so much of the game they played such inspired, driven, poised basketball. Yet, because they were bludgeoned at the end of both halves, they had nothing but a loss to show for it and in the process moved from sole possession of first place in the Big 12 into a three-way tie with Missouri and Baylor.
Combine the final 4:08 of the first half with the final 2:04 of the second, and in that 6:12, Missouri outscored Kansas, 22-2. In the other 33:48, the score was Kansas 69, Missouri 52.
"We've just got to bounce back," Taylor said after pointing the finger of blame at the mirror. "We've got another tough one coming up Wednesday night."
Baylor in Waco certainly defines a tough game.
The vocal minority upset with Taylor not carrying the Jayhawks to the finish line Saturday might watch the Baylor game waiting for him to make a mistake. His coach, the only voice that matters to the guard in the midst of a terrific senior year, will expect him to carry the team to victory.
"He's damn good," Self said, then repeated himself more slowly to emphasize just how much he meant what he said. "He is damn good. And he played so well the first half and kept us in the game. The second half, he just didn't make good decisions down the stretch. But I'll put the ball in his hands any day."
And doing that will make every opposing coach sweat a little harder.
More like this story on KUsports.com