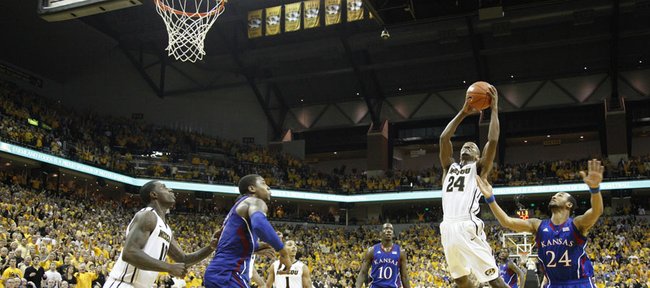 Podcast episode
Kansas coach Bill Self talks to reporters following the Jayhawks' 74-71 loss to Missouri on Feb. 4, 2012.
KU vs. Missouri
Columbia, Mo. — When a few Missouri students ran onto the court after Saturday's game, MU guard Kim English waved his arms, trying to get them to go back to their seats.
There was a reason, he said.
"We don't go into games expecting to lose," the senior guard said following MU's 74-71 victory over Kansas University. "We prepare to win. I know how much this rivalry means to our fans, and we want to beat them really bad, because we know how much it means to them. But this game to us was just a game that we needed to win to continue our quest to win the Big 12.
"So I didn't want a big 'rah-rah' celebration. I didn't like it when they rushed the court when Zaire (Taylor) made his shot (to beat KU in 2009)."
English was perhaps the least-surprised person in Mizzou Arena when the Tigers scored the final 11 points to complete the comeback against KU.
During a stoppage in play in the final minutes with the Tigers trailing by eight, English looked at his teammates and told them, "We're going to win this game."
"That's something that affected me," MU guard Marcus Denmon said, "because I understood how much it meant to him to say that."
English, who was sick enough that he vomited into a trash can on his way off the court at halftime, finished with 18 points on 5-for-11 shooting.
He also helped hold KU's Jeff Withey to no points on 0-for-1 shooting in 23 minutes.
"I studied him all week. I studied his tendencies," English said. "I studied him when (KU forward) Thomas (Robinson) had the ball, because that's when he's most dangerous, when Thomas misses shots. I couldn't help a lot (on others), because I didn't want him to get any put-backs or anything."
English even had a little fun with a reporter who asked him why it was so difficult to win on the road in the Big Ten.
"The Big Ten would have been really tough. They would have started stalling," English said with a grin. "Luckily, we are the Big 12, and we like to play. That's good."
The victory held extra significance for Kansas City, Mo., natives Denmon and Michael Dixon.
"Where we come from in Kansas City, it's Kansas fans and Missouri fans everywhere," Dixon said. "You can't sit here and say this is just an ordinary game, because it's not."
MU coach Frank Haith, who was coaching in his first Border War game, said it would be a shame if the KU-MU series didn't continue past this year.
"It's great for the game to have us play," Haith said. "But hopefully it does work out in the near future, and we'll see how it goes."
More like this story on KUsports.com